Neon Coral lips. Kinda cool, especially here in our warm tropical climate.
How about neon MATTE Coral lips? You know, if you're going to try a bold lip colour, or a new lipstick texture, it's always great to have an affordable option. Just in case you hate it you know. At least your wallet won't cry.
Well I'm not one for matte lipstick myself. From experience, they tend to make me look older (Heaven knows, I don't need to actually LOOK my age do I?) and has a tendency to dry out my lips. Well, the Maybelline Coloursensationals Bold Matte lipstick promises not to do all that.
The one I have here is Maybelline Bold Matte lipstick in Mat 2 – Sugar Pink. I've seen about 5 shades available at the pharmacy when I was last there, but only Mat 2 had a name on the base. The others go by numbers so you have Mat 1, Mat 2 etc. They all come in varying shades of bold reds and oranges. Quite unique for something from the drugstore.
Mat 2 Sugar Pink is a bright bright coral in the tube that is almost neon in it's brightness. I was a little afraid at first. Yeah, I was! You see, colours like this can go one of two ways on my skin – beautifully brighten up my features, or make me look sallow and sickly. No middle ground here. Which was it for me? Ahh….
But first, let me tell you a bit about the texture and to see just how well it lives up to its "bold" and "matte" claims.
Here's Sugar Pink in the tube. Yep, that fulfils the "bold" claim alright. Unlike many matte lipsticks, it doesn't have a dry look to the texture in the tube, and there appears to be some shine on the product.
Swipe it down my arm once, and here's the colour.
Against my skin, Mat 2 Sugar Pink pulls slightly more red than orange (thank goodness!) and it is surprisingly easy to apply, without tugging. Colour is pigmented and bold just as promised.
On lips, you may notice a distinct shine. Eh? I thought it was supposed to be matte?
Ah with all the hydrating claims that Maybelline promises, the matte texture just got a little lost. It is matte but yet there is some shine so it's not 100% matte. Did it even make sense? 😛
I did find that if you have dry bits of skin on your lips, it can catch a little if you apply straight from the bullet, and make the colour look uneven. You may notice some of it in the picture. If you exfoliate your lips and apply some balm and then slick this on, it will apply more smoothly.
The colour is as you can see, a very bright, almost neon coral that pulls a little more red on me than it looks in the tube. That made me happy because I can't wear orange lipstick at all!
Longevity is good. It lasted me through the morning although it might start to fade if you eat and drink a lot and it might fade a little unevenly. The best way to touch it up is to wipe it all off and reapply. It didn't leave my lips feeling drier than normal (not hydrated though, just not parched) but if you have naturally dry lips then be warned that you may need some balm underneath to feel comfortable.
Here's how Mat 2 Sugar Pink looks on me. Nice right? Haha… self praise ahem ahem! But Mat 2 is a lovely bright and brightening colour for lips and despite the little shortcomings, I'm quite liking it because the pricetag is small, it's a great way to play with new bold colours and who knows, you may even discover a new colour that suits you – I did! 😀
In a nutshell

The new Maybelline ColorSensationals Bold Matte lipsticks are a range of bold and bright coloured lipsticks with a slightly matte texture. I say "slightly matte" because it does have some shine to it that keeps it from looking too dry or being too drying on lips. The lipstick is very strong and very pigmented, and the texture can catch on dry or flaky bits of skin on lips so you have to be sure your lips are smooth or apply a thin layer of balm underneath to have a smoother base. I like the bright bold colours and I think it's a great way to try something new without hurting your wallet. Longevity is quite good although I find it fades a little unevenly. Best to wipe off and reapply for a more even finish.

Pros: Affordable, Bright and pigmented colours, Long lasting, Not too matte

Cons: Texture can catch on dry or flaky lips, Not as matte as the name implies

Who will like this: Anyone who wants to try a bright bold lip colour without shelling out too much money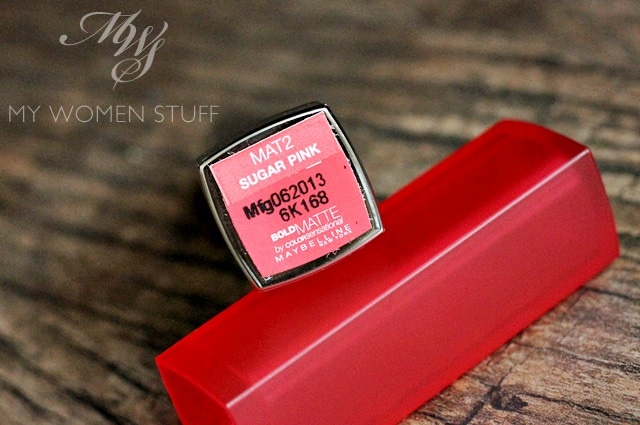 One note about the packaging. The matte, translucent cover corresponds to the colour of the lipstick inside (remind you of anything? 😉 ) so it makes it easy to pick out the colour you want. Despite looking quite luxe, it does feel rather flimsy. The metal bit is just plastic so it's very light and if you're used to the heft of a pricey lipstick then you will feel the difference. Then again, it's RM29.90 so really, I'd forgive them that 🙂
Have you taken a look at these Bold Matte lipsticks yet? Do you wear matte lipsticks or do you prefer some shine?
I personally prefer lipsticks that have a bit more slip and shine. Totally matte lipstick tends to age me and I don't need that so I go for something with a creamy texture with some shine but not necessarily shimmer because shimmer can look weird once you're past a certain age too! That said, these aren't half bad. I've always had a soft spot for Maybelline lipsticks. They were one of the first I ever owned 😀
Paris B
Maybelline ColorSensationals Bold Matte lipsticks come in 5 shades locally – Mat 2 Sugar Pink, Mat 4 Vivid Coral, Mat 5 Bold Red, Mat 6 Maroon Red, Mat 7 Nude Beige Price: RM29.90 Availability: Maybelline counters at most major pharmacies