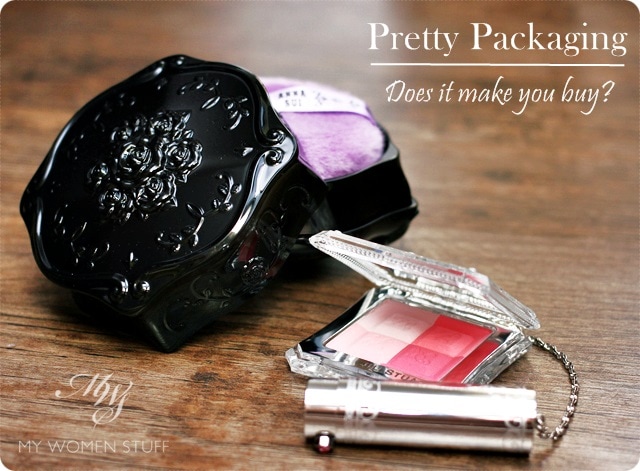 As the year comes to a close and the Christmas sets and special releases start to make their appearance, it's when I notice that cosmetics companies up their "pretty packaging" factor. I suppose they know what women want don't they? They want something pretty and delicate and if it houses their favourite cosmetics, all the better!
Some other cosmetics brands instead, make cute and pretty packaging the norm. Many Asian brands tend to capitalize on this. Etude House ups the cute factor and Paul & Joe, Anna Sui and Jill Stuart packaging is very pretty. I often wonder if it's an Asian thing. After all, nowhere else in the world does a cartoon kitty without a mouth and wearing a bow get that sort of devotion, other than here in Asia.
So I was curious if your cosmetics purchases may have been swayed, even by a little bit, by the pretty or cute packaging that they come in?
As for myself, I have to say that for the most part, I'm not. I do tend to go for sleek and simple packaging so "pretty" doesn't really come into the equation for me. It also explains why I wasn't into buying the Laduree Rose Petal blushes. Gorgeous execution, pretty packaging, but just not something I'd go for.
Ok, I lie. Maybe I'm a little swayed if it's particularly pretty. I'm looking at you, Guerlain Meteorites Perles! 😛
I actually had to dig around in my stash before I actually found anything that might conventionally be swooned over for being "pretty packaging". The Anna Sui powder case definitely falls under this category. It's large, it's got these delicate looking prints on it, and the box has FEET! I'm not sure where it came from but no, I didn't buy it haha! 😀
I did buy the Jill Stuart blush however. It wasn't the pretty factor that got me, if I'm to be honest. I just wanted it because the product looks good on. I got this in Hong Kong a while ago, and actually asked the SA "What are you wearing?" before making my decision.
So, other than the Jill Stuart and Guerlain Meteorites Perles, I don't have many other cosmetics with conventionally "pretty packaging". I may sometimes be gifted with them, but I don't actively seek them out, nor am I particularly swayed to make a purchase just because the packaging is pretty or cute.
However, on the flipside, ugly, bulky or clunky packaging does turn me off. Case in point, Guerlain again. There was a special tin released for Sephora stores that I rejected out of hand because I found it ugly. Ditto the upcoming Guerlain Crazy Meteorites Perles. I was keen to add them to my collection, only to backpedal with a grimace of horror when I saw the tin. Here's a picture I got off the Escentual blog.
But you see, what makes me recoil in horror may to someone else be considered "pretty packaging". This is the strange grey world that art lives in, I suppose. It all comes down to perception and our standards of what may be "pretty and cute" and what is "ugly as sin". I'm sorry Guerlain, but my wallet thanks you for your ugly packaging this round 😀
What say you? Does a cosmetic product that looks pretty and cute make you go "Take my money already!"?
For the most part, I'm not particularly drawn to buy a cosmetic product because of how pretty or cute the packaging may be. It is a bonus if it is. However, if it pains my eyes to look at it, then it may affect me enough NOT to buy it 🙂
Paris B