I've realised that there is always a general "fear" of wearing lipstick. Being afraid that the colour is too heavy, or that it is waxy (not anymore, unless you are using one from the 80's) or that it is ageing. It doesn't have to be. With the many different brands and textures available, you can find a lipstick texture to suit you (and your age).
When people ask, I like to tell them to start with a sheer lipstick. It helps ease you into the wonderful world of lipstick, and the colours are usually lighter and easier to wear.
I'd consider myself a lipstick "veteran" by now, but I still pull out a sheer textured lipstick every now and again. When I have strong eyes on, a sheer lip adds colour without weight and depth. When I want a light, fresh look, a sheer lipstick adds colour without making me look made up. If I want, I can layer on the colour and get more depth which is something harder to do with an opaque lipstick.
In short, every girl needs a sheer lipstick, and here are some favourites that I have. I have segregated them out by brand, not colour 🙂 Do you have a favourite sheer lipstick brand too?
My go-to picks for sheer lipstick textures straddle the high and low end of the price spectrum. Because I'm picky about the quality and texture of my lipsticks, I don't pick them willy-nilly. They have to feel comfortable, give a pretty tint of colour, offer up shine to plump up lips and not be drying. You'd be surprised at how few make my cut!
Here are swatches of the lipsticks and brands I've picked, to give you an idea of what I look for. Remember, lipsticks come in many shades – I'm only picking out brands 🙂 Each lipstick is swatched directly from the tube with just 1 pass so you can see how the textures do vary.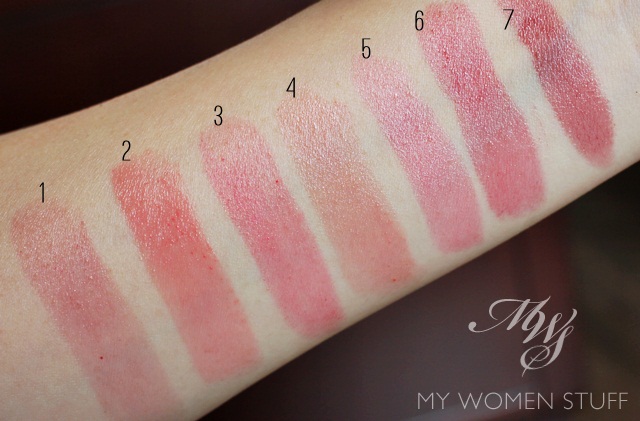 Chanel Rouge Coco Shine – This colour is Elise (have a swatch here too) and while I'm not really into Chanel lipsticks (the texture feels a bit waxy for me) this one gets my vote. It is very sheer as the swatch shows, but it gives a lovely tint of colour on lips and the shine is natural and healthy. You cannot build it up very much.
Dior Addict – This colour is Tango. I think you've heard me wax lyrical about Dior Addict lipsticks for far too long 😛 But they have been among my faves for years because they were one of my first high end lipsticks and I like the balmy texture and pretty, sheer colours and shine. You can build it up to look a little more vibrant, but it never loses that balmy look.
Guerlain Rouge Automatique Shine – This shade here is Pamplelune. Note that this is the Rouge Automatique Shine formula. The colour has more shine to it, and has a slightly sheerer texture. This one is buildable to a degree. It can take on a more opaque appearance, but the shine prevents it from looking too heavy. I'd wear this as a light sheer lip colour.
Lunasol Intellectual Lips – The shade is 10 Pale Pink which is a very natural lip shade. I'm about halfway through this tube and I believe this particular one may already be discontinued. However, Lunasol has very good quality lipstick that border on being a little sheer which is very typical of a Japanese brand, and which doesn't appeal to many people, but I can safely say they have very high quality lip products.
Maybelline Watershine Pure Lipstick – I love Maybelline lipsticks. One of my first lipstick was by Maybelline! The shade here is Fresh Cherry and although I'd classify it as a sheer lipstick, it is buildable to quite a bright colour. Opacity, less so, but colour definitely can be built up. Affordable and pretty lipstick – nothing to fault at all!
Revlon Lip Butter – Who hasn't heard of this one? The colour shown here is Sweet Tart and I have found that opacity can vary from colour to colour. Some colours are a little sheerer, and I'd put Sweet Tart as being halfway to being opaque with just 1 swipe. Colour is certainly buildable, but again, you don't lose that moisturising shine and balmy look on lips. Very wallet friendly pick too.
Shiseido Perfect Rouge Tender Sheer – Again, I have to stress that this is the Tender Sheer texture, which has a lighter, sheerer application than the Perfect Rouge, which is a beautiful opaque lipstick texture that I love. From the swatch however, you can probably tell that Tender Sheer or not, this isn't your regular barely there lip. You still get colour, but it has a lighter texture and a touch more shine to it. A lighter shade may appear sheerer than a deeper shade, as is wont to happen, and this one is buildable quite easily. Of all the shades shown here, this has the deepest pigment.
I pulled this one together quite quickly after rifling through my lipstick drawer so I may have missed some. But I also realised that I'm incredibly brand loyal! So, if I have a lipstick I like in a texture I like, I have a few shades of them! Doesn't allow me much space to branch out to other brands haha!
Do you like wearing sheer lipstick? Do you have a favourite brand for your sheer lipsticks and is there one I should be trying?
I worked backwards in my lipstick history. I started out with opaque lip colours and then lightened to a sheer lip colour. I like the options I have when wearing a sheer lip and if you don't feel like a lipstick would suit you, try a sheer colour and texture. You may be pleasantly surprised 🙂 Now, share with me your faves!
Paris B