Mmm… I've taken a little while to figure out what I think about the new Dior Diorshow Fusion Mono Eyeshadow singles. These were released quite quietly, as part of the Dior Fall 2013 collection, but I didn't want to lump them all together because the Fusion Mono shadows are permanent items. Yep! Permanent! I also didn't want to just swatch them without telling you if you might like them so yeah… it's taken me a while.
But now that you see it, it means I'm ready with my thoughts on these! 😀 First off, don't they remind you of sparkly macarons? LOL! The Diorshow Fusion Mono eyeshadows are like the Cream Blushes that came out in Summer. They are creamy in texture, but dry down to a powder finish. Unlike the Chanel Illusion d'Ombre eyeshadow, I didn't feel that bouncy "gel" texture that people talk about. These felt firm to the touch.
Like the Dior cream blushes, some of the colours were already pulling away from the sides of the glass pots when they arrived brand new. The one that looked the most significant is Meteore, the gold-bronze shade at the bottom of the picture above. It literally falls out of the pot like a scrumptious little sparkly macaron!
One more thing that bugs me is the inconsistency in the embossing of the CD logo on the surface of the product. In Lune (white) the CD was pronounced and clear. In Aventure (sparkly grey) it was very lightly embossed. On the rest, no embossing was visible. I know it's petty, but I really do expect better quality control from a luxury brand like Dior. If they wanted to emboss it, then emboss it all. If they didn't want to or couldn't get it to show, then don't. This felt like a half hearted attempt and that bugs me. Ok, onto how they are, appearances aside 🙂
Locally in Malaysia, we get 6 shades that you see above. I'll break them down for you together with the swatches below. Each pot comes packaged with a compact applicator which is cute and practical although I am quite likely to lose it quite easily 😛
Cosmos and Diorshow Fusion Mono applicators
You can see how they are compact when stored in itself on left, and it transforms into quite a handy little tool that you see above. Using the applicator can give you slightly better coverage, and you can pack on the product more easily. But if you have dense brushes, it works. Me? I like using my fingers 😀
The general consensus about these cream shadows is that they are sparkly. I concur. However, I also found that different colours perform differently and their level of sparkle-visibility also differed. Sparkle-visibility. It means something ok! 😛
In terms of colour pigment, I have to say that these aren't the most pigmented of eyeshadows. Many people were right when they said that they were disappointed with the relatively poor colour pay off. That said, I think it also has to do with your personal expectations and how you like your eyeshadows. Not everyone likes the bang! In your face! style popularised by MAC and its brethren so if you have an idea about how the regular Dior 5 Couleur Eyeshadow palettes perform, you can expect the same of these Fusion Mono Eyeshadows.
Clockwise from left: 821 Chimere (light shimmery pink), 021 Etoile (light shimmery grey), 001 Lune (shimmery white)
I find that these 3 shades apply more shimmery than sparkly. Expect a lot of sparkle in the product, but they are also the lighter shades available in the collection. I surprisingly fell hard for Chimere once swatched. It brightens up the eye area, does not look sparkly or shimmery when applied on lid even though I layered it and it just made me look so alive!
I found Etoile a little sparkly and uneven in texture. It looks like a light grey taupe in the pot, but applies as a whitish grey that was less flattering than I expected. It pairs well with Aventure, but on its own, was a bit meh. Lune is just pure white. Only usable to dot on the inner eye area to highlight.
Diorshow Fusion Mono Eyeshadow 081 Aventure
Aventure is a deep grey with multicoloured shimmer and is just so pretty! I like wearing it on its own, as a deeper shade to complement the other colours in the range, and also as a base to build powder shadow on. It is incredibly versatile and I find the texture to be among the better quality of the lot. It doesn't feel gritty and it applies very smoothly.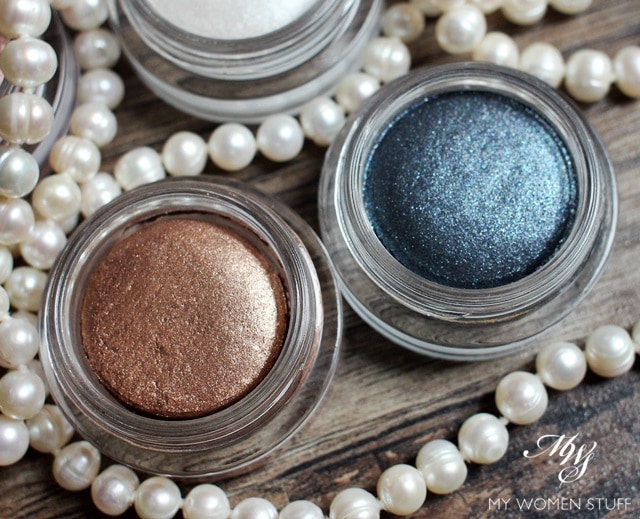 Dior Fusion Mono Eyeshadow: 661 Meteore and 281 Cosmos
These are the 2 colours that have more "colour" in them. Both have markedly different textures. In pot, I fell in love with Cosmos. As the name implies, it looks like the sparkly inky blue-blackness of the Cosmos seen through a telescope. Yet, when I swatched it I was quite disappointed because it did not translate as well on skin (it is very sheer) and it did not have the depth of colour I expected. Build it up and it looks pretty, but it is also incredibly sparkly and for this one, the sparkles are quite evident!
Meteore is a golden bronze shade which is like Chimere, a very usable daily wear colour. I found it was very sparkly but lacking in pigment which you will see in the swatch below. If you pat it on, the colour adheres better.
For your reference, here are the swatches on my arm. I used my fingers to swatch and I applied 2 layers of product to get the colour to show up. These were applied dry, straight from the pot. If you apply them wet, they will look more intense. I'm not into apply shadows wet, but there is that option.
821 Chimere – A light warm shimmery pink that applies smoothly and evenly. The shimmer is evident on hands but less on eyes. The colour is surprisingly wearable and very flattering in an awakening sort of way. Unexpected love for this one!
021 Etoile – A light grey-taupe in pot and a similarly shimmery light grey taupe on skin. This applies smoothly but is very shimmery on lids so you might have to save it to highlight an evening look, with lots of eyeliner and mascara.
001 Lune – A pure shimmer white that makes me think of snowflakes. This one is definitely only for highlighting.
081 Aventure – A deep grey with multi-coloured sparkles, this one needed 2 layers to show up properly. This has a slightly chunkier feel and the shimmer on eyes can be pronounced if you layer it on. However, it makes a good shade to wear alone, or as a base. Definitely one of the better ones.
661 Meteore – A bronze-gold that surprised me because it did not apply as smoothly as I thought it would. You can see how the colour skips a little as I swatch it. Also, the texture was a little more chunky with less colour pay off unlike Chimere and Aventure where you can see the base colour come through.
281 Cosmos – The prettiest shade in the pot but the most disappointing on skin for me. The texture is chunky, the application is a bit spotty and the colour just doesn't look as good as it does in the pot.
I did 2 very simple looks with these just to give you an idea of what they'd look like. I have to show you the one with Chimere because despite all the shimmer you see on the swatch above, on lids, it didn't look too much, and best of all, have no fall out.
I applied Chimere all over my lid, with Aventure to shade, using just my finger. You may be able to tell, despite my limited skills that there isn't any chunky glitter at all, and the shimmer gives an iridescent tint to the skin. Aventure does a good enough job to give a gentle shade to the eye. Wore it the whole day with no fading or creasing (although that isn't a problem I face).
Doesn't look quite like much does it? Just a very basic, very simple look. Doesn't scream "I'm headed to a partay!" and no glitter fall out at all. My favourite combination of colours.
A couple of days later, I did another look using just Cosmos which turned out more party appropriate 😛 Pat it on to get the colour to adhere better.
You may see the depth of the blue but it does take a bit of layering for it to show up smoothly, and it is also incredibly sparkly compared to the rest of the shades. I cannot say I love it, but it is one to pull out for the party season.
In a nutshell

The Dior Diorshow Fusion Mono Eyeshadows are a cream eyeshadow that apply cream and dry to a powder finish. You do have a good window of time to work at it and to blend. Once it sets, it is pretty budge proof, which is commendable. I find that the quality differs from colour to colour. Some have a creamier, smoother texture. Others are a little grittier and more sparkly. My favourites are Chimere and Aventure. They are wearable for day and night and do not appear as sparkly on the lids as they do when swatched on the arm. I would have preferred that the embossing of the CD logo be more standardized but I think these will not appeal to everyone because of the high shimmer and perceived lack of colour. I'm on the fence about these. On the one hand, I like some shades, on the other hand, they don't quite measure up to the other cream shadows I own in terms of pigment and versatility. So, I'm torn.

Pros: Shimmer is refined and not too glittery, No fall out experienced at all with any colour, Budge proof once it sets, Easy and quick to work with for immediate fancy results

Cons: Pricey, Some colours are more shine than colour, Some colours are sheerer than others, Embossing of logo isn't consistent across the board

Who will like this: Anyone who doesn't mind sparkly and high shimmer light eyeshadow colour
I personally do not think these are anything like Chanel Illusion d'Ombre. I have one Chanel and it stinks with a sharp chemical smell. This doesn't have a scent. Also, I find that unlike Chanel these Dior ones have no fall out and the shimmer is more refined and classy. Chanel was a bit brash and glittery. Of the two, I'd pick Dior. But put Dior next to Giorgio Armani Eyes to Kill Silk Eyeshadows and I'll pick the GA any day. Granted, they are different so I really shouldn't compare them, but GA ETK take top billing for me.
Have you taken a look at the Diorshow Fusion Mono eyeshadows? Are these shadows you may like or is there a colour you have been eyeing?
In terms of colour, I'd say Cosmos and Meteore are the most disappointing for me, being more glitter than colour. In the others, the base colour comes through, although there is a perception that they are sheer due to the light shades available, but the other shades, especially Chimere and Aventure have a more refined quality to them. More adult, less disco-party and infinitely more wearable.
Paris B
Dior Diorshow Fusion Mono Eyeshadows come in 6 shades locally : Chimere, Aventure, Lune, Etoile, Cosmos and Meteore Price: RM110 Availability: All Dior counters