Some of you may remember reading about Ah Yuan Soap on my blog a few years ago. They are a range of organic handmade soap originating from Taiwan. It was a very good range of soaps, for various uses although some people did say they weren't used to the strong herbal smells. I personally liked them!
The brand is quite niche and a few years back, when I heard that there was going to be a skincare range, I was quite interested. Well, the day is here!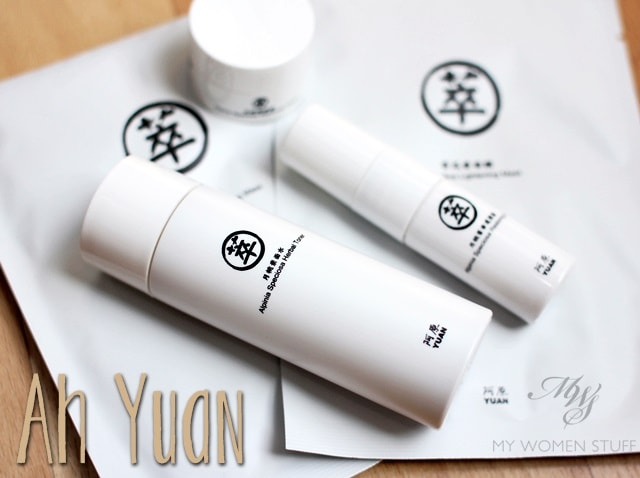 I had the opportunity to sample some of the key products from the skincare line in generous sample sizes and I must say, I was quite surprised that I liked it!
There are 3 lines available for different types of skin:-
Alpina Speciosa – Dry and ageing skin – anti-aging
Momoridca – Normal skin and brightening
Bidens Pilosa – Combination to oily skin
True to Ah Yuan's philosophy, the products are natural and herbal based. Even the names of the ranges are the latin names of plants which extracts form the base of the skincare range. I tried a couple of products from the Alpina Speciosa range for dry and ageing skin (ahem! moi :P). The Alpina Speciosa is a member of the ginger family, as I discovered later, which explains the spicy, peppery unmistakable smell of ginger in the products haha!
The Ah Yuan skincare products come in very sleek packaging if the samples are anything to go by! Sleek plain white tubes, with simple black writing. Very zen. Very Asian 😀
It is very pleasant, and I liked the textures. I'll just run through them quickly, and tell you a little about each of the products I sampled so you have an idea of this new natural and organic skincare brand in the market 🙂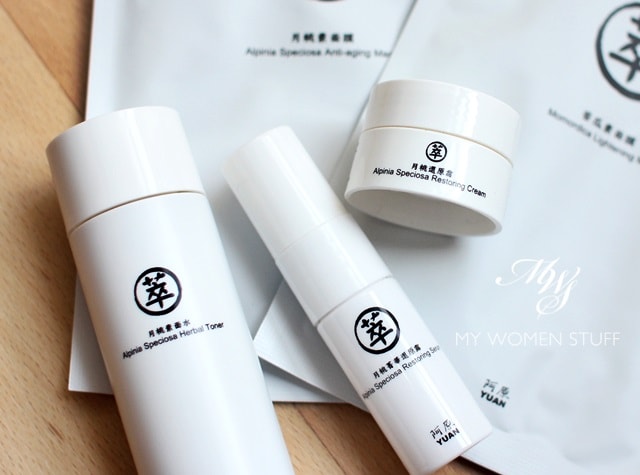 Alpina Speciosa Herbal Toner – RM179/150ml
The toner has no discernible scent to me, and is quite hydrating. The colour is a clear brown and I apply it using a piece of cotton, swiping it over my skin and then lightly tapping it in. It makes my skin feel comfortable and isn't drying at all. I think I'd like for it to come in a spray bottle, so I can spray it on. I think that would be nice 🙂
Alpina Speciosa Restoring Serum – RM329/30ml
The serum is a light textured lotion with a faint smell of ginger that I found very interesting. I couldn't even identify the smell at first LOL! The smell is faint but definitely there. The texture is light and it absorbs into skin without any sticky feeling. You don't get the oily feeling either that you sometimes get with serums so it was actually very nice. I can't say if there was any wow factor on my skin but it didn't break me out either. I generally expect natural products to not work with as much vigour or speed as chemical products so it might just take time.
Clockwise from Top: Alpina Speciosa Herbal Toner, Alpina Speciosa Restoring Cream, Alpina Speciosa Restoring Serum
Alpina Speciosa Restoring Cream – RM369/50ml
I found the cream quite interesting because it has a slightly thick texture, yet it absorbs very nicely and quickly into the skin without leaving any sticky or oily after feel. In fact, my skin feels like there's nothing on it at all! The first few times I used it, I thought it wasn't enough. I mean, I have dry skin and usually creams for dry skin leave a slight residue on the surface. But this one didn't. Yet, much to my surprise, after a few days use day and night, my skin did feel comfortable. It didn't look nor feel flaky or dry at all. I can use it in the day without it turning oily which is always a boon. It too has that faint, fresh, sharp, spicy smell of ginger which I actually find quite comforting. I noticed that the Restoring Cream contains olive extracts which usually break me out but this didn't. I do wonder why. Maybe it's the formula? 😛
Here are the ingredient lists for each of the 3 products above.
I also had the opportunity to sample 2 face sheet masks from Ah Yuan skincare and goodness, I loved these! Ok, its no secret I like my face sheet masks and these are truly very nice.
Face Masks – Alpina Speciosa Anti-Aging Mask RM208/box of 5 pieces and Momoridca Lightening Mask RM179/box of 5 pieces
I happen to really like the smooth, sleek packaging of the sheet masks. Plain and simple. It is your regular one time use sheet mask, and the material of the mask is a thin cloth that looks like gauze. It is very well infused with essence and adheres to the skin very very well. It isn't too large either and was just right. I was snacking on fruits while I had this on and it didn't even fall or peel off!
The essence feels light, but it didn't dry out very quickly and my skin was very lovely, cool and looked well moisturised for a couple of days thereafter. I really liked it! I did get a little jolt at the price because it is very pricey 🙁 It was good while it lasted….
In a nutshell

The Ah Yuan skincare range is a natural range from Taiwan incorporating herbal extracts from plants. I sampled some from the Alpina Speciosa range for dry to ageing skin and I found it quite good. They weren't heavy nor oily even for day time use, and absorbed very nicely into skin, helping it feel and look hydrated. The faint smell of ginger in the serum and cream may not appeal to some, but I quite liked it. It had a spa feel. The Face Masks were very nice and very well made. Taiwanese know their face masks! Overall, I think the line holds a lot of promise, but the high prices can be a stumbling block for many. I know it is for me, but if I were in the market for a natural skincare brand, I will definitely consider this one.

Pros: Not heavy, Absorbs quickly, Skin feels and looks well hydrated, Face Masks are a very good fit and adhere well to skin, don't dry out too quickly and leaves skin looking brighter and better

Cons: Pricey, Herbal scent may not appeal to everyone

Who will like this: Anyone who is into natural plant based skincare
The Momoridca (normal/brightening) and Bidens Polisa (combination/oily) ranges are a little bit cheaper. I didn't sample them so I can't tell you about the texture. If they are anything like the Alpina Speciosa one, then they will feel quite comfortable on skin.
Does this new skincare range tickle your fancy? Have you used the Ah Yuan soaps before?
I must say that having sampled them, I am quite interested. The high price does make me balk though. I have heard Ah Yuan himself speak and he is very passionate about what he makes and what he does, which does inspire confidence, you know. You don't often get to hear the philosophies of a brand creator. It keeps it real 🙂
Paris B
Ah Yuan Skincare is available only at Isetan KLCC, 2nd Floor Living and Household Department