As much as I love my high end BB Creams (Guerlain and Diorsnow if you're wondering. No deathly zombie-grey oil slick Korean brands for me!) I realise not everyone is as crazy as I am to splurge on them, and we really should be looking to tighten our belts. So I'm happy to report that I've found a budget BB Cream that I like, that you might like too!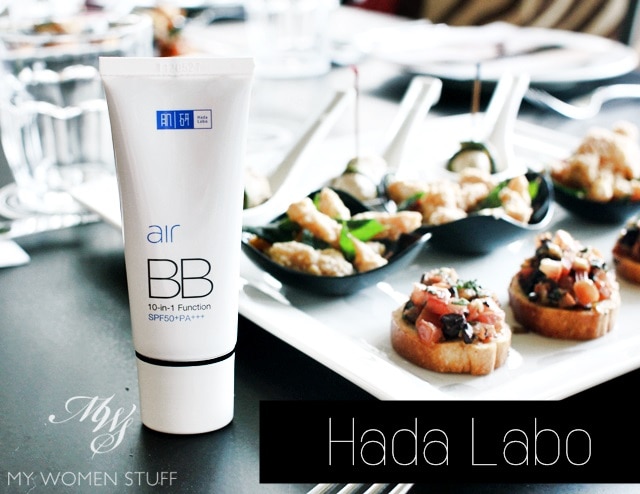 Ladies, meet the Hada Labo Air BB Cream that has been out here for almost a year, and which gets a lot of raves locally. You might have seen the slew of reviews that appeared when this was launched about a year ago but I held back because I wasn't sure about it.
Also, it was about that time that I was battling my skin problems and I just didn't feel like talking about, or wearing a BB cream that didn't offer me the coverage that I could get from a foundation. Yes folks, this isn't a high coverage BB Cream, no matter what they say. It offers sufficient coverage, but not if you have blemishes you'd rather remain concealed. Yet, this is a very creditable product.
The Hada Labo Air BB claims to have 10-in-1 functions. But remember when we talked about BB Creams and why they could be bad for you? It is claims like these that give BB Creams a bad rap.
If you peruse the 10 functions, it would appear that it does everything from controling oil, minimizing pores, whitening skin to anti-aging. Here's what I'll tell you. Just take it all with a pinch of salt. You won't use enough of it often enough, for you to derive any actual benefit from wearing a BB Cream.
Yet, there is one item I like and that is the SPF50 PA+++ sun protection. Sure, I use a separate sunscreen but I know many people don't for whatever reasons they may have; chief amongst them, that it is too thick or oily. So, if someone isn't going to use a separate sunscreen, but would be happy to apply a BB Cream, then the SPF50 function is better than none.
Texture wise, the Hada Labo Air BB isn't as thick in texture as the Guerlain or Diorsnow. It has a much lighter feel which actually feels more comfortable. Also, I don't detect a scent, which is another big plus point.
There are 2 shades available – Natural Beige and Ivory Beige. In normal circumstances, I'd have picked Ivory Beige, which has a slight pink toned base. However, as the swatches will tell you, Natural Beige with its lighter yellow base suits my skintone better.
Ivory Beige is significantly deeper in tone, with an ochre cast. I'd say that it should suit someone with medium-toned skin. Natural Beige will suit someone with lighter and fairer skin, but it won't suit anyone who is too fair. If you are a very pale caucasian, I doubt either will suit you at all!
Some of you may also remember that a long time ago, I had a Hada Labo BB Cream way before the Air BB made its appearance.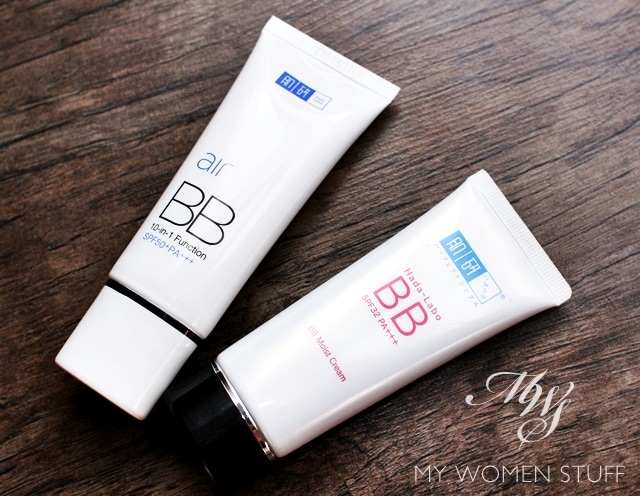 For all intents and purposes, I liked how the Hada Labo BB Moist Cream felt on my skin. It was lightweight, it wasn't oily and it was very comfortable. We never got it here in Malaysia, if anyone's wondering. But here's the funny thing. On the Hada Labo Japan website, I don't see the Air BB Cream, only the BB Moist Cream and BB Moist Emulsion. Perhaps this was made for sale outside of Japan? I'm not sure. Confusing as heck, I tell you 😛
Confusion aside, here is how the Hada Labo Air BB Cream in Natural Beige looks on me.
Left: No makeup Right: Hada Labo Air BB in Natural Beige
You can possibly see how coverage is light. It covers up the redness I have in my skin and evens out the skintone generally. But where I have blemishes and pigmentation, it only draws a light veil over it. I can't add too much product because it can then look too dark. So, I cover up the rest with concealer. For weekends, if I have to put a decent face forward, this is pretty much it. For weekdays, I allow for a layer of powder which adds more coverage without looking too heavy or too dark.
In natural sunlight, it looks fine. Under horrible fluorescent lighting, it can make my skintone look a bit dull. A dusting of Meteorites in Teint Rose usually helps me brighten my skintone better. But I'm the exception rather than the norm in terms of skintone, so please take my complaints with a pinch of salt 😛
Comparison swatches (1) Revlon Photoready BB Cream in Light (2) Diorsnow BB Cream in 010 (3) Hada Labo Air BB in Natural Beige (4) Hada Labo BB Moist Cream in Natural Beige (5) Guerlain BB Beauty Booster in Light (6) Kiehl's BB Cream in Fair
In terms of shade, I prefer the Guerlain BB Beauty Booster because the slight pink base suits my skin better. This is true also of the Kiehl's BB Cream in Fair. In terms of opacity, Guerlain and Diorsnow have a thicker more creamy texture with better coverage. So, I'd place Hada Labo Air BB in between Guerlain and Dior on one side and Kiehl's and Revlon on the other. It is somewhere in between in terms of opacity. Shade wise, I could do better but the majority of the population should have no problems with the colour selection. I'm the odd one out there, trust me 😛
In a nutshell

The Hada Labo Air BB Cream is a lightweight BB cream that claims to have 10 functions. There is SPF50 which is impressive and useful for someone otherwise averse to wearing sunscreen. The texture is lightweight and very comfortable, without turning oily on skin. There are 2 shades available, which have significant yellow tones, and will likely suit a majority of the foundation wearing populace. I find it a little yellow for me but it works. Just about. For a budget product, this is one of the better BB creams I've experienced and one that I have no hesitation telling you to check out.

Pros: High SPF, Lightweight texture, Buildable coverage, Portable and handy packaging, Non oily, Not drying, Affordable

Cons: Shade is a little yellow if you have a more neutral or pink skintone like me

Who will like this: Anyone who wants an affordable BB cream with medium coverage
Here is the ingredient list for the Hada Labo Air BB Cream in Natural Beige.
Does this Air BB get your seal of approval, if you've tried it?
This one's been out for almost a year now and I know many of you have tried it or own it. I do like this, for my casual days just to even things out. Unlike the Guerlain and Diorsnow, I can't use this in place of wearing a foundation because it just doesn't quite hit the spot. But as a light cover-up, it works, like a sarong on a beach. You won't wear it to the office, but you'd wear it on a weekend LOL! 😀
Paris B
Hada Labo Air BB Cream comes in 2 shades – Ivory Beige and Natural Beige Price: RM49.90 (or get them on sale) Availability: Hada Labo counters at most major pharmacies