One of the first brands to release their Fall 2013 collection locally was Dior. They are usually quite quick with their collections, which is a good thing. Gone are the days when we had to wait months before we even managed to have a sniff at a new collection!
For Fall 2013, the Dior collection is Mystic Metallics, with 2 eyeshadow palettes to leave you starry-eyed, some lip products, a very interesting magnetic nail polish and the 2 items I was most excited about – cream eyeshadow and new blushes! Ok, I was most excited about the latter. Blush? Hello, come to mama! 😀
There are a couple of items I want to show you from the Mystic Metallics collection but I'll save the cream shadows and blushes for another day. The reason is very simple. They are permanent! Rejoice! 😀 Don't you hate it when nice things are only available "for a limited time only"? I'm looking at you Dior Creme Blush! Those deserve to be made permanent. I hope they do make them so at some point. They did with the Rosy Healthy Glow blush.
But I digress. I'm going to tell you about 2 of the items in the Fall 2013 collection with some swatches and photos, so sit back and enjoy the ride 😉
In the Mystic Metallics collection are 2 eyeshadow palettes – #864 Constellation and #384 Bonne Etoile. Constellation, which you see here, is a purple based palette and the much less hyped of the two available. Bonne Etoile is a brown-teal based palette that is very popular all over the internet.
Granted, I think Bonne Etoile is very pretty and it is what I'd call a neutral palette with depth. This is because it can quite easily be used as a neutral palette, or you can amp it up using the teal in there. Lily has swatches of both. The one I have today is Constellation – a bit of a challenge for me, considering my fear of purple shadow, but a surprisingly user-friendly palette.
The palette is prettily embossed with stars. This is Dior's Lucky Star and a signature emblem of the brand. I don't know if anyone remembers, but many years ago, in one of the seasonal collections, Dior had a round palette with the shadows and lip products arranged in the shape of a star. I used to have 2 of them and may have given one away, but I'm not sure where the other is now.
The common complaint about Dior eyeshadow palettes is that the colour is sheer. Well, I don't think they are sheer. The colours do apply opaque, but they are light. That is true of Constellation as well.There is a mix of 3 different textures in this palette – 2 high shimmer colours (purple and gold), 2 satin-matte (taupe and burgundy) and a light shimmer (pink).
Swatches: Dior Addict Extreme lipstick in Mystic, Dior Constellation palette
I swatched these clockwise from the top left colour. As you can see, it is a light purplish taupe with a stain-matte texture. The gold is highly shimmery but like most Dior palettes, the shimmer adheres very well to skin and isn't chunky at all. What you get is just a good, high quality shimmer gold. Very pretty colour and surprisingly a cool tone in an otherwise warm toned palette.
The burgundy I felt was a disappointment. It wasn't as smooth as the other shades, and the texture felt dry. The metallic purple looks amazing in the pan, but less amazing on skin which also disappointed me. The pink in the middle is a highlight shade and has less pigment than the other colours.
I have to say therefore that this is a bit of a hit and miss palette. I find the colours apply best if you pack it on in a dabbing motion. If you swipe it on then less colour is deposited. Also, a dense eyeshadow brush (I use the MAC 239) gives a better result. And here's how it looks when I wear it.
Also wearing Dior Cherie Bow blush in Pink Happiness and please forgive the patchy lipstick which was something by Dior that I forget now.
I mixed the metallic purple with the burgundy and patted it on my lid close to the lashline. Then, I used the light taupe to blend and add lid colour. Light pink in the inner corner and gold in the brow bone and to tie all the colours together. Lined outer part of lower lid with metallic purple and inner part with the shimmer pink.
I wore this another day in a more muted way, doing away with the shimmer so I used just the light taupe, burgundy and shimmer pink. Works surprisingly well too.
I hesitate to say however that everyone will love this palette because I don't think everyone will. If you're familiar with Dior eyeshadow textures, these are actually better than the usual, but they are still less punchy compared to other brands with very pigmented shades. So it's a case of managing expectations and knowing what to expect. Of the 2 palettes available, Bonne Etoile has the better texture and pigment, in my opinion but the colours, much to my surprise, didn't attract me. It's strange, because I am usually attracted to khakis, browns and teals!
In a nutshell

The Constellation palette is part of the limited edition Mystic Metallics collection. It has a good mix of light and dark, satin and shimmer textures. I don't usually wear purples well but the purples in this palette were surprisingly wearable. Not too warm, nor too cool. Mixing the different shades helps to neutralize the shades one way or another which is very useful. The embossed pattern is very pretty of course, but I will advise the use of fingers or a dense brush to apply these colours. In fact, if you use your fingers and tap on the metallic purple and gold over a cream base, it's stellar!

Pros: Fairly neutral toned purple eyeshadow palette, Good mix of textures and wearable colours, Textures and colours are more pigmented than Dior's usual palettes

Cons: Limited Edition, Some people may find the texture too shimmery or colours too light

Who will like this: Anyone who likes purple eyeshadow, Anyone familiar with Dior eyeshadow palettes and know what to expect in terms of texture
You may also see a Dior Addict Extreme lipstick in the picture which is #369 Mystic. It is a nude shade which I'm a little unsure about. You can see the swatch above. It's very peachy and takes a bit of work for me to pull off but I will give it a shot in the interest of experimentation. It's just makeup 😉
Ok, I was going to show you the Mystic Magnetics nail polish but you know what? I've rambled on too long and this is in danger of turning into a monster. So I'll separate it out in to a different post which means there may be a few bonus posts popping up from now on, else I'd never get through the backlog! 😛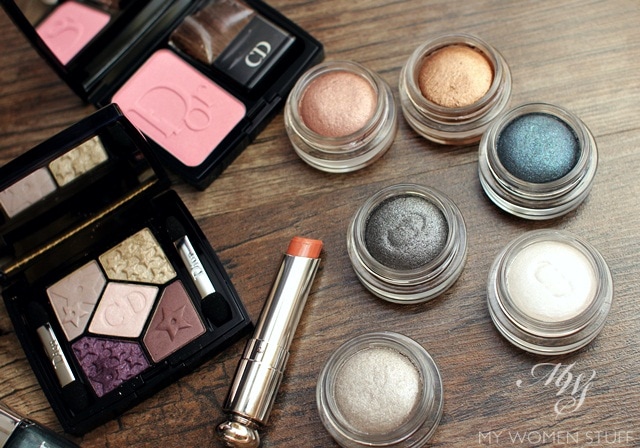 Here's one for the album 🙂 Remember, the blush and Diorshow Fusion Mono cream shadows are permanent so they'll be a story for another day too.
Are you starry-eyed by the Dior Mystic Metallics collection? Did you pick up anything?
As for the design, I'm going to stick my head out and say it's not for me. I much prefer the regular cannage print on their shadows so these actually put me off a little. But that's my tastes – don't let me cloud yours 🙂
Paris B
Dior 5 couleur Mystic Metallics eyeshadow palette come in 2 shades #864 Constellation and #384 Bonne Etoile Price: RM215 Availability: Dior counters Limited Edition: Yes, Mystic Metallics collection Fall 2013