I don't use lipgloss. Now, how many of you can say that?
Ok, well I do, but I'm terribly picky about them and to date, I only voluntarily splurge on lipglosses from 2 brands. When I say splurge, I mean SPLURGE. The two brands that can almost do no wrong for me in terms of gloss are Dior and Guerlain. I don't even look at other brands anymore. Yeah I know, I'm spoilt! But I have a secret – I used to buy them in multiples at the warehouse sale (which is where I first discovered them) I don't think the sales happen much anymore (or at all). Pity. I could do with more hehe…
A couple of years ago, Dior revamped their Addict Gloss line which I shared here. Earlier this year, the Addict Gloss line once again got a revamp. The 3 textures remain – Shimmer (used to be Flash – sparkly glitter), Pearly (used to be Pearl – pearlescent shimmer) and Pure (used to be Glow – creamy with no shimmer) – but the new formula in the new 24 couture shades available now promise a mirror shine to lips, while plumping and volumizing lips.
I'll give you some quick side by side comparisons of the few colours I have, so you have an idea how they look and have an idea of which texture you might prefer. I like 2 of them better than the other so take a look at the colours above, see if can guess which I might be less enthusiastic about? 😉
The packaging for the Dior Addict Gloss Mirror Shine Volume & Care remain the same. The applicator is a brush which I love. I love brush applicators for lipgloss. It just works better for me, and I can get a better, stronger coloured finish on my lips.
There are 24 shades available in the collection ranging from the palest of pinks to the deepest of reds, but these are lip glosses, mind, so don't expect crazy pigment. They tint lips with a shiny glow of colour, but not much more.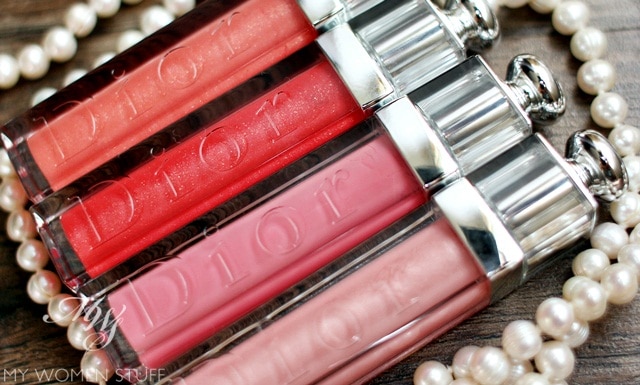 You can see the different textures in tube. Delice (433) and Diablotine (643) at the top are significantly sparkly in tube. Dormeuse (363) is a creamy pink while Premiere Soiree (153) is a pearly pink.
Delice and Diablotine have matching Addict Extreme lipsticks and you may remember I featured the Addict Extreme in Delice here. The lipstick is a lovely pigmented coral. The gloss however, is a sheerer sparkly coral-orange. It reminds me quite of Orange Pareo from last summer.
I'm thinking of getting the Diablotine lipstick but it's been out of stock every single time I go to the counter. What's this, people? I thought no one liked wearing red lipstick?! 😛 So I haven't been able to get my mitts on Diablotine lipstick yet. I did however, get the gloss which in tube, is a lovely sparkly warmed red. Applied, it is more transparent but still sparkly and tints lips a lovely red. Not too strong, if you are afraid of wearing red… which judging by the public reaction to the lipstick, no one is!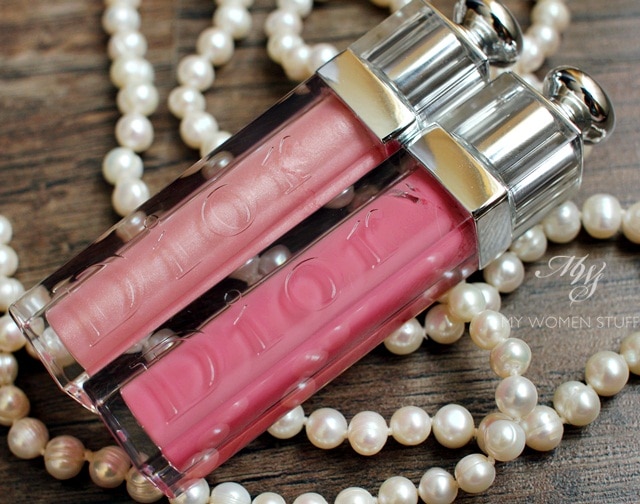 Premiere Soiree is a pearly pink and is my least favourite. (Pat yourself on the back if you got it right!) I find the pearly shimmer very artificial and frosty and on my lips, Premiere Soiree makes me look ill. Perhaps a brighter colour then? I don't hold out much hope. I swatched a bunch of them at the counter and didn't like any of them.
Dormeuse comes in the Pure textures, which is a creamy no shimmer gloss. I happen to love Dior's no-shimmer glosses. I have one in my daily touch up pouch that I'm trying desperately to finish up. Dormeuse is a creamy pink, and is surprisingly lovely on my pigmented lips. It doesn't look over done yet gives your puckers a lovely shine. Perfect for officewear if you are in a conservative office that frowns on shimmer and sparkle 😉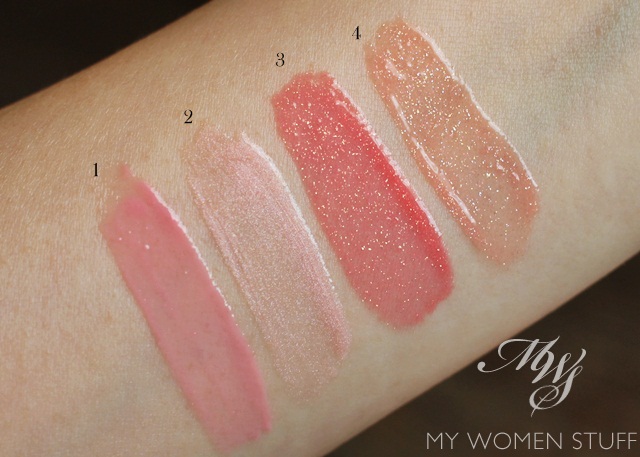 Dior Addict Gloss Mirror Shine swatches (1) Dormeuse 363 (2) Premiere Soiree 153 (3) Diablotine 643 (4) Delice 433
My favourite colours of the 4 here are Dormeuse and Diablotine. I call them my naughty and nice lipglosses – pretty self-explanatory which is which yes? 😉
And here they are on lips. I have quite pigmented lips so the colours don't quite turn out as they look on my arm.
You can probably tell that Premiere Soiree is the least flattering, while the other 3 shades work. Delice isn't as intense a coral as the lipstick is, but it is very pretty when you apply it over the matching lipstick. Really makes your lips pop. Also, despite all that shimmer and sparkle in Delice and Diablotine, it doesn't feel rough or glittery on lips. You know you can feel the grittiness when you rub your lips together with some sparkly lipglosses? I hate that feeling, don't you? This being Dior, they got it right.
I'm wearing Diablotine in this full face shot. I thought I'd show you this one because despite the brightness of the colour in the tube, it isn't as bright when worn. I am on this crusade to make people wear brighter lip shades (It brightens up your faces – try it if you don't believe me!) so if you are afraid of wearing bright shades, try a lipgloss like this one 🙂
In a nutshell

Dior revamped their Addict Gloss line earlier this year (2013) and made their glosses have a higher shine and hydration factor so lips look volumised and plumped. There are 3 textures to suit different styles, from the demure Pure that have no shimmer or shine to the flashy Shimmer infused with lots of shimmer. The texture remains the same – non sticky and non drying. The colour lasts as well as a lipgloss does, and gives lips a glossy pout. I've always been a fan so I love these.

Pros: Nice selection of colours, High shine, Not drying, Not sticky, Brush applicator is easy to use and to layer colour, Lips look plumped and feel hydrated

Cons: Pricey, The pale colours may not flatter everyone nor show up on lips

Who will like this: Anyone who doesn't like sticky lip glosses
Are you a fan of lipgloss? Have you tried any of the Dior Addict Glosses?
I've never been a fan of lipglosses because my experiences with them were poor – sticky and goopy were how I'd describe them. MAC lipglass *cringe!* Hate it! I'm eyeing a couple more of Dior's brighter gloss shades. Some of the reds are pretty! Which texture grabs you of the 3 featured here? 🙂
Paris B
Dior Addict Gloss come in 3 textures and 24 colors Price: RM95 Availability: Dior counters