Hot off the presses is this bit of news of a new bag design coming out from Coach, scheduled to be released in Fall. What this means for us here in this season-less country, is that we should expect to see this one pop up in stores from Oct/Nov 2013. It is a new design and a new addition to Coach's permanent range.
They call it – The Borough.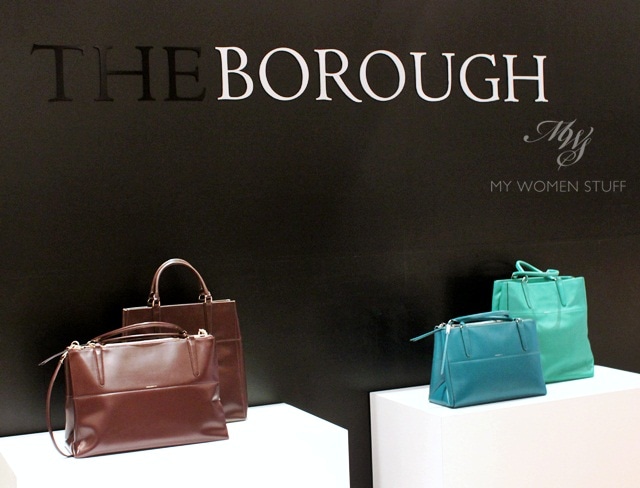 I actually thought "The Borough" sounded very English, which is quite removed from Coach's cosmopolitan, American vibe. Unlike some of the frills and flounces we've been seeing (The new designs now sport a very large tassel) The Borough looks almost… plain.
And yet, it is the plainness that drew me to it. I liked the sleek, clean lines, the quiet understated elegance, the city chic and the tiny logo. With The Borough, you wear the bag – the bag and brand doesn't wear you. And I like that!
The Borough presently comes in 2 designs – East-West (horizontal) and North-South (vertical) and are quite genderless. I hate using the word unisex, so genderless will do just fine. As you can see from the photo above, in brown (or black) the large Borough tote could quite easily fit in the hands of a man, as well as the teal fits on the shoulders of a woman.
The East-West Borough comes in 3 sizes – Small, Medium and Large.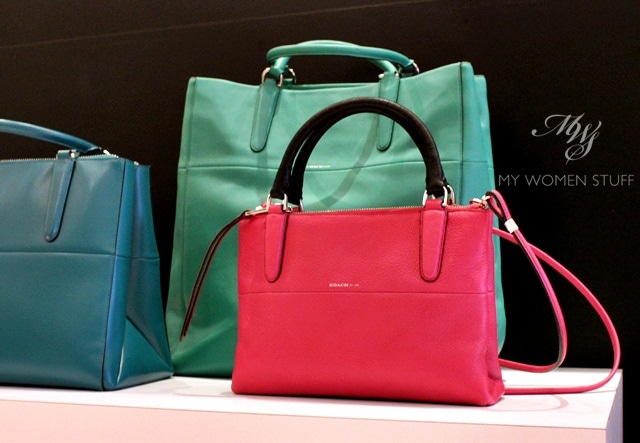 This hot pink number is a seasonal colour, and is the mini size and I can quite honestly tell you that it's very cute. As the name implies, it's small but it is quite roomy and comes with a detachable strap so it's one of those fun numbers you can sling around as you traipse about the city on a weekend.
Here's an example of how it'd look worn. This was on a mannequin which is about 5′ 5″ so you can imagine that it is quite small.
I thought the Medium sized Borough was better for daily wear. The large one actually looks too much like a briefcase. I was very taken with this teal number which was on display. The colour in person is much more vibrant than I managed to capture in the poor lighting. The leather for this one is a smooth calf leather, while I saw some others in a slightly more rough, soft leather.
What this design reminds me of is the Prada Saffiano Double Zip tote which is very popular. This Coach Borough has 3 zip compartments together with some open spaces in between, so you could actually fit a lot in there. 2 touches I liked were rolled handles and metal zips – I hold no credence with bags that don't use metal zips.
It isn't too heavy empty, which is of course, a good thing. When a bag starts out heavy while empty, you can just expect your arms to fall off when you have the most basic of items in there. This one doesn't. The Coach logo is tiny and understated and I LOVE THAT! 😀
I think this is a lovely piece and a very modern yet classic design that we can expect to see more off in the coming seasons. It'll be suitable to carry to work and it's just as suitable toting about for fun. The small one is really cute so I think that one will be quite popular.
I haven't been paying a lot of attention to Coach recently because the new designs haven't quite lured me in, but The Borough does have me keeping an eye on it. Is it a design you might like too?
Coach Fall and Holiday collections 2013
While we're at it, here are some pictures of what we can expect from Coach in Fall and for the Holiday season. My eye was immediately drawn to these colourful foldover leather clutches.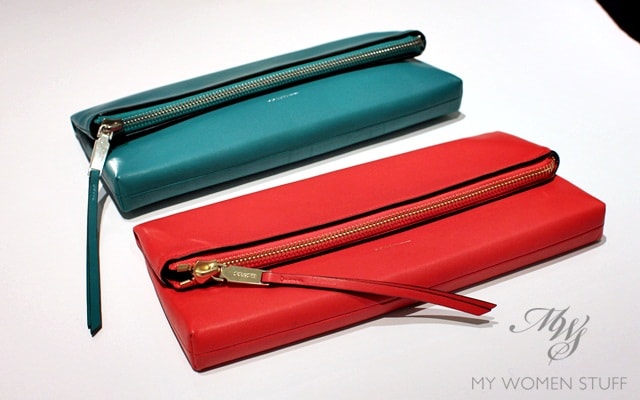 They are quite large and I like the versatility and clean lines. If clean lines isn't your thing, then Coach has the studded large clutch which looks quite worn and edgy.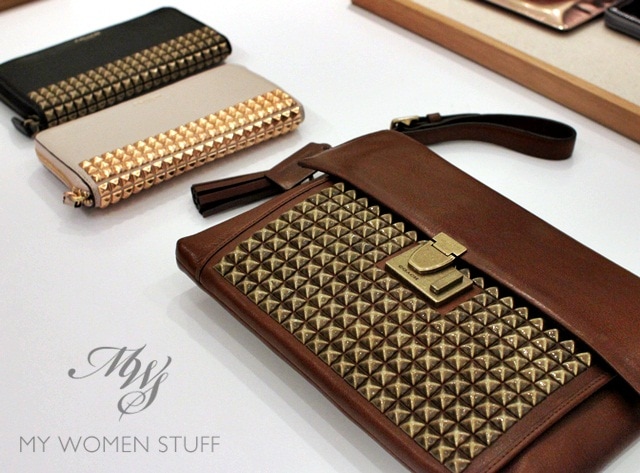 While I like the burnished look of the studds and clasp, I was not feeling the wristlet strap not the tassle AND leather tag. Almost too much going on.
Croc Coach? Well, not quite. These are leather embossed with the crocodile skin effect and there are a range of them in the Madison collection. See, that Madison Croc Embossed Drawstring bag? I told you drawstring backs were back in fashion 😉 Croc like this isn't quite me, plus I find brown very dating. I personally go for bright colored bags and accessories so browns and blacks have no say in my wardrobe unless they are very classic or very unique.
Interestingly, we will soon be getting in more Coach accessories, other than the bags. Coach is now evolving into more of a lifestyle, more well-rounded brand, rather than just churning out season after season of different bag designs. The whole (what seemed like) monthly new collections really turned me off the brand so much I refused to even look at them until they released their Legacy range, which is essentially their Back-to-basics range.
So soon, we will see their shoes, and even clothes in our local stores, starting with the flagship store at Pavilion KL. Yes, Coach leather jackets and knitwear too, since it will be Fall/Winter soon. Interesting. By way of example, here is one of the new shoe designs to expect – the lock buckle. Not quite my taste, but the colour it comes in are very unique. Maybe it is yours 🙂
Oh, and they are also boosting up the men's range which I am particularly happy about, because I happen to have a soft spot for Coach's men's bags! Their designs are sleek, simple and classic – just how I like my bags. Also, I've been eyeing one of their men's messenger bags/satchels for ages!
So there we have it. Our first peek at the brand new and upcoming Coach Borough bag which they hope will take the world by storm (although I expect to see mostly working women toting it as a very work-friendly tote) and a sampler of what Fall and Holiday 2013 has to offer us.
Does The Borough bag catch your fancy? Are you a fan of Coach?
I can't say I'm a huge fan, but one of my first better quality leather bags was a Coach Legacy Hobo in red which you see here and which now resides with my SIL, followed by a Coach Legacy Cross body bag in bright yellow which I still carry. Both have no sign on it that it's a Coach except the hang tag. Just how I like it 🙂 I got both online a long time ago. Their canvas and logo range have always boggled my mind but I think their leather ranges have a lot to offer. They are fairly affordable (one word – SALES! Another word – overseas! 😉 ) and their leather is very lovely for the price. I am keeping an eye out for The Borough bag. I don't have the prices yet but expect it to range from just about RM1000 for the mini to RM3000 for the large ones.
Paris B
Coach The Borough and Fall and Holiday 2013 will be available at Coach stores from Oct/Nov 2013. Prices to be advised