At one time, anyone who wanted to use natural or organic skincare had a tough time at it. I tried a few brands and products in the early days but if I'm to be honest, few of them really did anything for me. Some even made my skin worse and there were others that gave me contact dermatitis. It is therefore understandable that I'm very wary about using organic or natural skincare. I am living proof that just because something is labelled natural or organic, it isn't necessarily safe nor effective.
Yet, it's always useful to share of the ones available out there, and one of the new ones in the market is Bio2You that hails from Latvia.
The key ingredient in the Bio2You brand is the sea buckthorn. I've seen this being used in many natural and organic brands and it is supposed to be quite a wonder plant as it contains high vitamins and antioxidants.
I have here the Bio2You Organic Cleanser and Organic Skin Toner to share my thoughts on, so if you are into an organic or natural lifestyle, here's one more option you have.
Bio2You Organic Facial Cleanser – RM88/100ml
I like my glass bottles, but tall glass bottles for something that belongs in the bathroom or shower stall? Bad idea. Next packaging bad idea is the dispenser which is a pump, but with a very small nozzle. The Organic Cleanser doesn't foam up at all, so one pump gives you enough product if this was a moisturiser or a serum, but not for a cleanser. I have to pump it 5-6 more like 10 times before I have enough to clean my skin.
The texture is a cream in a erm… creamy colour. It claims to clean off all impurities from skin including makeup. Unfortuantely I will disagree. This isn't a good makeup remover. It just doesn't work. As a face cleanser, treat it as you will a cleansing cream or cleansing milk. It isn't easily removed with just rinsing with water so I need to use a face cloth. This means I use it only in the evening but because I can't put it in my bathroom, I tend to forget. Quite a conundrum yes?
As a face cleanser, if you wipe everything off with a face cloth, then yes, skin feels lovely and clean. It is quite gentle, and feels almost like you're use moisturiser or a lotion on your face. If you try to rinse it off with water, it's frustrating. So, I can't say I love this one. It works, but is just far too much hassle and the packaging just needs so much more work.
If you're interested however, here is the ingredient list.
Bio2You Organic Skin Toner – RM88/100ml
The Bio2You Organic Skin Toner is quite interesting. It too comes in a tall heavy glass bottle but because this remains on my dresser, I don't have complaints. Just be sure to put it inside, so you don't knock it over.
My packaging complaint therefore, is the dispenser, which mists out the product in a fine mist. All wonderful really, until you read the instructions that say you are to wipe it over your skin with a dampened cotton pad. How does that work again?
So, I spray a piece of cotton pad until it is damp, then wipe it over my skin. I also use it as a face mist as it is supposed to soothe and refresh and it works. Maybe that's the beauty of a 2 in 1 packaging. The colour of the toner in the bottle is rather unpleasant to look at, being a dark yellow and I will also tell you that it doesn't smell nice. At. All.
I don't have that sensitive a nose. I mean, I used to use apple cider vinegar as a skin toner and didn't even flinch. But this one is quite something else. It smells of fermenting plants. Not pleasant.
But, I like what it's done for my skin. It isn't drying, it hydrates, my skin is left feeling soft and it even seems to clear out my pores. Used with a cotton pad, it functions a little like an exfoliating toner and used as a face mist, it refreshes my skin. It's great so the only big drawback is the smell. Not pleasant 😛
Here is the ingredient list for the toner.
In a nutshell

This is my first time hearing about this brand which originates from Latvia. The 2 products I've tried so far are hit and miss. I like the Organic Skin Toner despite its unpleasant scent, because my skin seems to be better after using it. I was using another skin toner before this that I'm not crazy about so switching to this one has been pleasant. The cleanser however is a different kettle of fish altogether. The glass packaging isn't bathroom friendly and the pump dispenses too little product each time. It doesn't remove makeup properly and is best used with a face cloth for removal. All in all, too much work for too little benefit.

Pros: Cleanser feels pleasant on skin and when cleaned off skin feels soft and comfortable, Toner leaves skin feeling refreshed and hydrated and with regular use, appears to improve skin condition

Cons: Tall glass bottle packaging especially for cleanser isn't user friendly, Pump dispenser in cleanser dispenses too little product each time, Mist dispenser in toner makes it awkward when the instructions call to wipe it on skin with a cotton pad, Skin Toner doesn't smell pleasant, Not easily available

Who will like this: Anyone who wants to expand their organic skincare horizons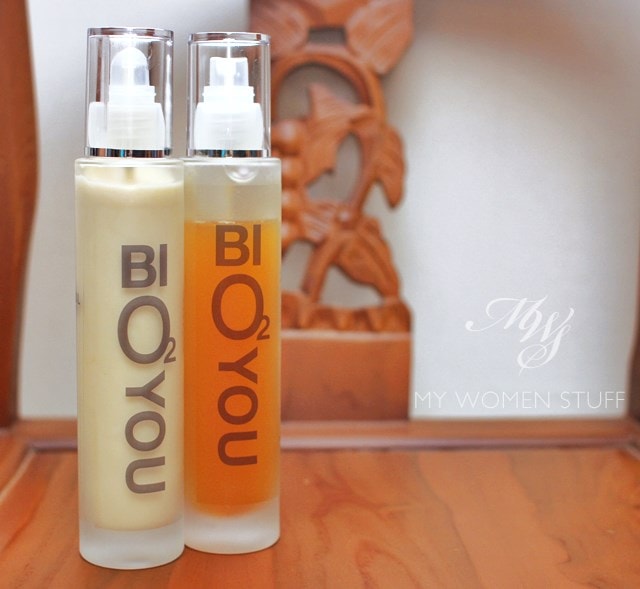 The "problem" with these is that it is available only at the new Muse by Watson's store at Sunway Pyramid. It is so far from me that I've never even been there yet. Muse specialises in niche brands so I'm assured it's worth a visit. One day maybe, when I'm willing to make the trek halfway across state 😛
Have you come across Bio2You before? Do you use organic skincare products?
It's my first time coming across this brand, and I'm feeling a little ambivalent about it. I suppose you could say that I'm not that into organic skincare in that I can take it or leave it. I have had good experiences with some brands and poor experiences with others so I'd say I'm just on the fence 🙂
Paris B
Bio2You Organic Facial Cleanser and Organic Skin Toner Price: RM88/100ml each (currently on 20% off in store or watch out for other promotions) Availability: Muse by Watson's store at Sunway Pyramid