Ah Redken, I used to be such a loyal user. My hair salon at the time only used and stocked Redken hair products and I was sucked into various products from the brand. My favourite was All Soft with the lovely almond scent and and I loved how lovely and soft my hair felt every time I used it. It also made my shower floor terribly slippery!
I haven't used anything by Redken since I moved away so coming back to the new Redken Diamond Oil hair care range had me with high hopes.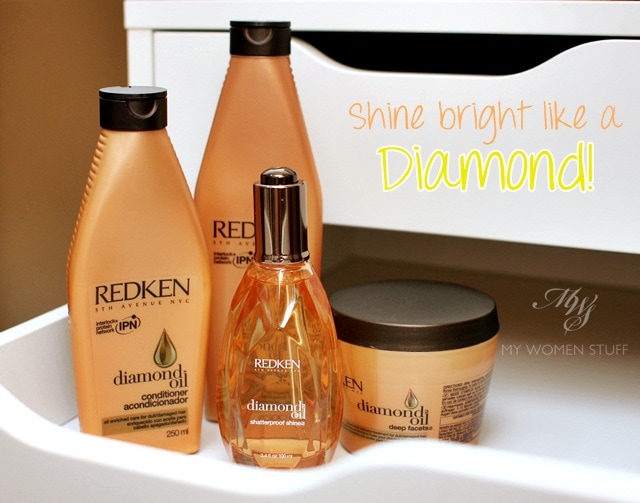 The silicone-free Redken Diamond Oil range is targeted at those with dull, damaged hair and claims to be formulated to offer your hair unparalleled shine and really, who doesn't want shiny hair right? 🙂 This shine is accomplished by adding into the products a combination of natural oils including camelina oil, coriander oil, apricot oil, olive oil, jojoba oil and coconut oil, with the intention that they would condition and repair your hair from inside out and strengthen hair.
The "problem" is, that hair is pretty much dead. So I had my doubts about the whole conditioning from inside out deal because it'd be like flogging a dead horse you know. But that's the claim and I'm here to see if it lives up to it! What do you reckon?
The only thing is this. Seeing as how I have very short hair, any "diamond shine" wouldn't be very noticeable. I also have slightly dry and frizzy hair and my shampoo of choice has been the very affordable L'Oreal Everstrong LOL! Lasts me ages and does the job! But I took the Diamond Oil range for a spin and here's what I think of them, briefly.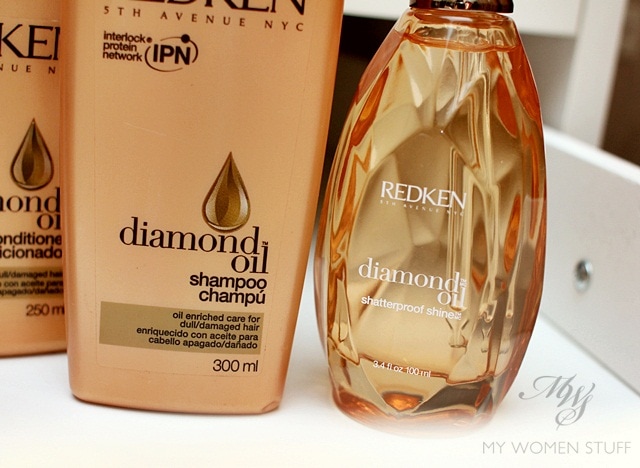 Redken Diamond Oil Shampoo – RM63/300ml
Hmm, prices haven't gone up very much since the days when I used to be forking over lots of moolah for these! Sad to say however, I dislike the Diamond Oil Shampoo. After just 3 days of use, my hair felt like straw. I did use the matching Conditioner, mind. So yeah, disliked it, don't recommend it at all.
Redken Diamond Oil Conditioner – RM65/250ml
I didn't think a lot about the Diamond Oil Conditioner either. It didn't soften my hair after I shampooed it and although the texture was thick and luxurious, it did not leave my hair feeling more manageable. It was telling that after 3 days, my hair had turned into a rat's nest so I'm giving the Diamond Oil Shampoo and Conditioner just one star. Maybe half a star. Meh.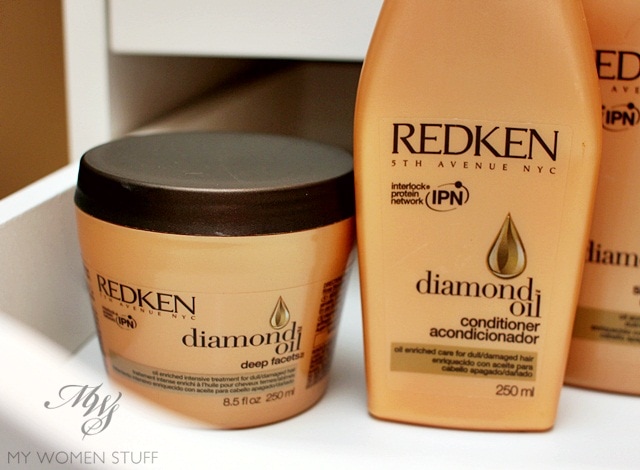 Redken Diamond Oil Deep Facets Hair Mask – Price unknown
You'd think that if the shampoo and conditioner sucked, that I'd be all Debbie Downer about the Deep Facets hair mask too right? Well, surprise! I'm not 😀 The hair mask is a weekly treat for your hair and has a thicker texture. So, apply a generous amount to your hair and leave it in. If you have an oily scalp, you may want to avoid putting it directly on the roots or on your scalp. I am very irreverent so I plonk everything straight on my head 😛 I don't have an oily scalp so perhaps that's why I don't really care.
But when I wash off the mask after a few minutes languishing in the shower (I really should get a tub so I can luxuriate in there for hours and give my hair some pampering. Somehow, it's not the same in the shower. I get tired 😛 ) my hair feels lovely! It doesn't feel super soft, but it felt light and breezy. I can't tell if it was any shinier, but it FELT nicer. Gets the thumbs up!
Redken Diamond Oil Shatterproof Shine Oil – RM108/100ml
Ah, I think I'd appreciate this one if I had longer hair because it does live up to its claims. There are 2 versions – Shatterproof Shine which comes in the golden bottle and Shatterproof Intense which comes in a black bottle for more intense repair to hair. This is your regular hair oil which we have seen popularized in the past couple of years.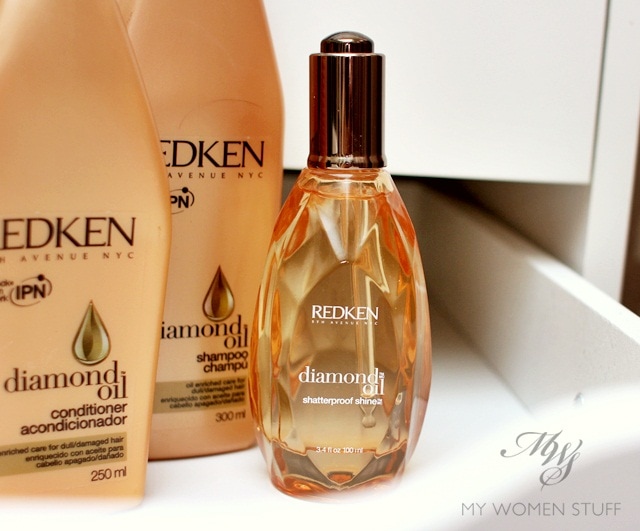 There are a couple of ways you can use it:-
Before shampoo – Massage some oil into your hair before you head into the shower. For people with fine hair, this gives you the treatment of the oil without weighing down your hair with product after. I found it made no difference to my coarse, thick hair.
Before Blow-drying – I blowdry my hair on most evenings to get it dry before bed, and what I do is run a pump of product through my hair before I blow dry. Unlike the MoroccanOil product, it doesn't help speed up the drying process, but it did stop my hair from being too frizzy post-blowdry.
On dry hair – I also sometimes use it post blow-dry, straight on dry hair. Since I go to bed right after, it is almost an overnight treat for my hair. It doesn't feel oily, does not weigh my hair down and doesn't leave oil marks on my pillow. It does however, give my hair a nice shine even if it doesn't make it feel any softer.
I use a full pump i.e. I pump once and pump out all the contents from the dropper into my palm, then massage into my hair. That is what is recommended on the box. 1 pump for shorter hair and 2 pumps for longer hair. I've seen people recommend using a few drops. Unless you have very little hair, or are very oil-adverse a few drops aren't enough. It absorbs very quickly and you will need to ensure it is properly distributed throughout your head.
So yes, I do like the Shatterproof Shine oil. I did notice that after using it for a week straight, my hair did look a bit better. A little shinier, a little less frizzy, but this was provided I did not use the Shampoo and Conditioner. When I did, my hair became frizzy and kinky and dry and not even the oil could save it. Yucks! So, Shatterproof Shine Oil, yay; Rest, meh 😛
Are you a Redken hair products fan? Do you like using oil on your hair?
Yes I do realise that you can just as easily use oils straight e.g. Argan Oil so this will come down to personal preference. If pressed, I'd say I prefer the Kerastase Elixir Ultime over this Diamond Oil Shatterproof Shine Oil. I just like the former better and so does my hair. The latter works, but just not as well for me. The shampoo and conditioner, don't work at all. Maybe my dry, frizzy hair might have appreciated the Intense version better 🙂
Paris B
Redken Diamond Oil Shampoo, Conditioner, Deep Facets Hair Mask and Shatterproof Shine Oil are available at all Redken salons