Last week, I told you about a lovely serum that makes my skin look well rested, as if I'd just had a full sleep quota instead of stealing some of that quota for my bedtime reading or TV hehe…
How apt therefore, that there should be a moisturiser that gives your skin a kickstart to the day with a shot of espresso no less! If you are anything like me, you'd be a bear in the mornings before your coffee. I walk into the office, and the first thing I do is pick up my mug and head to the coffee machine. Do not even attempt to talk to me before my first coffee because all you'd get is a snarl and a baring of teeth. I'm a bear. Once I've had that first sip of caffeinated goodness, black no sugar please, hackles are lowered, teeth are kept away and I'm human again.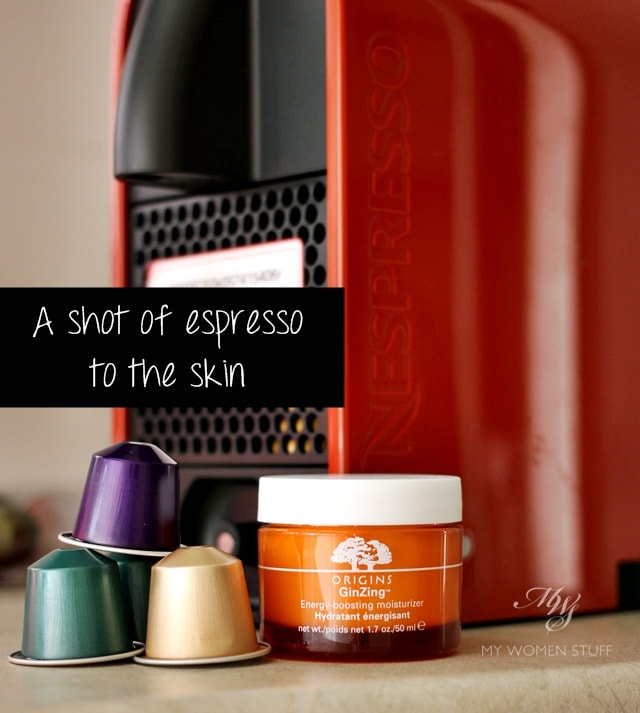 So when I learned that it is this kickstart to the skin that Origins GinZing Energy-boosting Moisturizer offers our skin, I was most intrigued.
This little orange tub holds a number of surprises, to me at least. It contains caffeine extract from coffee beans (yay!) and Panax Ginseng to give your skin a boost of energy. Most of us would be familiar with the effects of caffeine on the body. Most of us won't be able to function without LOL! As for ginseng, it has been used as a herbal tonic through the ages to heal, rejuvenate, boost energy in various herbal infusions.
So here comes the other surprise. With a name like GinZing, and knowing full well there is ginseng extract in there, I was fully expecting to be hit by a strong, musky herbal smell of the ginseng root. Anyone who has ever walked into a Chinese herb shop will know what I mean. Boom! Floors you with the heady smell of ginseng (which I happen to like, mind you!)
But it doesn't smell anything like ginseng! Doesn't smell like coffee either! What this moisturiser smells of is…. oranges. Oranges? Talk about a boost to the senses, first thing in the morning!
So, other than giving our tired skin that kick it needs to wake up in the morning, the Origins GinZing moisturiser wakes up our senses with that fresh zesty smell of freshly peeled oranges. Very refreshing. Although I think they could dial it down a little. I'm not your biggest fan of anything that smells of oranges so I shouldn't judge.
The cream itself is a gel-cream texture which is very lightweight on skin and very comfortable. I was told that this is one of those moisturisers that suit people with oily skin who are leery of putting too much product on because they fear it making them even oilier. If you are one of those, then I will suggest you take a look at this one.
For those with combination-dry skin like me, I was told that we may not find this sufficient. There is truth in that statement. I find it insufficient if I were to use it in the evening, but in the day, I was pleasantly surprised that it was alright for me. I sometimes layer it over a hydrating serum in the day and my skin feels comfortable.
However, I have also found that I can't wear this for too long at a stretch because then, the lack of moisture is a little more telling. So, I personally prefer using the Make A Difference Plus+ cream myself. I feel that the Make A Difference Plus+ makes my skin feel better and it looks better too. This GinZing cream is comfortable but only for a week or so at a stretch. The smell of oranges does set me back a little because as I said, I'm not the biggest fan of orange scented anything so this is to be borne in mind if you are in the market for a lightweight gel-cream moisturiser.
The other thing many might like is the pricetag – it's not small but it isn't too heavy either. The GinZing moisturiser comes in at RM100/50ml which puts it on par with other similar brands and products in the market.
I didn't notice any wonderful glow to my skin or if it looked any more perky after using this. All it did was hydrate my skin and leave it feeling comfortable and that is pretty much what I look for in a day moisturiser. My personal preference still lies with Make A Difference Plus+ but I won't diss this one either 🙂
In a nutshell

The Origins GinZing Energy-Boosting Moisturiser is a lightweight gel-cream moisturiser that may be more suitable for those with oily skin looking for a simply no-frills hydrating moisturiser, or someone who is in the market for a lightweight day moisturiser. It is comfortable and absorbs into skin well without leaving any tacky feeling on skin. My skin does feel hydrated although I can't use this one for too long at a stretch as it isn't quite sufficient for my combination-dry skin. So, I use it when I have a hydrating serum on underneath or when it is hot and I want something light on skin. The strong smell of fresh oranges doesn't quite sit well on my nose but if it does for you then you will like this. I don't know if my skin enjoyed that shot of espresso delivered to it, but it was comfortable.

Pros: Lightweight gel texture, Absorbs quickly and comfortably into skin, Skin feels hydrated, Not sticky or tacky, A little goes a long way

Cons: Orange scent is a bit strong for me but dissipates

Who will like this: Anyone with oily skin who needs a lightweight moisturiser, Anyone who is in the market for a light moisturiser for use in the day
Here is the ingredient list for anyone interested.
There is silicone in there, but no parabens, mineral oil, petroleum, synthetic fragrance and colour etc so I suppose it sort of balances each other out LOL! I will caution that there is citrus oil in this so if you are sensitive to citrus oils in products, please take note because some people can't handle that.
I have been asked how this compares to Kiehl's Ultra Facial Oil Free gel cream and Clinique Moisture Surge Gel Cream and my answer is that I put them in the same category. They serve the market of people who are looking for lightweight moisturisers that deliver moisture to the skin and keep it hydrated and comfortable. Origins GinZing has the added benefits of "waking up tired skin" in addition to hydration but texture-wise I find them all similar and they are also roughly similarly priced. Go for whichever one you feel most comfortable using 🙂
Have you tried this one? Do you like orange scented products?
I believe there's been a GinZing eye cream out in the market for a while already but I haven't tried that, if you are waiting to ask LOL! I like citrus scents and I enjoy eating oranges but I find orange scented products a bit too strong and sweet somehow. Nice to smell but not quite me. This might also be why I prefer the Make A Difference Plus+ which I'm on my way to using up. It better not all run out on me at the same time! 😛 I know I'm a billion years late with this one after everyone in the local blog scene has gone through it but, no apologies 🙂 Consider this one a refresher – as fresh as the scent of GinZing haha! <- cheesy 😀
Paris B
Origins GinZing Energy-Boosting Moisturizer Price: RM100/50ml Availability: Origins stores and counters