Do you know how hard it is to keep a secret?
Very, very hard!
I've had to sit on this piece of news for over a month and it's killing me, because in between, I've been telling you of my all time favourite skincare and also what I've been using in my skincare routine and this one has featured in them both… except I couldn't tell you because I was bound by an embargo and a confidentiality agreement. Gah!
But no longer!!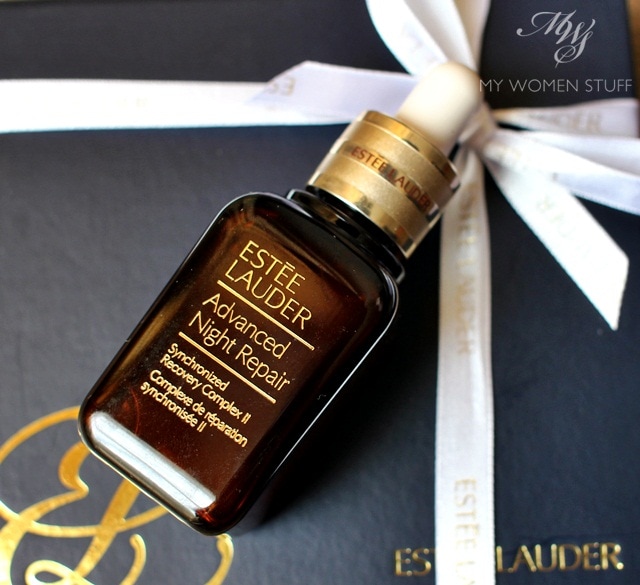 Some of you may already know this, but for those who don't, Estee Lauder has reformulated their iconic Advanced Night Repair serum and it is now known as Advanced Night Repair Synchronized Recovery Complex II. The change in the name is the II there at the end. This is their latest and what they say, is their most advanced serum ever.
The key advancement here is the use of their ChronoluxCB Technology. Basically, the discovery is that skin cells purifies itself and this process of catabolysis peaks at night. So, when this process happens, skin repairs itself from damage more quickly. As we age, this process slows. So, this all new ANR addresses this by combining the process of purification and synchronizing of night time repair so skin looks better and younger.
All that aside, all you really want to know is this – how is this all new Advanced Night Repair different from its predecessor and if I saw any difference after using it. Well, that's what I'm here to tell you 🙂 I've been using the new ANR for just about a month now since its uber secret hush-hush press launch and that is just about enough time to test its efficacy 🙂
First, let's talk a little about the packaging. I have here the Advanced Night Repair Synchronized Recovery Complex (which is the version from 2010) and the new Advanced Night Repair Synchronized Recovery Complex II (2013 version). I wish they'd come up with a new name because it's confusing!
The new Estee Lauder ANR 2 (I'll call it that because the full name is far too long) sports a slightly swankier packaging in the cap. The base remains the same brown square plastic bottle. I doubt they'll ever change it. It's far too iconic.
The cap however, sports a lighter gold shade with contrast matte gold bands instead of the brown bands in the previous version. My new ANR 2 is a 30ml bottle vs my existing 50ml bottle so please ignore the size difference. The front label too now sports a more modern design. No logo, just linear lines. To me, it has a modern yet vintage feel to it.
The delivery system is the same, via a pippette with a rubber cap. I find this much more effective than those pump versions that we have been getting, because this just does the job so much better. I've been using ANR over the years and I'm glad they haven't changed the packaging a lot.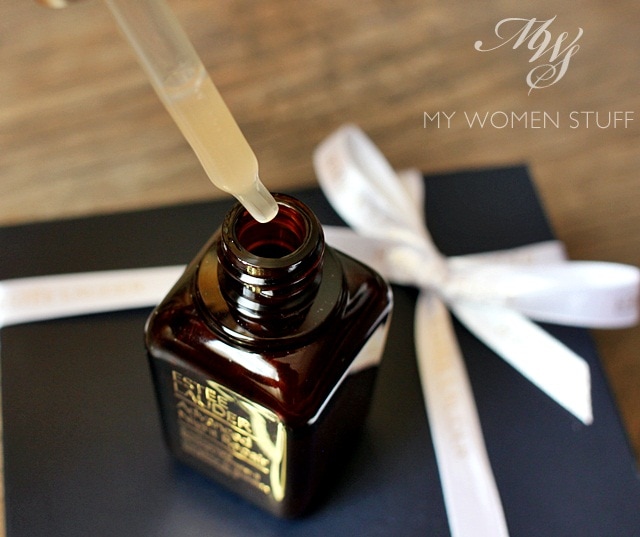 I have been told from way back that I should be using 1 full pump of product each time so I have been faithfully doing so. I'm told this is the recommended amout that ensures your skin gets enough product. I have read of people using just a few drops or just using half a pump and it works for them, also because this potion is pricey; but I prefer to err on the side of caution, and I use one full pump each time. (Psst! Buying at duty free helps a lot!)
However, I only use this at night. Yes, I know my face will not fall off if I use it in the day, but I prefer not to. The other additional benefits to the new ANR 2 are anti-pollution technology to reduce the appearance of damage caused by uv rays and pollution, anti-oxidants to protect and repair damage to skin from daily ravages and hyaluronic acid to keep skin well hydrated.
Advanced Night Repair Left: Old Right: New
The texture hasn't changed. Neither has the colour, which is a semi opaque amber liquid. The unmistakable scent that I associate with Advanced Night Repair serum over the years is still there. Nothing has changed outwardly appearance wise.
But you know what? Something has most certainly changed in the formula.
Having used this new ANR 2 for about a month, with no other change to my skincare that you see here, I have noticed that when I use the new ANR 2 my skin actually looks clearer, brighter and more rested when I wake up. This is one of the claims of the new technology and I honestly scoffed at it when I heard of it the first time. But it does honestly make a visible difference.
I was sleeping really lousily for half of the time that I was testing this, but you couldn't tell from my skin. Yes, you could tell from my dark puffy eye circles, but the rest of my skin just looked good. As if I'd had my full sleep quota. Pissed me off because no one would believe I was having trouble sleeping 😛
Hydration seems to be good as well which might explain why I can get by without using a hydrating serum but the most visible difference is when I wake up in the morning and look in the mirror and see that my skin looks fine. Not blotchy, reduced redness, well rested.
And now my secret's out 😛 I've been using this serum for years now, and I know I will be for years to come 🙂 If you're thinking of trying it, or to replenish, please make sure you ask for the new ANR 2 or the 2013 version. I wish they'd come up with a less confusing name!
In a nutshell

The Estee Lauder Advanced Night Repair Synchronized Recovery Complex II is a reformulation of the iconic Little Brown Bottle serum that Estee Lauder is famous for. For a long time user I did notice differences in my skin after testing the new formula for about a month. My skin looks clearer and rested when I wake up even if I felt like I barely slept, and it feels hydrated. I didn't expect it to make a difference, but it has and because I'm a long time fan, I will continue using it. I can't say if everyone will feel the same way, but I love this one and I'm glad they made it even better.

Pros: Light texture absorbs easily into the skin, Skin looks well rested and well hydrated, Redness in skin is reduced, Skin just looks better!

Cons: Pricey

Who will like this: Anyone who already likes using Advanced Night Repair serum, Anyone in the market for a good hydrating and anti-aging serum in one
I'm afraid I don't have the ingredient list for this new version so I'll update when I do get it. Probably when I pick up a replacement bottle.
Are you an Estee Lauder ANR fan too?
This was one of the first anti-aging serums I picked up after I'd started working. It used to be just over RM200 for a big bottle back then! I've tried the different textures over the years but I think the latest 2 versions are the best in terms of texture. Lightweight and easily absorbed and not sticky like the previous ones. Definitely keeping it in my skincare rotation. I like to buy from duty free whenever I can. Look out for the 75ml, dual pack or even 100ml bottles. Real value for money right there! 😉 Otherwise, I wait till there are gift vouchers and good GWPs to be had at the local counters for better value for money. I don't use many EL products but this one is entrenched firmly in my regimen 🙂
Paris B
Estee Lauder Advanced Night Repair Synchronized Recovery Complex II Price: RM350/50ml, RM255/30ml Availability: Estee Lauder counters from August 2013