I was talking to a friend last week and was quite incredulous when told that said friend used to think "LOL" stood for "Lots of Love". I honestly, hand on heart, believed it was an urban myth! A joke popularised by the internet, but nope. Here was someone telling me in all seriousness that was what they believed. I didn't know what to say… except LOL
But I can tell you, hand on heart, that this product did not get any LOL from me. Neither love, nor laughter.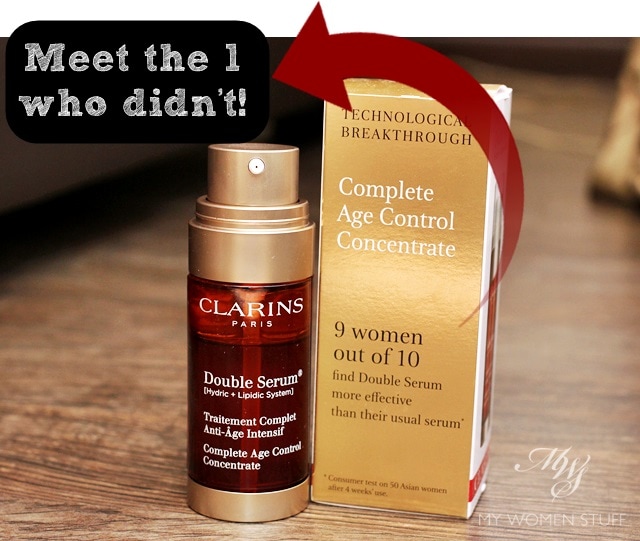 I have to be quite careful with this one because I know it's very popular with the beauty netizens, so I might get crucified. It was launched first in Asia last year and thereafter in Europe. The buzz was incredible. Here was a product that promised that you'd look younger and have better skin almost immediately. The effects were said to be instantaneous. You could and should expect to see a lovely glow to the skin the next morning.
Nope, nope and nope! 9 out of 10 women may have found this more effective than their usual serum. 94% may have had their wrinkles reduced and have more even skintone. 100% found their skin was more elastic. That makes me wonder where that leaves me.
I am that 1 woman in 10 who is sitting on the sidelines clutching on to my usual serum. I am that 6% who did not experience a more even skintone and I am that 0% <- how is this possible, statisticians?!?! who found no change to their skin elasticity. How can?!
But I tried. I gave it a year. That's one freaking YEAR to decide if I'd like this serum. Know what? It made no difference. I still don't like it and I don't think it does anything for me. Let's talk about it anyway, because I know many people have tried it and many people do love it. If you do, please do speak up – LOL 😛
What this serum is, is an anti-aging serum. This is the newest incarnation of Clarins' concentrated serum to target anti-aging. Their earlier versions were targeted at women with more matured skin. I was told it was primarily targeted at those 40 and above. All well and good. I like that there are skincare made for women with more matured skin because we don't stay young forever, and when you are a certain age and you have different skin concerns, a product meant for a sweet young 25 year old just won't cut it. You need something more.
But Clarins decided they wanted to make things younger. Introduce this to the young crowd, so the Double Serum Complete Age Control Concentrate can be used "as a preventative measure" from the 20-somethings and up. I don't know, maybe I've left my 20s for too long, or my skin just wants to remind me I'm no longer in the 20-something category.
On paper, this was a promising product. The bottle is cleverly separated into 2 halves, with one half containing an oil and the other, a water based compound. It claims to contain loads of anti-aging ingredients and works to boost hydration, radiance, plump up lines, fight stress, pollution… is there anything else this wonder serum can't do?
Instead of having 2 pumps, as they did before, the new design cleverly integrates the 2 halves of the bottle so you are guaranteed the perfect "Golden Ratio" of product every time. 80% serum, 20% oil.
This is what it looks like when you pump it out. The golden honey colour gel-like product is the hydric system while the clear bit around it is the oil or lipids. You then mix it all up in the palm of your hand and apply to your skin.
If you fear using oils, then this was made for you because the combination of product ensures that this one is never oily. The golden ratio of oil to water allows it to absorb into your skin without it once feeling greasy or sticky or oily. They didn't mention filmy. That's how it felt to me. I feel like there is a film on my skin every time I apply this. It wasn't terribly unpleasant but I did notice it. No one else mentions it however so maybe they aren't as sensitive.
Another thing is the scent. This one is heavily perfumed with a fruity smell that I find far too strong and far too sweet. No, again. No LOL 😛
I was told that most women found an almost immediate lift and radiance to their skin the next morning after using this serum. I didn't. Now, I recognise an immediate effect when I see one. The Estee Lauder ANR2 does give me that next-morning glow. I didn't experience it with this serum.
Let us just say that I experienced nothing using this serum. My nose was assaulted by the strong scent every night, and my skin with that filmy texture that I didn't like. I didn't break out nor experienced any adverse reactions but this is just one of those things that you try, try hard to like and just fail.
I like Clarins products generally (except their whitening range but then I don't like most whitening ranges in most brands) and I really like their Hydraquench range for skin hydration. This Double Serum may have been their biggest discovery in 30 years and it may come highly raved by many but I'll skip it. It's far too pricey a product to do just nothing.
In a nutshell

A highly raved, much touted anti-aging serum from Clarins that did nothing for me. No glow, no radiance. Fragrance is too strong and the product left a film on my skin I was not comfortable with.

Pros: Handy bottle, Not sticky

Cons: Pricey, Did nothing for my skin, Leave a film on my skin, Fragrance is too sweet and too strong

Who will like this: I'm not sure, but don't take my word for it because I am just 1/10
Here is the ingredient list for anyone interested.
As with all skincare, take my view with a pinch of salt. As I said, I am but 1/10 women who did not love this one to the moon and back. I couldn't even use up a significant amount as you can tell from the bottle, simply because it just did nothing. I went back to my Estee Lauder ANR (previous version) and I found my skin looked better. I knew then that there was no point in my continuing to slather my skin with a product that does nothing, when I could slather it in a product that does everything right. Sorry Clarins, better luck next time.
Have you tried the Double Serum and do you love it?
I'd love to know if it works for you. After all, 9/10 women would replace their serums with this one. So using the odds, if 10 of us have tried it, I should expect a 9/10 ratio telling me I'm so wrong about this, I should be flogged. L-O-L 😛
Paris B
Clarins Double Serum (Complete Age Control Concentrate) Price: RM280/30ml Availability: Clarins counters and Skin Spa