Growing up, I naively had the impression that "cologne" was just another word for "perfume". In a way, I was right. It is a perfume scent, just in lower concentrations. With these lower concentrations of perfume comes a lighter scent that is more suited for use in the day or when it is warm. When temperatures rise, you don't really want to have anything on you that smells heavy and musky or strong.
Earlier this year, Annick Goutal released a range of colognes in 3 classic Annick Goutal scents – Eau d'Hadrien, Neroli and Vétiver. They are meant to be light interpretations of the classic scents. Something that might sit better here where it's warm and humid.
I stopped by the Annick Goutal store in Bangsar Shopping Centre a few months ago to take a sniff of them. Other than the very lovely Petite Cherie, I have found most Annick Goutal scents to be a bit heavy even for me. So, I was curious to see if a cologne might be better. In a way it was, and in a way it wasn't.
Before I tell you about the Annick Goutal Les Colognes collection, I wanted to just tell you to please take my post or anyone else's post on fragrance with a very generous pinch of salt. Grab a whole handful of salt, if you may, because fragrances are so individual that it is practically impossible to "review". Also, remember that what smells wonderful to me could smell like pee on you. I say this by way of a preface because I recently fell for the descriptions of Diptyque Eau Duelle online and picked up a bottle only to find it was not what I was expecting.
For now, in the Les Colognes collection are 3 scents. The descriptions are mine and based on my perceptions as I smell them.
Neroli – The first spritz brought forth the fresh scent of orange blossom initially but as it dried down, I found it getting more flowery. I actually thought the scent was quite strong and lasted quite a while on my skin. It didn't smell good on me however, so I was not too pleased with the fact that it lasted on my skin for a while.
Eau d'Hadrien – This opens up with a zesty citrus top note which very quickly settled to a powdery and then floral scent on my skin. Eau d'Hadrien is described as a fresh citrus fragrance and I was expecting to like this, but it turned out that I did not. It's funny how different a description of a scent can turn out on skin, but this just smelled wrong on me. Didn't last very long, as is de rigueur with most citrus based perfumes.
I therefore settled for Vétiver for the simple reason, this was the spiciest scent of the 3 and I like my scents spicy. When I spray the Vétiver cologne on me, I find the first hit on the nose quite sharp. If you like something with flowers or something sweet and gourmand, you may not like this one.
The scent of Vétiver is sharp and spicy and then settles down to a warmer note, still retaining the spiciness but rounding out a little on my skin. Of the 3, I found Vétiver has the strongest scent, followed by Neroli and then Eau d'Hadrien.
Unlike the other perfumes I have which have Vétiver as their notes, this one smells very clear and clean. It smells like I've stepped out from a shower after using a man's spicy body wash LOL It has that hint of masculine spiciness, with a tiny hint of flowers underlying it as it goes along. It smells… fresh! But with a decided masculine slant 😀
The only drawback therefore is the longevity. This is a cologne as the name implies which makes this the lightest formulation available. The next up is Eau de Toilette and we already know that many EdT don't quite pass the full day of wear test.
So, Vétiver lasts on me quite comfortably for a little over half a day in the office. A little longer if it's cool and the air-conditioning is particularly powerful and it's a rainy day. If it's a day when I'm outside in the heat and humidity, it goes off after a couple of hours. Quite something to be expected of a cologne, but a little disappointing if you like smelling fresh all day. So, this is one where having a travel atomizer on you will be quite appreciated. I plan to pick one up so I can carry Vétiver around with me for the day.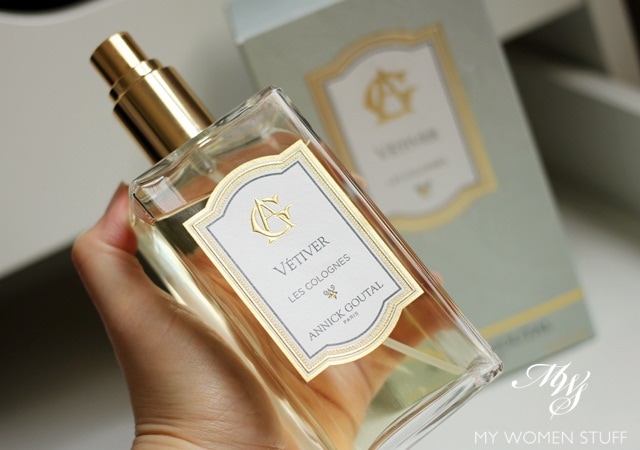 The bottle comes with a gold cap but a spray pump is included and once you attach it, you can't use the cap anymore. I thought it was a pity. I'd have liked for the cap to be made such that it could fit over the spray.
Also, notice how the packaging has changed from the classic ribbed design of Annick Goutal fragrances to a very simple, clean design. I don't know if this is going to reflect a change across the board. Whilst I like the sharp, clean, minimalistic lines of the new bottle, I find they look more generic. I've come to associate the ribbed bottles and gold caps with Annick Goutal fragrances so if there is going to be a change, it'll take some getting used to.
Oh and the Les Colognes come in a very generous 200ml bottle, hence the hefty size you see above, which makes sense because you will likely end up using more due to its lack of longevity. At RM800 however, it is still an ouch to the wallet, as with all niche scents.
Do you have a favourite cologne or do you prefer wearing a EdT or EdP? Have you a favourite Annick Goutal scent I might like?
My experiences with cologne has been a little limited, and in fact only really those by Jo Malone. I do find some stay on longer, and some not as long so much again will depend on the formula and scent, weather and our body chemistry! So complex 😛
Paris B
Annick Goutal Les Colognes are available in Neroli, Vétiver and Eau d'Hadrien Price: RM800/200ml Availability: Annick Goutal store at Bangsar Shopping Centre and Pavilion KL, and Counter at Isetan KLCC