Usually, when we talk about Summer makeup collection, colours that come to mind are bronzed and warm shades. So having a brand tell you that their interpretation of Summer is for transparent textures with shine to capture the gold of the summer sun, I found it interesting.
That is RMK's interpretation of Summer. I think, if you look at their new Ingenious W Powder Eyes eyeshadow duo, you get an idea of what they're on about.
This is 1 of 5 new eyeshadow duos available from RMK. I believe the colours are permanent except for one EX-01 Gold which is a Gold-Silver duo that I personally wasn't taken with. Its just pretty much glitter all over and not practical. If I'm to be perfectly honest, I initially passed over this Brown duo too.
My previous experiences with RMK eyeshadows haven't been the best. I found the texture too hard, the formula too sheer and shiny, and the colour payoff too poor. Sure, the Deep Iridescent one was pretty, but the way it was laid out was mind boggling. But the minute I took my finger to swatch this one, I paused, whipped out my camera and had to take pictures before I marred the surface further, because this one is quite quite impressive! Interestingly, I noticed that many of you have noticed how lovely this one looks on eyes in a previous look I showed. That assured me I wasn't alone – this does pass the test!
So while I wax lyrical about this RMK Ingenious W Powder Eyeshadow, I'll also show you some of the other items available from RMK in their Summer 2013 collection in a quick overview. Like that? Settle in.
Let me do the overview first and get it out of the way.
There are basically 5 new shades of eyeshadow set in duos. These are the RMK Ingenious W Powder eyes. One side is a pigmented base colour and the other side is a high shimmer highlight shade. I can imagine the glitter-shimmer can and will put people off but this is a trait of RMK shadows and as you will see below, its not that scary. Trust me 🙂
EX-01 Gold (Limited edition) – High shimmer gold and high shimmer silver – primarily highlight shades

01 Green – Deep green with shimmer and light green with silver shimmer highlight
02 Brown – Deep bronzed brown with shimmer and light gold shimmer highlight
03 Purple – Deep navy blue with shimmer and light silver highlight
04 Grey – Deep grey with shimmer and light silver grey highlight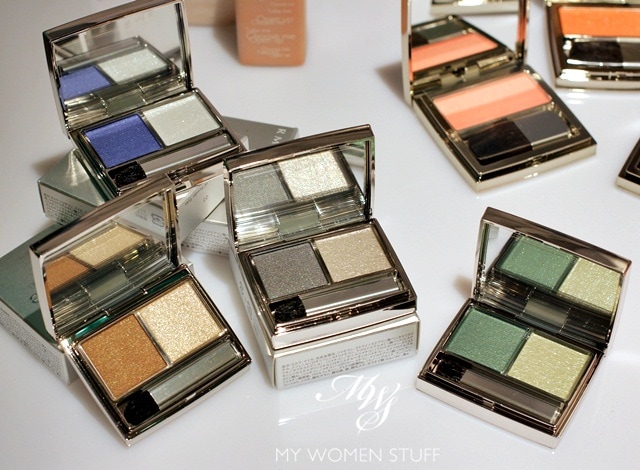 There are also 3 new sheer powder cheeks blush, all of which are limited edition. I happen to love RMK blushes. They are quite quite something as the texture is very impressively soft and the colour it gives to the skin is so natural. But truth to tell, none of these grabbed me. I found them all far too warm for my liking (Yeah I know its Summer but I'm not into the whole orange/brown/bronzed look) so felt no tug at the ol' heartstrings.
Also included are 4 limited edition lipglosses. Again, nothing that tugs at the ol' heartstrings. I'd be more than happy to pass on these (and so will you) because I don't think they are terribly special. I'd rather get one from Dior 😛
And that sums up my thoughts on RMK Summer 2013 – look at the eyeshadows (worth checking out) but skip the rest unless you like warm toned blushes, then take a look at the blush. Otherwise your money is safe 😉
RMK Ingenious W Powder Eyes – 02 Brown
But that brings me now to the one item in the collection that I think is worth taking a second look at – the Ingenious W Powder Eyes eyeshadow duo and in particular in the shade 02 Brown.
In pan, it looks blah. Come on, you agree right? Its got blah written all over it 😛
The packaging is the signature shiny RMK packaging and it comes with a very serviceable brush. If there's one brand I never tell you to throw out the applicators of, its RMK. The applicator in this duo is a lovely firm brush that works so well, I use it. I know, shocker! 😛
What I think surprised me most about these shadows was the texture and the pigment.
This swatch was made with just 1 swipe of my finger over the shadow and down my arm. Its pigmented. Make no mistake! The colour side is a warm toned brown with iridescent golden undertones while the shimmer side is a golden fine milled shimmer primarily for highlighting purposes.
What I noticed about the product is how well is "stretches" and applies on skin. Blending is a breeze and if you brush it over your lids and buff it in a little, it almost looks as if your lids have a lovely satin finish. Oh and it lasts. All. Day. Colour me surprised!
Here's how I wear 02 Brown in the easiest manner possible because I'm not a talented makeup artist who has the imagination and time to make something extravagant out of this.
I use the brush applicator and apply the brown base colour all over my lid, putting a little more colour nearer to the lashes and blending it outwards so there are no harsh edges. Then, I take a dab of the gold side and apply it over the brown from the middle, blend and I'm done.
I told you it was easy 😛
You might see how the gold sits quite prettily over the brown and highlights the middle bit of the eye. It isn't super shimmery and if you blend and buff it out a little more, it gives a very lovely golden sheen to the eye that is at once pretty yet natural.
Here is how it'd look in an overall look that I did.
Also wearing: Guerlain Beauty Booster BB Cream Light, Nars Radiant Creamy Concealer Vanilla Light 2, RMK Blush Creamy Sheer Powder Cheeks 01 Rose , Lipstick Queen Sinner Red, RMK Ingenious W Powder Eyes 02 Brown and lined with Guerlain Kohl pencil in black
If you'd like to see another angle of how the eye looks, this is the same look in the Lipstick Queen post and there's a picture there of the eyes from a different angle.
I must say, I was surprised that I liked this particular shadow. Its not a colour I usually go for, its not even a brand I usually look to for eyeshadow, but if you are looking for a neutral shadow with just that pop, take a look at this one. Not too impressed with the rest of the colours to be honest, but the Brown is one I can see most people using 🙂
In a nutshell

The RMK Summer 2013 collection boasts a new eyeshadow in the Ingenious W Powder Eyes eyeshadow duo, 3 limited edition blushes and 4 limited edition glosses. I found the blushes too warm for me so they did not attract me. The lipglosses didn't either and personally I'd pass on both. However, the eyeshadow duos surprised me because the texture was very lovely soft, smooth and incredibly fine milled and it looks like satin on skin once it's blended. The shimmer side can be a bit bright but if you blend it out it gives skin a beautiful highlight. I personally would pick 02 Brown because it is so wearable and easy to use, and can suit so many people. Deepen it with another dark shadow or liner for an evening look or wear it as is for the day. Worth a second look.

Pros: Blushes have a lovely soft glowy texture, Applicators included are of very good quality, The Brown eyeshadow duo is a very lovely pop of neutral colour that is very easy to use for everyone

Cons: Pricey, Blush shades are very warm toned, Eyeshadow may be too shimmery for some

Who will like this: Anyone who is looking for a neutral warm brown eyeshadow with gold accent, Anyone who enjoys RMK products
Have you tried anything from RMK yet? Did anything from the Summer collection catch your eye?
If you're new to RMK, I suggest checking out their base makeup first, their eyelash curler and then their blushes. Eye makeup is mostly a miss unless this new Brown duo catches your fancy, and their lip products aren't very inspiring. But who knows eh? Some very interesting things are coming out of the brand in recent times 😉
Paris B
RMK Ingenious W Powder Eyes (RM110), Sheer Cheek Color (RM130), Lip Gloss N (RM78) Availability: RMK counters at Isetan KLCC, Isetan The Gardens, Parkson Pavilion