I don't have a lot of experiences with Dior fragrances but from the ones I am familiar with, they have a very floral touch to the scent. My favourites Miss Dior Cherie and J'Adore EDT are clearly floral scents. So when I first heard that the new Dior Addict Eau Delice had a berry slant, I paused for a bit.
My experiences with berry scented fragrances aren't very positive. Both Lancome Tresor Midnight Rose and Lanvin Jeanne Couture have a strong berry scent to my nose and they don't sit well on my skin. With Eau Delice, I have to say that it was a scent I had to warm up to. I didn't love it at first scent but like Diptyque Volutes, it's one I have to let "breathe" a little before I open up to it.
Dior Addict Eau Delice is a new scent in the Dior Addict series. The previous versions are Eau Fraiche and Eau Sensuelle but truth to tell, Dior Addict scents aren't high on my love list. Eau Delice comes in a coral-orange tinted bottle, bearing the same packaging as the rest in the collection, and does have a summery feel to it.
I attribute it to 2 things – the scent and the colour of the bottle. It gives off that lovely fun vibe. Coral-orange is such a fun colour, its hard to not think of summer and warm weather when you look at it 🙂
As for that "berry" note, it's there, but it isn't as overwhelming nor as strong. In fact, the first spritz always makes me wrinkle my nose a little because it smells so tart. It's like when you first put a sour strawberry in your mouth. Your nose wrinkles, your eyes squeeze shut but you don't spit it out because under that first burst of tart sourness, you just know you'll get a hint of sweetness at the base.
And folks, you have Eau Delice.
The first spritz gives me a tart note of cranberry and cherries. You get the smell of crushed summer fruit without the strong cloying sweetness – just a burst of tart energy. After a few minutes, when my senses have settled and the scent settles on my skin, I start smelling some florals coming through. There's definitely jasmine in there. I don't usually like jasmine anything but Dior makes them wearable for me. I just learned that J'Adore is chockfull of jasmine but I love it so perhaps exceptions are possible.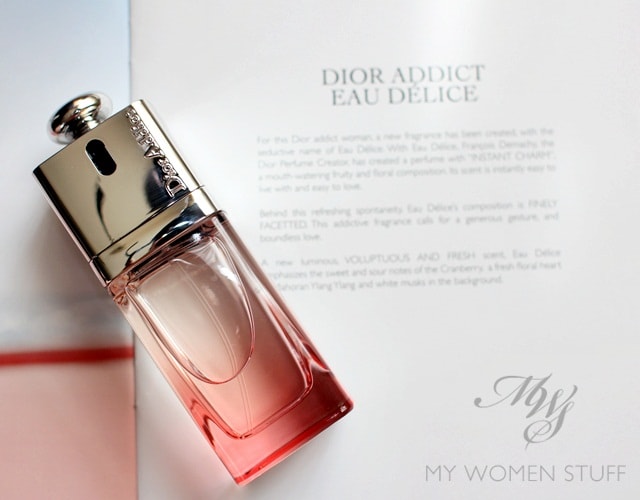 Give it an hour or so and the scent settles down into something a little musky and a little powdery. The base scent really sits well on my skin which handles musky scents well and I get none of the nauseating sweetness that I get with many berry scented perfumes, thank God for that!
Eau Delice has been touted as a fresh summer fragrance, but I hesitate to agree. I find it has a depth and heaviness to it that belies the light scents associated with warm weather. I'm living where it's always Summer and I can tell you that this isn't a scent I'd wear if I wanted something that feels fresh.
For something fresh, I'd go for something refreshing like Annick Goutal Petite Cherie or Diptyque Water 34. Scents that make me feel cool in the heat. Eau Delice doesn't.
I much prefer wearing Eau Delice only on days when I will be in the office a lot because its cooler and it then feels better. Its a fresh scent in a cool environment, because the musk notes are tempered by the cold; but when you're warm and its hot outside, it can feel too heavy on your senses.
After 2 hours, I can say the scent becomes one I enjoy wearing. It smells fruity but not sweet, floral but not cloying and musky and powdery without weighing me down. I can't say it's a very memorable or noticeable scent, but I do enjoy wearing it and I have had people ask me what it is because it isn't your typical floral perfume. There's a delightful zing to it and I think that's what makes this interesting. It may be an EdT but it does last on me so that's nice!
Here's the fun part about fragrances – the ads! 😀 I love Daphne Groeneveld in the Dior Addict ads. She is the perfect choice for a Dior girl and her energy and joie de vivre captures the essence of Dior Addict scents perfectly – young, fresh with that hint of sensuality 😀
Have you had a sniff at Eau Delice? Do you like fruity scents in your fragrances or do you prefer florals?
Dior Addict Eau Delice has been described as a fruity-floral scent which I tend to disagree mainly because the final dry down on me is that of a musky, powdery scent layered with tart fruits and gentle florals. Then again, since scents react differently to different body chemistries, perhaps you might smell something quite different 🙂
Paris B
Dior Addict Eau Delice Eau de Toilette Price: RM240/50ml; RM340/100ml Availability: Dior counters