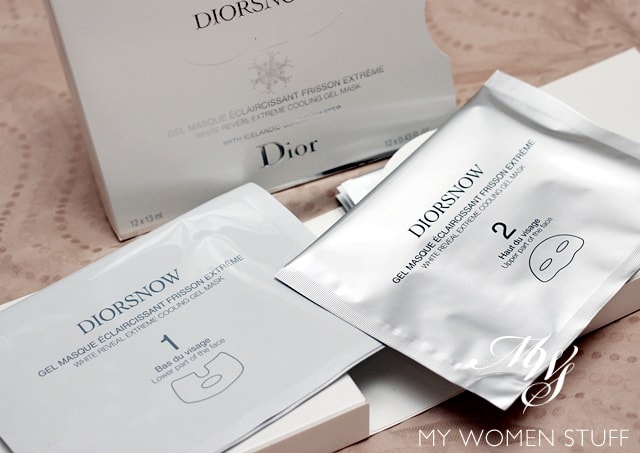 I shared with you previously my journey with the Diorsnow products I'd been trying but I didn't tell you of one, which is also new and which is quite interesting – A clear gel mask.
I personally found this one very fascinating, not because its a gel mask but because of the name – Diorsnow White Reveal Extreme Cooling Gel Mask. Did you see that? 'Extreme Cooling'! What on earth was it about?!
I'm not unfamiliar with a gel mask as opposed to a sheet mask. I use a sheet mask almost weekly or sometimes when I'm feeling decadent, twice or three times a week. I have used similar types of masks before although I cannot recall if I've ever come across one that is almost invisible. Come, let me show you. I feel like Wonder Woman in her Invisible Jet … or maybe the Emperor's New Clothes 😀
In a box, you get 6 masks which, if used once a week, can last you 1.5 months. What you get in a book format box are 2 halves of a mask. So don't be too excited that the box says 12 items, its 12 pieces of masks but you use them together so that's just 6 uses.
The masks are clearly labelled to indicate the top half and the bottom half. I don't think it really matters which goes on first, but I prefer to follow instructions. The foil pack is also slightly different so you don't get mixed up. Step 1 for the lower half of the face is white, while Step 2 for the upper half is silver.
You open the foil pack like a book, and…. hunt for your mask. See, I told you its practically invisible! The only thing that gives away the mask is the faint outline amongst the liquid its soaking in. one half is exposed, while the other half is behind a piece of plastic film that holds it in place.
Gently… GENTLY! … lift out the mask.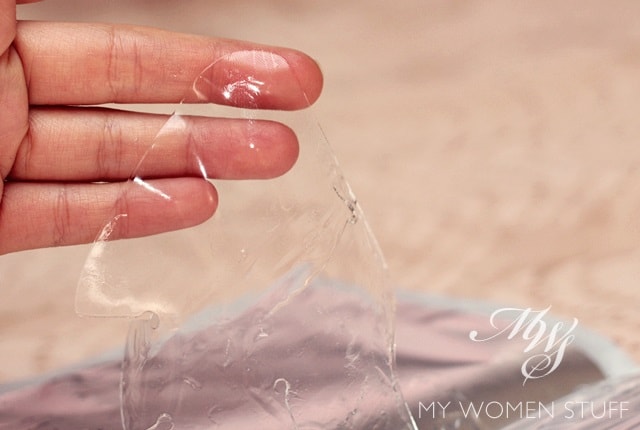 Its transparent! And that I think is the most exciting thing for me. Its almost like magic. Now you see a mask, now you don't!
The clear gel adheres very well to the skin which is very very lovely. It moves with your face so even if you're chewing on fruits (alright, I'm not that healthy – crisps it is! 😀 ) it won't slip off nor separate from the skin. That is what distinguishes this from a paper mask – the adhesive qualities.
I however am disappointed with the fit. It is, for some reason, very small. So whilst the eye, nose and mouth holes go in the right places, it seems to only cover the middle portion of the face and there isn't enough to cover all the way to my hairline. I do have a big face so maybe that's why I have this problem. Will be interested to know if anyone else who has tried this has a similar issue.
One interesting thing this mask promises is the cooling effect and boy! They are not kidding. According to the back of the box, the mask will cool your skin down by up to 4°. I couldn't measure it, but it does cool down your skin something wonderful. Even nicer after you've chilled it in the fridge for a bit.
However, I couldn't help wondering if it was really the ingredients because every sheet mask I use cools down my skin. Its one of the properties, and the fun things about using a sheet mask especially on the abominably hot days we've been facing lately.
According to the blurb, Dior says that the cooling properties helps control melanin production and offers instant skin brightening after just 10-15 minutes of use. I didn't experience this so I cannot vouch for this. I experience skin brightening with every sheet mask I use so I personally do not think it unique.
What I like is that the gel mask adheres well to the skin and the lovely cooling feel. My skin feels really cold after use and its nice and comfortable. But I ultimately also think you can get a similar effect with any sheet mask so its interesting but not unique.
In a nutshell

The Dior White Reveal Extreme Cooling Gel Mask is a 2 piece sheet mask that uses a clear gel in place of paper traditionally found in sheet masks. It lives up to its extreme cooling properties and does cool down the skin something wonderful. The clear gel is rather delicate and liable to rip if you aren't careful removing it from the pack, but on the upside, its very easy to remove. It also adheres very well to the skin but I find it much too small for my face. I don't know if this works to slow melanin production etc, but its nice to use and soothing to the skin. I however do also think its a bit too pricey for what it really is – a sheet mask.

Pros: Lovely extreme cooling feel on skin is very soothing and fun, Eye nose and mouth holes fit comfortably, Skin feels cool and hydrated after use

Cons: Pricey, Gel mask is delicate, Shape of mask is too small for my face

Who will like this: Anyone who wants a comfortable whitening sheet mask that adheres well to the skin and cools down the skin wonderfully
Here is the ingredient list. You might have to come a little closer 😛
I think this has fun factor but at RM355 (that's almost RM60 a session!) its a bit too expensive to just buy it for the fun factor. If you already use a lot of sheet masks, then you may already have a fave in which case, this may do nothing for you.
Do you use sheet masks often? Have you tried this and do you have a problem with face fit?
I use sheet masks quite regularly from various brands. I have a bunch that are really inexpensive that don't seem to do anything, so I use them just for cooling down my skin and because they're so cheap, I use them often. Some of the better ones, I reserve for weekly treatments. This one falls into the "better ones" category. It doesn't dry up very quickly and my skin is so chilled after using it, it feels wonderful! But its ultimately also too expensive for long term use.
Paris B
Dior White Reveal Extreme Cooling Gel Mask Price: RM355 for a box of 6 pairs (12 pieces) Availability: Dior counters