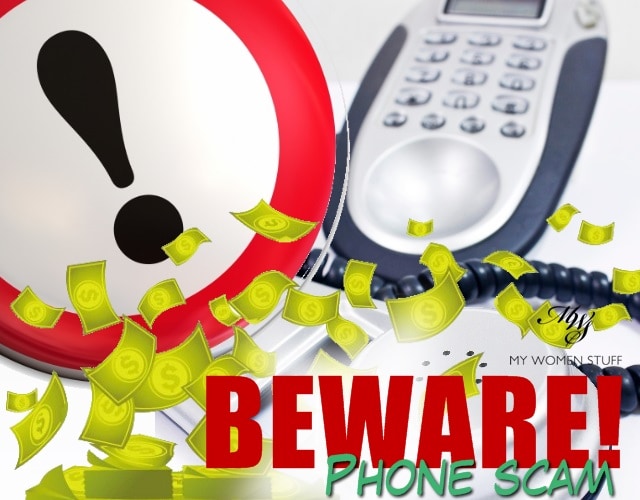 A few years ago, I shared a little story about being a victim of a scam and I asked if you were ever caught by one. I also talked once about not disclosing personal information over the phone to someone purporting to be from the bank. Well, as is wont to happen with scams, there is a cyclical nature to them and I have just almost come close to being a victim of one.
I wanted to share my experience of what has turned out to be a popular phone scam locally, so if it happens to you, or someone you know, you will be aware that is a scam and what you should be doing, as opposed to what you should do following a voice over a phone.
If this has happened to you, do share your story if you are comfortable doing so, and what you have done about it.
Yesterday, I received a phone call from +100 with a voice recording telling me I owe TM (our local telecom operator) a large sum in outstanding Unifi bills (internet). The instruction told me I should press 9 to speak to someone, which I did, because I was at work, a little distracted, and wanted to know what it was all about. I do have a Unifi account so I wanted to know if something was wrong with it.
Ladies and gents, this is where the scam starts. So, if you do receive a call of this nature, just hang up immediately. Don't bother listening.
The person who came on the phone spoke in a very garbled Malay-English hybrid and the connection was poor. Half the time I couldn't hear what he was talking about. He confirmed my full name (which was very unusual) and asked for my NRIC number which on hindsight, I should not have given (time to re-read my blog!) but what's done is done. He said I had over RM3,000 outstanding which was ridiculous.
So, I asked for details and I was told that there was a VIP20 Unifi account opened by me at an address at Puchong, at 101 Mall Puchong some time in November 2012. I said, "Hang on, that can't be right. I don't live in Puchong and I've never even been there!"
I happened to know that a VIP20 account is RM249 a month so there was no way an account opened in November 2012 could rack up a bill that high. My spidey senses were tingling at this point, so I pulled up my Unifi account online and waited for more confirmation.
When pressed, I was given an account number of 1105879322 which I later confirmed to be fake and non existent. Here's the clincher.
I was told that the account was opened in my name using an MBf Mastercard. I was more concerned about the fact that my information had been stolen so I again said it wasn't possible.
What got my hackles up and eventually caused me to twig that something was wrong, was the fact that the caller kept talking about this credit card and that I could complain to the Central Bank (Bank Negara Malaysia) if I didn't own such an account. I said I was prepared to lodge a police report, if necessary but when he kept on pressing on about the credit card, I blew my top.
I told the caller that since he was calling from TM (which he said he was) I didn't see what he had to care so much for my credit card when I could sort that part out myself. I just wanted to know what it was TM was going to do about it! Then the line went dead. I was quite puzzled at this point, so I called the official customer hotline number (1-300-88-1221) and spoke to a customer service agent about it who confirmed it was a scam and that I only had 1 account with them and the account number I gave her was a fake.
Based on this little episode and anecdote, there are a few things you should bear in mind if you ever receive a call like this:-
The recording telling you that you have a large outstanding amount of over RM3k is made by someone with very poor Malay pronounciation. From experience, most recordings on TM or Unifi hotlines are made in fluent Malay or English

The person who purports to be from TM who comes on the line should you proceed speaks English and Malay poorly. The guy talking to me was speaking in half and half and when I got angry and lambasted him in Malay, he switched back to his poor English which I found rather odd.
The scammers aren't all that interested in your personal details, what they really want is for you to call the Central Bank for which they'll give you a number so they'll keep pushing you to call to make a report. This is where the scam really happens so don't let it get this far!
The scammers aren't interested in your Unifi details. They have a host of fake accounts and addresses they can give you quite willingly.
The quality of the phone line is abysmal and noisy.
I looked up this Unifi/TM scam online and found out that what happens after that is when you call the number given by them purportedly of the Central Bank, it will be a fake person who will direct you to go to an ATM to sort out the matter to avoid you being blacklisted. Then, they will make you perform some bank transfers from your bank account and the scam is then complete.
I believe that there are many ways they can twist this around with the same result. Many people are afraid of having their credit rating affected or being blacklisted by banks so it might be why people will take notice.
My advise is this:-
If you receive a call about large outstanding sums owing to anyone or any utility company, hang up immediately. Then, call back the official hotline at your leisure (never hit the redial button) to verify if its true that there is an outstanding account. If indeed such a large sum is owing, believe you me, you'd have your service cut off already.
If you receive a call telling you someone used a credit card you do not own, don't panic. Take down the card number and then lodge a police report.
If a caller calls you and asks for personal information, do not give it out.
Never call any number given to you by an unknown caller. Instead, look up the official number for the Central Bank (www.bnm.gov.my) and call that number.
Above all, do not panic or offer to make any payment. Focus on the issue at hand. If they call from a utility company, they don't care how you make payment. I've had calls about late payment and they don't care how you do it so long as payment is made. No utility company will ever care about what happens to your bank account.
No utility company will call you settle your outstanding bills. From experience, they just cut off the service so this is a clear warning sign
I am thankful I didn't give out too much information although I do feel stupid for giving out some. But we learn from our mistakes. The most important thing I am thankful for is for having a short fuse and for blowing my top at the caller to tell him to stick to the point of my TM account and not care how I deal with a rogue credit card. That was the clincher that made them cut off the line 🙂
Have you or anyone you know ever received a similar call for a similar scam?
After I related my story on Twitter, a few friends told me of similar things happening to people they know. Its been going on for a while it seems, but I'd never come across it before. So, I know we usually talk about beauty on this blog but I wanted to take the opportunity to inform and share as well so do excuse the slight digression. I hope none of you or anyone you know has lost money and been a victim of this or a similar scam. Please share so more of us are educated about this.
Paris B