Fact is, ladies and gents, I have used loads… and I mean LOADS of different skincare in my time. It's part of the reason I started blogging it. I wanted to share how the different products out there have worked, or not, for me. Who knew that it would blow up the way it did! 🙂
But over the years, I've been whittling back down my skincare arsenal and I can safely, hand on heart tell you, that I have found some faves that I am willing and happy to repurchase over and over. In fact, I have. In fact also, these are skincare I have been using over the past 6 months – some even longer – they are staples in my skincare regimen and I have found them to be so good, I'm actually loathe to switch out any one of them.
Yes, I've only found 5 to date. What does that make me? Extremely loyal? Extremely fickle? Or just Extremely picky? 😛
Before I unveil them, see if you can hazard a guess as to what they are. For a couple of them, the packaging shape is a giveaway and I think one might surprise you 😉 Got your guesses ready? Here they are in my first (and a possibly sporadic feature) Paris Picks! :D.
Did you manage to identify any? 😉
I'll run them down for you here just very quickly. They have all been reviewed on the blog at one point or another and I will link you to the original review so click on the links to read my then-first impressions of it and how I have changed or not changed my impressions of them over time. Listed in no particular order 🙂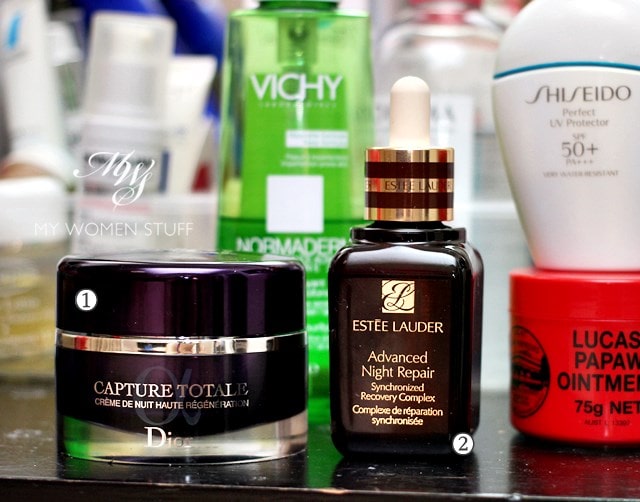 1. Dior Capture Totale Intensive Night Restorative Cream
This has been my night cream for the past 6 months. I was having really problematic skin for a while towards the end of 2012 and at the start of 2013. My skin was uneven, dull, dry, flakey, breaking out… you name a problem, I had it. I was quite at my wits end as to what to do, so I stripped down my skincare to the bare minimum. Then, I trawled my skincare archives (I knew starting this blog was a great idea! 😉 ) and an old review of this cream caught my attention. I'd remembered that it was very nice but I'd given away the tub to my Mom who was looking for a night cream at the time. So, I bit the bullet and bought a new tub. I swear this cream turned my skin around.
I was still operating on a minimal skincare routine at this point so I knew any improvements were thanks to this particular cream. In a few weeks, I noticed that my skin looked better and felt softer. Its been about 4-5 months since I started using this cream and my skin has never been better. It looks better, my skintone looks much more even, and my skin is hydrated. I do blend this cream with a few drops of either Kiehl's Midnight Recovery Concentrate or Estee Lauder Nutritious Essence Oil as its quite thick. I took this with me to Prague and it kept my skin well moisturised all day in the cold dry air. It's a nice dent in the wallet, but because it's so thick I don't use too much and I only use it at night so its going a long way. Loving this one and am so loathe to try any other night cream at this point so this will explain why there are no more night cream reviews for a long while 🙂
2. Estee Lauder Advanced Night Repair Synchronised Recovery Complex
Uh, where do I even begin?! I started using this back when it was just called Advanced Night Repair without the fancy embellishments. The texture then wasn't as lovely as it is now. It was thicker and a bit more sticky but I liked it, for some reason. I'd also dabbled into the Whitening version but that sucked (i.e. did nothing) so I went back to the original. I've picked this one up off and on over the years (especially at Duty Free where there are duo packs for excellent value!) and every time I pick it up, I'm reminded why I like it.
I told you before about going back to using ANR and since then, I've always kept a bottle on my dresser. How often or rarely I use it varies depending on what else I might be using at the time, but whenever my skin needs perking up or I want to just say "Hang it all! I don't want to use anything new!" I go back to ANR and every time, it gives me what I want. Truly, if I never use another Estee Lauder product, this will be the one I'll never give up 🙂
3. Vichy Normaderm Deep Cleansing Purifying Gel
This is the reason I am so upset that Vichy products are no longer available in Malaysia. I use this face wash as my evening face wash after removing my makeup and it seriously is the best I've ever used to keep my skin under control. Not only does it cleanse without drying, the salicylic acid in there keeps spots at bay so I am less plagued with pimples and random spots.
I picked this out years ago as my bathroom staple face cleanser and you know what? My opinion has never changed! I bought back ups when Vichy pulled out but when I ran out, I tried a few alternative face cleansers but nothing did the trick. So I couldn't take it and ended up buying a bottle from the UK through escentual.com (they often go on sale!). I could get it from Singapore too if I wanted, but I'd have to rely on people to help bring it back while ordering it online means I can have it sent to my doorstep at my convenience 🙂
4. Shiseido Perfect UV Protector SPF50+ PA+++
This is bottle No. 3 of what is the only sunscreen I ever want to use. Ever since I was introduced to it, I have been hooked. The texture is lovely. Its light and non-oily and doesn't leave that greasy sheen on skin. It contains zinc oxide but for some reason, doesn't break me out the way zinc oxide in sunscreens usually do.
It makes an excellent makeup base so I have never found the need to use another makeup base on top of it, and it isn't oily or heavy or greasy or anything yucky. I use it daily over face and neck (yes, even on weekends and even when I'm just staying at home) and when I'm at the beach or somewhere hot, even on my arms. I do run through it quite quickly as I'm generous with my use – about a 1 inch squeeze for each part of my face.
I've got my backups in place and I pick them up when there are deals and GWPs to be had. It's about the only item I actually repurchase from the Shiseido counters and I got my friend hooked too! These days, when we see deals at the counter, we just snap up 2 bottles because we know, it'll always come in handy 🙂
5. Lucas Papaw Ointment
I know, no one would have picked up on this one because I showed the tub not the tube haha! 😀 Actually, I just picked up the 75g tub recently because the pharmacies had run out of the tubes and I didn't want to walk all over looking for a pharmacy that had it. I'm actually very glad I got the tub version because I realised that the contents do not liquify as much as the ones in the tube! Its less portable of course, but I only use it as a nightly lip treatment so it stays on my dresser.
Yep, this is the only lip treatment I use and I've gone through 3 tubes of it. I slather on a thick layer at night before bed and wake up to lovely soft, flake free lips. Of course, having sufficient water intake plays a major role as well, but whenever I do have flaky or chapped lips, I go back to Lucas Papaw Ointment. I have tried using another version of papaw ointment by a brand called Pure made without petroleum derivatives and which I believe is an organic product, but I disliked it. The taste and smell was awful and it was much too runny, being practically almost liquid in our heat. I tried keeping it in the fridge but even then it never properly solidified. Also, I had some problem with sensitive lips recently and Pure did nothing for my lips except taste awful. Lucas Papaw Ointment on the other hand, helped keep things under control so that was the end of my experimentation and the reason I chose to invest in a tub.
There you have it. Just 5 skincare items that I've found worthy to repurchase over and over. I was quite pleased to realise that my fave products are quite well distributed between the pharmacy and the department store 😀 Its tough you know, this skincare business? Who knew applying products to the face could be so trying 😛
Have you tried any of my Top 5 skincare picks? Have you any skincare that you are willing to be loyal and faithful to and what are they?
I'd love to know of your top skincare picks too so if you have any that you are very loyal to do share. Who knows if I could discover a Top Pick in there some day too! 😀
Paris B