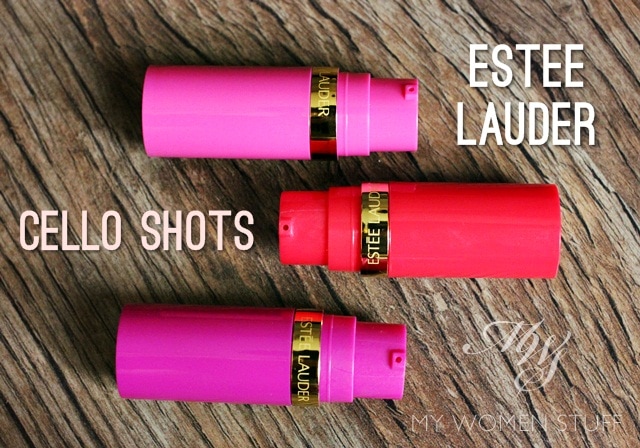 The first time I came across Estee Lauder's Cello Shots capsule collection, the only thing I could think of was "Jello (vodka) shots" Ooh…er… 😉 I couldn't help it! The bright colours and lovely light textures, like the wobbly jelly texture and shine of the Sheer Rush Lip Gloss further enhances this imagery.
But the "Cello" actually refers to "cellophane" and when I read that, it all made sense! Cellophane is sheer, translucent plastic sheet and you sometimes get them in different colours, like glass paper – anyone remember making lanterns and stained glass images with those in art class? Erm… anyone remember art classes? 😛
So, it should come as no surprise that the products in this range are light, sheer, transparent washes of colour. With that background, let me show you the Cello Shots Cheek Rush gel blush. Yes, gel! 😀
I'm really into blushes as regulars will be well aware by now, but I mostly stick with powder blush. Its just easier for me to handle and I find them much easier to work with. I used to shy away from liquid or cream blushes because for the most part, they usually call for application with fingers and I absolutely dislike that. I've since come up with a workaround that I'll share with you soon 😉
The Cheek Rush gel blush actually comes in 4 shades. Pictured here are Hot Fuse, Pink Patent and X-Pose Rose. Not pictured is Techno Jam, a deeper berry. You may remember that I'd showed you the lipglosses of the same names that I really love from this collection. Now, I had nothing bad to say about the packaging of the lipglosses because they come in the same packaging as all the Pure Color lipglosses.
But I was not taken with the packaging of the Cheek Rush blushes. The bottle is small, just about the height of the Estee Lauder lipsticks and contain about 8g of product. That's alright because a little goes a long way as I'll show you below. But what I didn't like was how plastic it all looked and felt.
The colours of the packaging reflect that of the blush colour, which is helpful, but I just felt that it wasn't quite up to standard. I do think they could have done something a little more elegant. Something a little more befitting the RM120 pricetag.
Packaging aside, performance is touch and go. When I was doing a little research on the Cheek Rush blushes, I realised that almost everyone commented on how sheer they were, going on skin almost transparent. I experienced that myself the first couple of times that I tried it.
However, no one mentioned just how much it stains, so it isn't so much of a blush, but is almost a cheek stain. Let me show you some examples of what I mean.
Estee Lauder Cello Shots Cheek Rush Swatches (1) X-Pose Rose (2) Pink Patent (3) Hot Fuse
When you first pump the gel out on the back of your hand, the colour looks very intense and matches the colour of the packaging almost exactly. Yes, its that bright! The first picture at the top right shows you the product which I pumped on my arm and then swatched them to show you the colour.
X-Pose Rose: Intense, it is a bright rose shade
Pink Patent: A bright pink with creamier texture
Hot Fuse: A red that is a little more sheer than the name implies
On bottom right are the same swatches after I'd left them for a little bit. The product seems to sink into my skin and acts as a stain. Quite a pain to remove, if I'm to be honest. You can see the stain on my fingertips too. The first time I wore this blush, I pumped the product on the back of my hand. I spent the whole day at work with a pink stain on the back of my hand.
But it is this that is the problem. You see, if you pump the product on the back of your hand, then use your fingers to pick it up and apply to your cheeks, you get almost nothing on your cheeks. All the colour is transferred to your hand and fingers and you will be very disappointed. I was. I was all "What? Is this it? All the effort for nothing?"
Here's what I recommend that you do. Pump a tiny dot on a brush and then use the brush to apply to your cheeks. 1 tiny pump usually allows me enough colour to use on both cheeks. This way, the full intensity of the product goes directly on your skin and you actually see the colour, as opposed to getting frustrated.
When I use the brush method, I truly appreciate the transparent sheer quality of the blush. It doesn't sit on top of your skin, but seems almost a part of your skin so it is very natural. This sort of transparent colour does give that "natural glow" to the skin that everyone wants to achieve, and allows you to do so without having extra layers of product on the skin.
It could almost be my imagination, but I do have a slight cooling feel as the product goes on my skin which is nice, and best of all, the longevity is very good. As I have said, its almost like a cheek stain, so the colour does get a little more intense after a little while (which is why you have to only use very little) and it lasts and lasts. By the end of the day, I remove it with Bioderma Micellar water and it all goes away with my foundation. But if I try to use the Bioderma to clean my arm it doesn't go away so easily. I wonder why!
There is one more drawback, which can only be demonstrated by showing you all 3 colours worn on me using the brush method I told you above.
Cheek Rush gel blush – Hot Fuse
Also wearing: Kanebo Lunasol Skin Modelling liquid foundation OC-01, Nars Radiant Creamy Concealer in Light 2 Vanilla, Chanel Stylo Cream Eyeshadow in Moon River, Dior Serum de Rouge in Crimson 840
Hot Fuse is the bright red shade. On my skin it gives a tiny hint of red flush to the cheeks. You can still see all my freckles coming through. Its that transparent.
Cheek Rush gel blush – Pink Patent
Also wearing: Kanebo Lunasol Skin Modelling liquid foundation OC-01, Nars Radiant Creamy Concealer in Light 2 Vanilla, Chanel Stylo Cream Eyeshadow in Moon River
On me, Pink Patent which is a bright creamy pink on the back of my arm, becomes a warm pink on my cheeks. Again, natural and transparent.
Cheek Rush gel blush – X-Pose Rose
Also wearing: Kanebo Lunasol Skin Modelling liquid foundation OC-01, Nars Radiant Creamy Concealer in Light 2 Vanilla, Chanel Stylo Cream Eyeshadow in Moon River, RMK lipstick W Irresistable Lips in 01 Gold Pink
X-Pose Rose was my favourite lipgloss colour in this collection and I think it has to be my favourite cheek colour as well. It looks berry on my arm (honestly, berry blush shades can be quite hard to pull off) but just a light wash of colour on my cheeks makes it look pink and healthy. Its a bit brighter than the other 2 colours on me.
All pictures were taken on different days, including one with a different haircut even! Spot it? 😛 That explains the slightly different lighting each day. But that aside, ALL THE BLUSHES LOOK THE SAME ON THE CHEEKS!
Don't you agree with me? Perhaps its the way my skin causes the colour to develop, or because I don't use very much product – it gives you clown cheeks if you aren't careful – or simply because I don't use my fingers and therefore do not layer on the product. Either way, I have to say that these blushes are very nice, and perfect for hot weather and for longwearing when you're sweating or getting in and out of a pool (why you'd be wearing makeup then, I do wonder :P) but you only need one.
In a nutshell

The Estee Lauder Pure Color Cheek Rush is a gel blush which I believe is a first from Estee Lauder. The product comes in a rather tacky packaging which I do think could be improved on. The gel blush appears to have very intense colour but sheers out very prettily. I do find that it does stain and if you use your fingers to apply on cheeks, it is very transparent and very light and is very disappointing. When I use a brush instead, I get better colour and better control so I recommend using a brush. Also, I do notice that although the 3 colours look different when pumped out, they all eventually end up looking the same or similar on my skin. It could do with the way I apply or the amount I use, but I do think anyone only really needs one of these.

Pros: Clear transparent colour is very flattering and natural, Longlasting, When applied with a brush directly to skin the colour applies more true to colour than when fingers are used

Cons: Pricey, Packaging is a bit tacky, All colours look similar on my skin, Stains fingers

Who will like this: Anyone who needs a longlasting blush that isn't too strong or too powdery, Anyone who appreciates gel or liquid blushes or cheek stains
Have you seen these at the Estee Lauder counter? Do you like using liquid or gel or cream blushes generally?
I generally don't like anything other than powder blushes because I dislike using my fingers and having them all stained, but as I said, I've worked it out so I don't stain my fingers anymore and that my dears, will be the subject of a forthcoming post/tutorial 😀
Paris B
Estee Lauder Cello Shots Cheek Rush gel blush comes in 4 shades – X-Pose Rose, Hot Fuse, Pink Patent and Techno Jam Price: RM120 Availability: Estee Lauder counters Limited Edition: Yes, Cello Shots Summer 2013