You know what they say. If you like it, you better put a ring on it 😉
Its what Bobbi Brown hopes you'll do with her Luxe Eye Palette launched for the bridal season to help you create your look for your big day. The Bobbi Brown Bride. But you know what? That rather puts me off, if I'm to be honest. Whilst its a great idea for a bride-to-be to consider, what about someone who isn't a bride-to-be? Does it put some sort of pressure on women who just want to own this palette because they happen to like how it wears? Does even looking at it in store set off the clanging of wedding bells in the air? (If that happens, run – it might be the fire alarm 😛 )
Well, this were exactly the thoughts that ran through my mind when I read about the palette and also why I set it aside after I received it, not overly keen to look bridal. When I eventually picked it up and tried it, I was quite simply, blown away by how much I liked this NOT for a bridal palette, but for a very lovely, very wearable, very mistake proof eyeshadow palette. If you too feel the same way I do about marking this down for a bridal palette, don't. You might miss out on a very lovely piece.
The Bobbi Brown Luxe Eye Palette comes in a very compact and shiny metal case. There is good heft to the case which does allow it to live up to the "luxe" claims.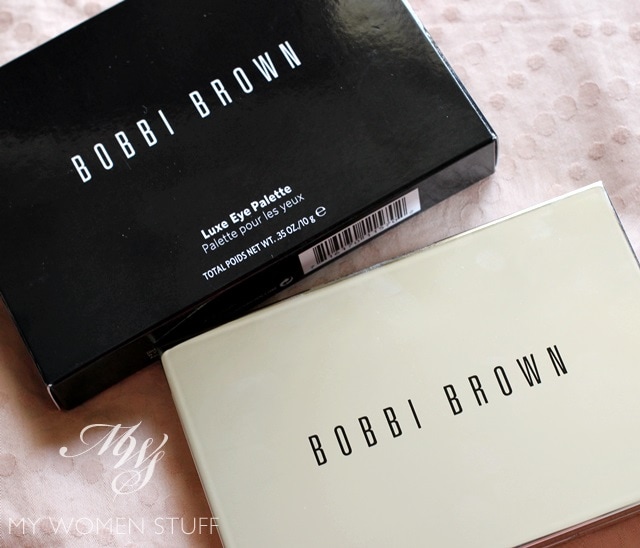 Open the palette and you have 6 eye colours chosen to be very safe, very neutral colours. Nothing exciting, nothing that makes you go "OMG Look at that!" but at the same time, nothing brown. Nothing makes my stomach turn as much as opening up a 'neutral' palette to see 6 shades of brown staring at me in the face.
With the Bobbi Brown Luxe Palette you get the following 6 shades which (correct me if I'm wrong) are available as singles. Here's a quick run down starting from the Left column, running top to bottom.
Cream Eyeshadow – Described as a creamy beige this is a matte shade that practically disappears into my skin. This would be the 'base' shade that you use all over your lid to create a base for other colours to build on.
Pink Opal Shimmer Wash Eyeshadow – A shimmery nude beige with a hint of pink. Not something I'd call pink to its face because I see it as just being a shimmer neutral beige.
Oyster Grey Metallic Shadow – I love this shade. Despite the 'metallic' tag, its not metallic at all and has a lovely satin finish. It isn't very grey either and looks to me like a shimmer cream. I like using this one over Espresso for a very simple, very fast eye brightening look.
Pink Pearl Metallic Shadow – I don't know where all these pink references are coming from, but this looks like a lilac to me. Again, unlike the 'metallic' tag, its not metallic at all, and like Oyster Grey, has a lovely satin finish. It too works beautifully on its own over Espresso or just on its own with Espresso to line.
Pink Lilac Sparkle shadow – Again another pink reference I don't get. This one is sparkly as the name implies and looks to my eye like a light lilac shade. Strictly highlighter use.
Espresso – A matte dark chocolate brown that is almost black. Espresso appears in almost every Bobbi Brown eyeshadow palette as the crease/liner shade. I've had a few BB palettes in my time and Espresso features in every single one! Can't deny that its useful though.
Here are the swatches to accompany the description. Swatched from Top to Bottom, Left column first then right column.
Left-Right: Cream, Pink Opal Shimmer Wash, Oyster Grey, Pink Pearl, Pink Lilac, Espresso
All the colours look light and shimmery which I can imagine will make many of you wrinkle your nose. Espresso felt and swatched a bit dry to me, and even when I use a brush it feels the same – a bit dry and patchy going on. So I have to be careful with how I apply it. Its very pigmented however, and makes a lovely liner or base.
I've been wearing this palette exclusively for a week and guess what? I'm not tired of it. It says a lot, because these aren't colours or textures I usually wear. I am in fact, slowly crawling out of an eyeshadow rut where all I've been using is just 1 single colour swiped across my lid. No inspiration. So this palette is a good way to ease into things.
Here's an idea of how I usually wear the Luxe Eye Palette.
I wear Espresso close to the top lashline and smudged upwards, then I take Oyster Grey and apply it all over the lid and blend with Espresso so it gives a hint of depth as you may notice. I then take a fluffy brush, dip it into Pink Pearl and Pink Lilac, brush it over my lid and up to my brow. Done.
I like the gentle shimmer it gives to the eye area and how it brightens the eye area without making it look too heavy with colour. I've also learnt that if I really wanted to, I can use Espresso to deepen the base for a stronger evening look. I took it with me for a quick work trip this weekend and it was lovely worn in the evening for a softly smokey look, amd transitioned into a glowy eye for the day.vIt really is quite a versatile palette and a very user friendly one, and importantly, very fast to work with.
Sure, you could wear it on your wedding day, I suppose. But me, I just like wearing it everyday because it just works 🙂
Eyes: Bobbi Brown Luxe Eye Palette | Cheeks: Bobbi Brown Apricot blush | Lips: Chanel Rouge Coco Shine Elise | Face Lunasol Skin Modelling Foundation + Nars Creamy Radiant Concealer in Vanilla
In a nutshell

The Bobbi Brown Luxe Eye Palette is a palette created to entice brides-to-be but I feel that it rather gives a wrong impression because the palette in fact, works very prettily for daily wear. The colours are soft and shimmery but not overly so and if you blend it out, the lids look like they are glowing which is lovely. The use of Espresso is quite important in this palette to tone the shine down and to bring depth to what are otherwise very flighty airy colours. Espresso helps give dimension to the lids and can even be used to create an evening look with this very same palette. I don't know or think it'd work for the very dark skinned or very tanned so I do believe this palette will work best for light to medium skintones. A lovely palette. Put a ring on it 😉

Pros: Easy to use, light blendable colours, Gives a glow and fresh look to the eyes

Cons: Light shades will not suit deeper skintones, Light colours look too similar on skin

Who will like this: Anyone who isn't keen on bright eye colours, Anyone who wants an easy to tote palette that can work easily and effortlessly for day or night
I used to have a number of Bobbi Brown eye palettes and they are really nice if a little boring and I do notice that they are making more shimmer ones these days instead of satin/matte shadows as they used to before. You don't go to Bobbi Brown for bright, striking colours but when neutrals and daily wear shades call, Bobbi Brown is usually a good place to start.
Have you checked out the Luxe Eye Palette? Do you have a favourite Bobbi Brown eyeshadow or palette?
I have and love Rockstar, a metallic grey that is just beautiful and super bling! I still pull it out now and then when I'm feeling like a rockstar 😀 Its the first time I've checked out Bobbi Brown shadows in a while and I must say, I better revisit so hit me with your fave shades! What say you – put a ring on it or let it go? 😉
Paris B
Bobbi Brown Luxe Eye Palette Price: RM240 Availability: Bobbi Brown counters for a limited time