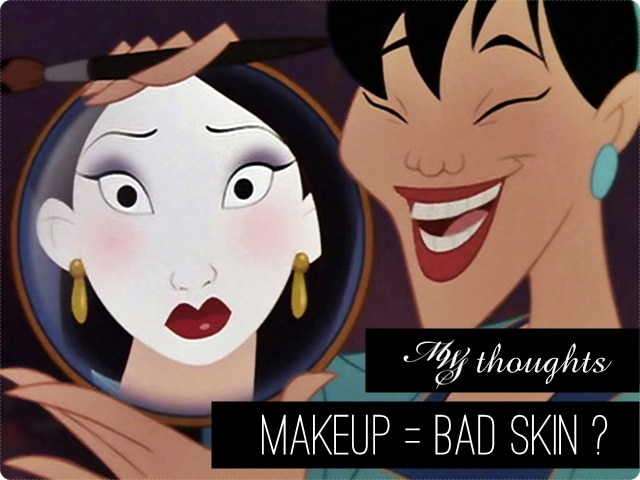 I stumbled on a statement quite recently where the maker said, in a nutshell, that wearing makeup gives you bad skin and will clog your pores. Therefore, you should not wear makeup regularly or at all. If you want to wear makeup, only wear it rarely.
I must say its a very bold and not altogether accurate statement. I do remember people telling me back in the day that wearing makeup could make bad skin worse or could turn good skin bad. I didn't realise this way of thinking still prevails till today!
Does wearing makeup cause bad skin or will it clog your pores and give you pimples and acne? I'll say yes, but also no.
Yes: Makeup CAN give you bad skin and clog pores
Yes, makeup can do all that. It can clog your pores and give you pimples and breakouts. If you have more sensitive skin and use a foundation that is too oily or heavy for your skin, or if there is an ingredient in there that irritates your skin, you can experience breakouts and if you don't take care, it can make your skin look worse.
The biggest culprits are usually foundation, powder and blush. These are products you apply over a wide surface of your skin and ingredients in there that do not agree with your skin can cause you problems. Know your own skin and don't be swayed just because everyone loves a product – your skin may hate it.
One ingredient I know of that causes people to break out is silicone. It can clog pores and although it is also present in a lot of skincare, many people also break out from silicone in their foundations, powder and blushes. The product you will most likely find containing large amounts of silicone is usually face primers which is why if you have problem skin, it might not be the best product to use. Using makeup can therefore cause more harm than good and for some people, this scares them away from using any.
Yet, there are makeup like mineral makeup which rode a crest of popularity about 5 years ago and which is now lingering on the fringes of the makeup world. Mineral makeup is known to be kinder to skin than regular department store or drugstore makeup. The foundations have fewer ingredients, no fragrance and are more gentle while offering the same benefits of regular makeup. So, if you have very sensitive skin then mineral makeup is an option to consider. On the upside, mineral makeup is also usually affordable and natural.
Another thing to consider is the age of your makeup. If you aren't careful about tossing out old or expired makeup then yes, you can expect it to cause problems for your skin. Also, know where your makeup comes from. There are many affordable brands available these days of high quality. There is no excuse to knowingly buy fake makeup or makeup from unknown sources. I personally am much fussier about my base makeup (foundation) and blushes than I am about eye or lip colours. I'd save on the latter but always splurge for the former, provided its a good one.
Using too much product isn't good for your skin either. Remember, less is more. If you already have good skin, you do not need a lot of foundation to achieve that fake, flat, photoshopped look people strive for in photographs. Makeup for professional photography is different from day-to-day makeup. For everyday, you only need a light layer, with some subtle enhancements and that shouldn't be bad for your skin at all!
No: Makeup WILL NOT give you bad skin and clog pores
On the flipside, I'd say that makeup does not on its own give you bad skin and clogged pores. Part of it may be attributable to what the makeup item contains. The other part is down to proper makeup removal, cleansing and skincare.
When wearing makeup (and this is true also of BB Cream because some people actually do not consider BB Cream makeup. Yes, I find it mind boggling but it happens. BB Cream is makeup, folks and should be cleansed off properly!) the removal process is just as important, or even more important, than the application.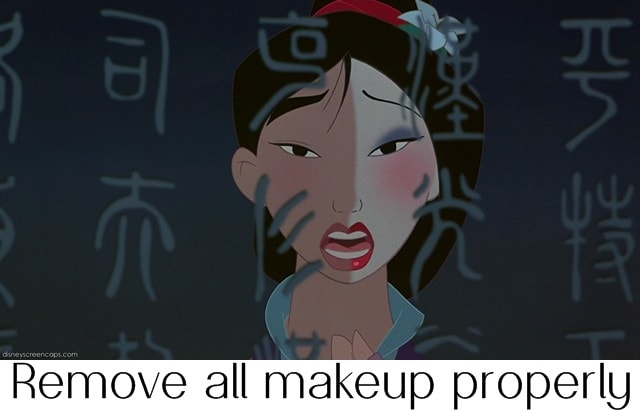 If you want to wear makeup, you have to establish a good makeup removal routine, be it using cleansing oils, cleansing waters or cleansing milk. It is important to remove it all, as this will help ensure the remnants do not clog your pores. I like to double-cleanse with a gel cleanser thereafter, whichever method of removal I use, as I feel that cleans my skin better. Also, it is very important to practice this makeup removal irrespective of the time you get home. Nothing good ever came out of being lazy!
Another thing to consider is the makeup that you use. These days, many brands infuse skin-caring benefits into their makeup so it is no longer the plaster type textures of the days of yore, when makeup went on thick as a mask with a thick, oily, heavy texture. These days, many makeup bases have a lighter water base and have some element of skincare incorporated and even sun protection. Makeup these days can therefore even be beneficial to skin.
Don't cake it on if you don't have to. There's no need to wear 15 layers of makeup to go to work if you're just going to be at your desk all day. A lot will depend on your work place of course and how polished you have to look. If all you want or need is a touch of subtle enhancements (and I have been advised to at least put on some powder and a lick of lipstick to look more confident in the eyes of the public!) then go light.
Most importantly, use proper skincare. I "treat" my skin in the evenings when I do my evening skincare routine to protect my skin as much as it is to treat it. Exfoliate your skin regularly and do a face mask when you can. It goes a long way towards taking care of your skin, and when you have better skin, you will find yourself wearing less makeup, so goes the circle of life! 😀
Wearing makeup isn't all bad
I had a bad case of acne when I was younger, all the way till I started working when I discovered learning how to wear concealer and foundation. I wish someone had taught me back then that it wasn't bad to wear a thin layer of foundation over my face to hide the redness from the pimples and acne. It would have gone much further to boost my self esteem when I needed it most.
So go on, wear some makeup. But remember to use a light hand, wear something good quality and when the time comes, remove it properly and there's no reason why your skin should be any worse 🙂
What do you think? Did wearing makeup give you bad skin or were you taught that it would give you bad skin?
I used to be told it would give me bad skin and since I already had bad skin, I was understandably concerned. I never wore foundation until I started working. I wish I knew then what I know now.
Paris B
Note: All images attributed to Disney "Mulan". There is much to be learnt from watching cartoons 🙂