I struggled for a while trying to start this blog post. This missing mojo thing quite a tricky one! But then I realised that I was being too silly and taking things too seriously. All you want to know is what is this I'm talking about and how I liked it! Now, that's not that hard is it? 🙂
So what is this? This is the latest upgrade to the existing Diorsnow skincare collection which I believe maybe found in Asia only – home of whitening/brightening skincare. If you do know if it being available elsewhere in the world, do let me know! Last year, Dior introduced Icelandic Glacial Water in their Diorsnow range. This has been maintained this year.
What's new this year is that silver bottle you see at forefront of the photo – Diorsnow Anti-Spot serum or the Serum Anti-Taches which tickles me to no end, because I keep seeing 'moustaches' everytime I look at it 😀 This product, as the name implies, serves to combat the appearance of dark spots with the stimulation for the skin to produce 'filaggrin' – a protein Dior labs found was lacking in areas affected by pigmentation. So the principle is thus – make the skin form more filaggrin and it'll help calm the cells and reduce melanin production.
Does it work though? I pondered that because to be perfectly honest, I've never come across any product that can actually do much for the pigmentation spots no matter what they claim. Face it, topical products cannot do the work of laser. But I did derive some benefit from using it.
If you participated in the Dior x MWS product sampling exercise we had about a month ago, you will have received a deluxe sized sample of this Anti-Spot Serum in your kit. I hope you've tried it because here's where you get to share your story 😉
I actually used the whole Diorsnow range as you see above for about 2 weeks and I'll run it down quickly for you below. However, I had to stop after a little more than 2 weeks, because like many whitening products, I found it too drying for my skin. I almost expect it of whitening products these days which is why although I know that you derive the best benefits from using a full range of whitening products, I don't. I usually use the whitening serums and top up with hydration in the day and hydration and anti-aging at night. My skin seems to prefer a regimen like this and performs better, primarily because of the hydration 🙂
Diorsnow White Reveal Gentle Purifying Foam – RM140/110ml
This one isn't the "new and improved" formula but its the first time I'm trying it so I thought I'd say a few words about it 🙂 As the name implies, its a foaming creamy face wash that lathers up very impressively. The texture is like sinking your face into a soft tub of melting ice cream. Sorry, poor analogy but the only one that came to my head 😀 I think guys would love to use it in lieu of their shaving foam even. It cleans skin very well and leaves it feeling soft and velvety. I do find it quite drying if you use it daily so I now use it once or twice a week. I think I'm a little obsessed with the texture 😀
Diorsnow D-NA Control White Reveal Day Essence – RM435/50ml
This is the same product as that from last year so you can read my thoughts on it in my previous review. In a nutshell, its a serum for day use. I've been on it for over 2 months and have to say that on its own, it isn't very drying to my skin. It does help my skin even out tone but it is not noticeable. It will take quite a while with regular use so I'd say this is a long term thing. I personally feel that pairing it with a hydration serum or moisturising product helps it work better but that's my unscientific view of course. It just seemed that way to me 🙂
Here's the ingredient list if you're interested.
Diorsnow Anti-Spot Serum – RM350/30ml or RM450/50ml
I'm going to stick my neck out and say that if there was a whitening serum that I liked for an overall result, I'm picking the Diorsnow Anti-Spot Serum. This is a new item in the collection and I use it both day and night. In the day, I use this only on cheeks, where my pigmentation is worst, together with the Day Essence. At night, I use it on its own together with a hydrating serum and an anti-aging night cream. Covering all bases y'see 😉
Did help lighten pigmentation? Nope, it wasn't that noticeable even if it did improve. However, I noticed that it was working very effectively on my skin in general, to even out my skintone and even make it look brighter. What I think I liked about it was how subtle it was. I noticed it after about 2 weeks, when putting on my makeup. I found I could get away with using some very light tinted moisturiser as opposed to heavier liquid foundations. In fact, I could pretty much just walk around without base makeup without feeling too self-conscious (although I do it all the time anyway :D)
My pigmentation and freckles are still there, I still do not have porcelain, unblemished skin but not having used any whitening products for almost 6 months, I find that my skin has improved in clarity in the past 2 months. Of all the products in this range, I'm only using the Anti-Spot Serum and the Day Essence. When I'm done, I'll stop the Day Essence and just use the Anti-Spot Serum paired with whatever hydrating serum I'm using at present. I personally think it sufficient for my needs 🙂
Here's the Anti-Spot Serum ingredient list.
Diorsnow Fresh Creme Global Transparency – RM300/50ml
I liked the texture of this cream, which is a very light gel-cream texture. Like all Dior cream products, it comes in a substantial tub and a spatula. The opening is sealed with foil when it comes new, so do bear this in mind if you purchase something like this online. Dior creams come sealed with a foil cover.
However, I couldn't like this one despite its lovely texture. My skin did not find it hydrating enough so I eventually stopped using it after about 2 weeks. On the box, it says "Day" so I only used it in the day (I'm obedient like that 😉 ) but I'm quite sure you can use it day and night. Still, since my skin did improve with just use of the 2 serums, I am comfortable to say that you probably don't need it. However, if your skin can handle it then it is also worth noting that if you are serious about wanting to use a whitening skincare regimen, then you should use everything from a similar range of products, simply because they will work together for better results. My skin can't handle that, so I'm sticking to just the serums.
For completeness, here's the ingredient list for the cream.
And here's how the textures look on my hand.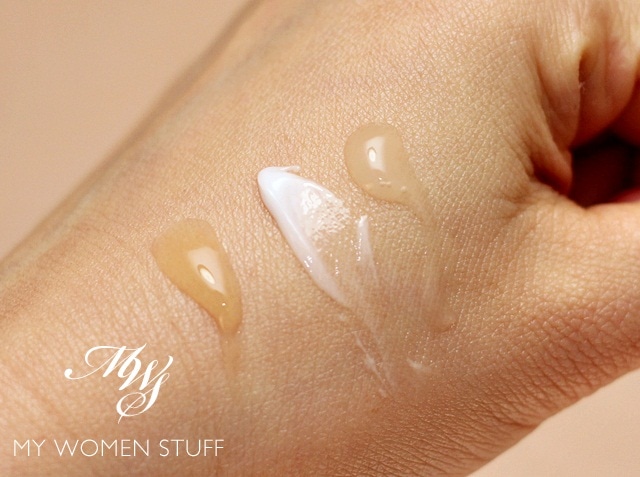 Left-Right: Diorsnow Anti-Spot Serum is a clear, slightly opaque serum texture with a slight yellow tint | Fresh Creme Global Transparency cream has a light gel-cream texture | D-NA Control Day Essence has a lighter texture than the Anti-Spot serum
Your Turn
Now that I've shared my thoughts on the products with you, its now your turn. If you participated in the product sampling exercise we ran about a month ago, you should by now have finished using the 2 skincare products in there – the Anti-Spot Serum and the D-NA Control White Reveal Day Essence. So, fill up this form with your views and you stand a chance to win your fave product! 😉
The feedback form is closed. Winner will be announced soon here, Facebook and Twitter. Thank you for taking part!
All feedback will be kept confidential and your replies will not be visible to the public. If you want to share your experience or views on the products with other readers, you may do so in the comment box below 🙂
In a nutshell

The Diorsnow skincare range is the whitening/brightening skincare range from Dior Cosmetics. The range contains Icelandic Glacial Water introduced in 2012 for better hydration of skin and better results. Having used almost the whole range for about 2 weeks, I personally found them drying to my already combination-dry skin. It is not unusual however, as most whitening skincare lines do tend to be drying. I suspect its something to do with the composition or ingredients used. On their own, I find that the D-NA Control Day Essence works well, as does the Anti-Spot Serum which is new in the range. I am quite happy with the results of the Anti-Spot Serum and I do have plans to get another bottle once I've finished, just to have something in my skincare regimen to help my skin with its pigmentation and uneven skintone problem. However, that is likely the only item I'd repurchase because I prefer using it alongside a hydration regimen in the morning and an anti-aging one at night. It seems to work well enough for me this way. It doesn't get rid of my dark spots, but it does make my skin look better when paired with a hydrating serum and moisturiser. I'll live with that.

Pros: Foam in the face wash is so velvety and soft like clouds (so fun!), Day Essence and Anti-Spot Serum seem to work to bring my clarity to my skin and brighten it but dark spots and freckles do remain (nothing except laser gets rid of them), I like the Anti-Spot Serum which I think can stand alone and which seems to work better when paired with something hydrating, Packaging is suitably lux

Cons: Pricey, I found using the whole range of products too drying on my combination-dry skin

Who will like this: Anyone who seeks a clearer skintone but who is realistic that nothing can really ever get rid of dark spots and pigmentation
Have you used anything from the Diorsnow line before? Will you share your thoughts on these products with others if you tried the samples? Which was your fave?
I'd love if you could share in the comments too, because that'll be helpful to everyone since so many of you participated in the sampling programme. It'll give others a better idea of how the products worked for more people instead of just reading what I have to say – come on, help a sister out 😀
Update: Dior generously picked 3 winners! Liu Wai Mun, Jennifer Goh & Farihah Liyana all won the full size 50ml Diorsnow D-NA Control White Reveal Day Essence. I'll be in touch via email!
Paris B
Diorsnow products and prices are as set out above. They are available at all Dior counters and may only be available in Asia but I stand corrected