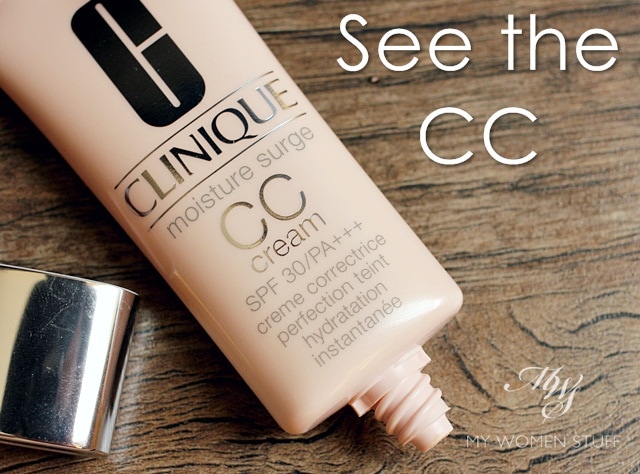 I happened to be at a mall on the weekend, when I noticed the promo images for the Clinique CC Cream had gone up at the Clinique counter. Probably a good time then, for me to let you know what I think about this 🙂 Yes, Clinique too has taken a gander at the CC Cream. Has anyone not done so? 😛
I have to tell you I was quite interested in it because you see, I can't use the Clinique BB Cream. The shade is too dark for me and a sample left my skin looking dull. So, when I saw that the Clinique CC Cream comes not only in skintone shades but also in illuminating shades, and furthermore, comes under the Moisture Surge category, my interest was a bit more piqued.
What Clinique was keen to impress on me, as I am to impress on you, is that the CC Cream is a Colour Correcting Cream. What this means is that isn't a foundation, nor does it try to be one. It instead, serves to correct and neutralize your skintone to reduce sallowness and to give you a brighter, more natural glow to your skin. Think of it rather more like a colour correcting makeup base than a foundation or foundation substitute and you will be less disappointed. Because, if you don't, you might be.
Placed under the Moisture Surge category, the Clinique CC Cream serves to not only colour correct your skintone, but also to provide your skin with hydration, and there is also sunscreen protection for those who may be sunscreen averse.
The packaging is quite typical of Clinique in that its slim, compact and fuss free. The product is dispensed through a nozzle and I should warn you that you don't need very much.
The first time I used it, I used a little too much over my face and I found it sticky and the shade in Fresh Peach was not very flattering on my skintone. I had a choice between Natural Fair or Fresh Peach and I had to go for Fresh Peach as Natural Fair was too dark for me.
This is where I should explain that there are 3 skintone shades, which is basically rather more like a BB Cream style product, offering a bit more coverage while correcting skintone to give skin a glow. These shades are Natural Fair, Natural and Natural Beige. These are also the shades sold in Asia which can be confusing because in the Western world, the shades start from Very Light and run to Deep. So no, we do not get the same shades found in Europe or N. America and our shades are quite different. Important point to bear in mind when you plan to shop online.
We also get 2 illuminating shades in Fresh Pink and Fresh Peach. These are the true colour correctors as far as I'm concerned. They are very very sheer with a significant peach or pink tone to it that does illuminate the skintone and correct sallowness, but offers zero coverage. No kidding.
Here are the swatches of Fresh Peach and Fresh Pink. I managed to get a little sample tube of Fresh Pink and that's the one that suits my skin far far better than Fresh Peach.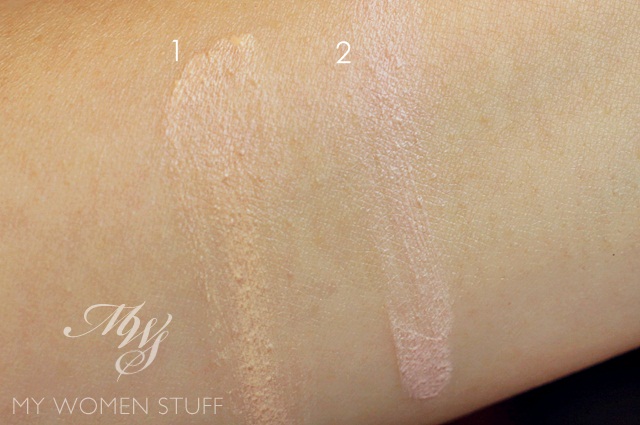 Clinique CC Cream Swatches (1) Fresh Peach (2) Fresh Pink
You maybe able to see from the swatches that Fresh Peach is a light peachy toned cream with slight illuminating qualities. This is supposed to neutralize lacklustre and sallow skin and give a brighter appearance. On me, I find that this one can make my skin look a bit off. It appears to enhance the dullness and if you have pigmentation as I do, then I find this makes it look more obvious somehow. I wasn't too happy with it and it didn't quite give me a good impression of the product.
However, when I managed to try Fresh Pink, I revised my opinion. Fresh Pink squeezes out of the tube a pretty bright pink shade, but it does an excellent job of neutralizing yellow tones and really does make my skin look better and brighter.
The problem therefore, is with coverage. As both the illuminating CC Creams do not offer any coverage whatsoever, you have to have pretty excellent skin to wear these alone. I think these work best as a makeup base. So, if I do wear these its only as a base, or if I wear it on a weekend, I apply powder foundation over it, if I want coverage, or use concealer on parts where I want concealed.
As a makeup base, I'd say it performs quite admirably too. I don't know if it hydrates my skin but my skin doesn't feel parched, and if you are careful and don't use too much, it doesn't feel heavy or oily either.
I must stress that as I have not used the skintone versions, I do not know how those fare in terms of coverage and performance. The shades available here are too dark for me so the odds that I'd try them is very low. Based on online reviews and swatches, it appears I may be better suited to the Very Light version available overseas, but until I check it out myself, I can't say for certain. For now, I'm afraid I'm passing on the Clinique CC Cream. My sample of Fresh Pink does the job but I won't purchase it because I'm just not impressed enough.
In a nutshell

The Clinique CC Cream is a hydrating colour correcting face base product. In Asia, it comes in 3 skintone shades in Natural Fair, Natural and Natural Beige, which serves to offer some coverage while working to colour correct sallow skintone and give a brighter more glowy visage. There are also 2 illuminating shades of Fresh Peach and Fresh Pink which offer little to no coverage but which does work well in the colour correcting department so skin does look brighter and better, if you use the correct shade. For me, Fresh Pink works best but due to the non existent coverage, I can only really wear this as a makeup base for which it does the job. However, because of the name, I was expecting more in terms of convenience and practicality for which I don't think this delivered. I can't wear the skintone shades available here as they are too dark for me so I can't offer any thoughts on those.

Pros: The illuminating shades do work as claimed to counteract sallow or yellow skintone and make skin look better and brighter, Pricey

Cons: The Asia based skintone shades are too dark for me and the Illuminating shades offer no coverage

Who will like this: Anyone who wants some colour correcting face base options to counteract sallow or yellow toned skin
I have to say that if you do a quick search online, the Clinique CC Cream gets a lot of raves so don't be put off just because I didn't like it and couldn't get it to work for me. Like many things, you should try it for yourself and see if it suits you and your lifestyle 🙂
Do you get the CC Cream hype? Have you tried this one from Clinique?
I still don't know what to think of CC Creams, to be perfectly honest. The Chanel one did nothing for me and I can't get my head around any others I've tried so far. I think I understand BB Creams but then I am rather perverse and treat them as tinted moisturiser so it could be why I find them easier to understand. Now CC Creams… maybe I'm just slow or something 😛
Paris B
Clinique Moisture Surge CC Cream comes in 5 shades locally – Natural Fair, Natural, Natural Beige, Fresh Peach, Fresh Pink Price: RM120/40ml Availability: Clinique counters