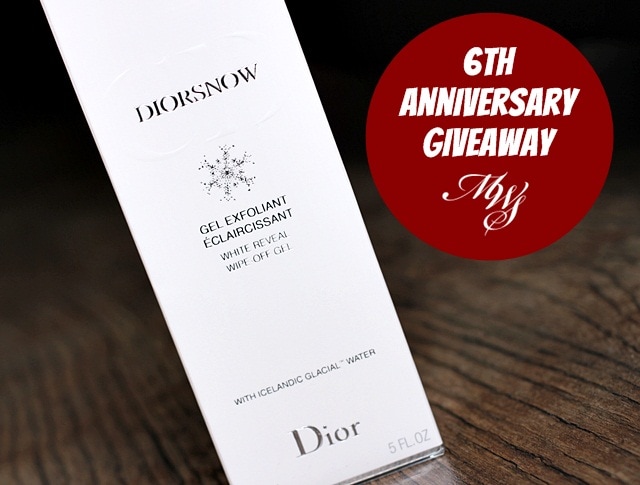 Ah, all good things must come to an end, and this is the final giveaway in the MWS 6th Anniversary Giveaway series. Regulars will know that giveaways aren't a commonplace thing here at MWS but when we do have them, we make sure we do them BIG! 😀
I'd like to thank everyone for participating, and also to the various brands for their generosity. I handpicked some of my favourite brands for this one and I am gratified that they were willing to oblige, and with such lovely gifts too!
We round off this series of giveaways with one of my fave brands and a product that is a personal fave and which I think is a good one, provided you use it right 🙂 Today's giveaway is a full size Diorsnow White Reveal Wipe Off Gel Exfoliator worth RM155.
What this is, is a non abrasive skin exfoliator that removes dead skin cells and helps reveal better skin and refined pores. I find this one a little drying, so I use it just 1-2 times a week and I am a big fan of wipe off exfoliators. The effect may be to help skin look brighter, but the immediate effect is to clear your skin so whatever product you use is more effective. Unlike serums or treatment products that can actually brighten skin, this doesn't. Think of it rather like a face scrub without the scrubby bits and you will get the general idea. Do read my full review of this product to know what I'm talking about 🙂
For logistical purposes (its heavy!) this one is open only for anyone with a mailing address in MALAYSIA only. This is open WORLDWIDE! 🙂
For a chance to win 1 bottle of the Diorsnow White Reveal Wipe Off Gel Exfoliator worth RM155 here's what you have to do.
Leave a comment below (on the blog not elsewhere) telling us:-

Reveal one thing about yourself that makes you special AND

Why do you visit MWS and what makes you return (if you are a returning reader)?

Please feel free to share on Facebook or Twitter. Good things come to those who share.
Remember:
Winner will be picked at random and must have a mailing address in Malaysia. You do not have to live here, you just need to have an address here this is open WORLDWIDE.

Deadline for entries is 12pm 3 April 2013 (Wednesday)
General terms and conditions apply.
This is not an April Fool's joke.
Thank you again for taking part in the previous 5 giveaways. Winners will be announced on Facebook & Twitter and posted in each individual post after this giveaway ends, and will be contacted by email.
I hope you've enjoyed taking part and I hope you won't stop leaving me your feedback and comments in forthcoming posts. Bloggers love getting your comments because it tells us we're doing something right (or wrong!) 😀
Good luck!
Paris B
WINNER: JK Please check your email