I'm not your most fashion-savvy person out there so although I will recognise certain names, I can never tell you what sort of clothes they make. So for example, when I saw the beautifully beaded eagle in flight suspended at the base of a plunging back of what is otherwise a very simple, even plain black sheath dress, I could never tell you that it was from the fashion house of Balmain.
But it is. I was terribly fascinated by this one because of the interesting back to the dress. From the front, it is a simple high necked deep navy blue sheath. Turn around, and the back pungles down to the small of your back with that interesting beaded eagle. I'd love to shimmy myself into that dress!
But we're not here to talk about dresses and Balmain designs. This is about Balmain Ivoire fragrance – a reworking of a Balmain classic scent from 1979. If you can remember that and are reading this, I would like to a) take my hat off to you and b) meet you! 😛
The Ivoire by Balmain fragrance comes in a simple square glass flacon, and a clear lucite cap. I know making the cap out of glass would raise the costs even more but I could feel the jarring contrast of plastic against the glass base so that gave me pause. It is otherwise an elegant bottle.
The scent is described as having a fresh mandarin opening, mellowing down to a floral rose, jasmine and ylang ylang and rounding off with spicy vetiver, cedar and patchouli. To my untrained nose, from the bottle, it smells rather like a musky floral. The first impression I get is that of a fresh burst of scent, followed by flowers and musk.
Sprayed on a blotting paper or even in the air, I rather like it. I am partial to musky scents so the musk in this one sits well with me. Lately, I have discovered that I have a penchant for warm, spicy woody scents so this one is a bit more floral than I'd like but still smelt quite nice as the sample blotter fragranced the inside of my bag.
However, everything changed when I sprayed this on my skin. It initially smelled nice. A simple floral sort of nice. However, 1 hour later, I wanted to scrub it off my skin with carbolic soap.
As perfumes do, my body chemistry changed the scent of Ivoire into that of a strong, powdery, sourish scent. It was harsh and I actually smelled like I was steeping in sweat and needed a shower. It didn't make me feel nauseous as some perfumes have done, but it was very hard for me to get through the one day I tried this on my skin. All I wanted to do was go home and have a long hot shower!
I've since learnt my lesson. These days, when I test perfumes, I test them on a weekend when I'm at home. This way, if the scent does not agree with me, I can immediately hop into the shower and scrub it off. When I wear a new scent to work, it is like playing the lottery. Some make me feel sick, some make me smell like a rafflesia flower (not pleasant despite the floral theme) and if I get lucky, I smell like roses all day long.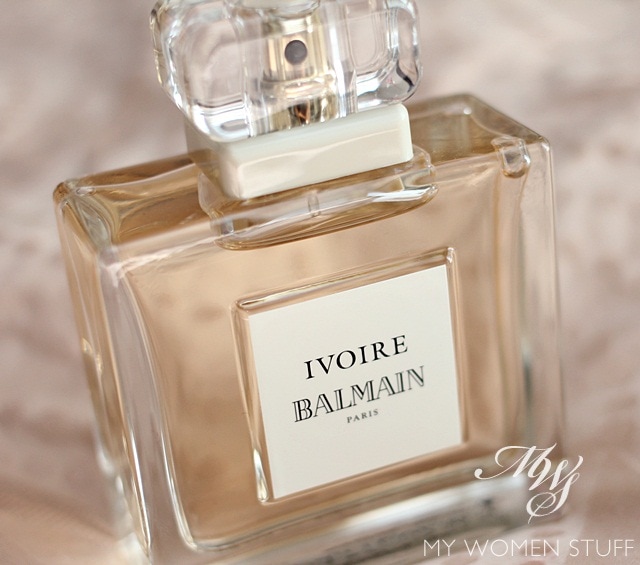 So no. This scent is not for me. I have not been able to bring myself to even look at it again because I'm reminded of that one day when I so desperately needed to jump into a shower and drown myself in scented shower gel but couldn't because I was at work.
That said, my experience with Ivoire shouldn't put you off. Perfumes react so differently on different skins that reading about it is quite fruitless. What you should be doing is going out there and testing it, not on a blotter mind, but on your skin. Its the only way you can tell if you want to run screaming for the shower, or walk around smelling like you just stepped through a floral garden.
And since this was not a pleasant reminder of the fragrance for me, here is another fascinating Balmain couture design.
The whole dress was heavily beaded and I was told that this was all hand-sewn on, every pearl and bead. The tapestry material was heavy and I cannot imagine just how heavy this dress would be to wear. Or how stiff.
Have you come across Ivoire by Balmain yet? Have you come across a fragrance that just doesn't work on your skin?
I can't recall off hand which scent it was that made me nauseous every time I wore it. It would be awkward in the mornings when I'd turn a little green, only to realise that it was the perfume and not that I'd eaten something funny. Naturally, I've never worn it again. Funny how smells can make your body react so violently 🙂
Paris B
Balmain Ivoire EdP Price: RM260/50ml; RM375/100ml Availability: Major departmental stores