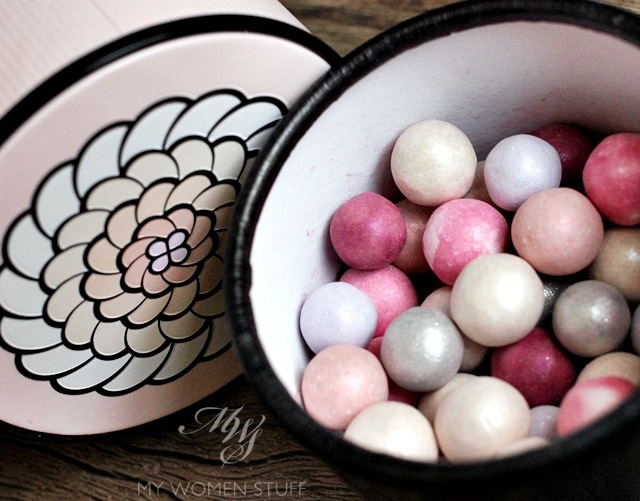 Sometimes, you want something so badly and then when you get it, you're all, "Meh, is that it? Is this what I waited for?"
Without preamble, this is how I feel about the Guerlain Meteorites Perles du Paradis. You know I love my Meteorites powders. I wax lyrical about them all the time, and I usually love them one way or another, even the rather warm Pucci Perles d'Azur Meteorites, or the slightly sparkly Perles de Nuit Meteorites. In fact, I wish they'd make the Perles de Nuit permanent because that gives you the most perfect candlelit glow I have ever come across. You don't know what that word means till you actually see it, and Perles de Nuit reflects it perfectly.
Perles du Paradis however… lets just say I'm not enamoured. I know, its almost sacriligous coming from me but here you go!
The Perles du Paradis Meteorites were released in Guerlain's Spring 2013 collection. This one brought a lot of excitement because you get extra large pearls or "big balls", as they say. Hurhur 😛 The extra large pearls are housed in a similarly extra large tub and comes with an adorable pink powder puff. First off, let me say the relapse to the cardboard packaging sucks, Guerlain! I am disappointed in you!
The puff is seriously soft and luxurious but I don't see the point of it. It can't pick up the colour or shimmer and it doesn't quite "puff" on the skin. I tried but it was far too much work. You have to first remove the puff, shake up the box, dab the puff over the loose shimmer and powder that gets shaken up, then see if that's enough for you.
The puff is also rather large, so its far too much for the face but very nice to use on the decolletage area. Personally, I find it a nice idea, but practically I don't go out enough in the evenings to warrant dabbing the Perles du Paradis on my decolletage. If you are the sort who do, and you have the luxury of time and a nice dressing area to sit and puff yourself all over with this, then yes, it gives a nice glow to the skin with some shimmer that doesn't scream "I'm so shiny, I look oily!"
The tone of the Perles du Paradis is an overwhelming pink. There are some pearls in there that actually look red, but you'd be hardpressed to use them as blush because the colour doesn't quite come off strongly enough. There was a time when Guerlain did a set of Meteorites that were so pink they could only be used as a blush. I missed that one but I forsee that at some point in the future, they'll bring it back. These things happen 🙂
So what you get is pretty much a pink based powder that to me is a bit too shimmery thanks to the inclusion of some rather large sparkly silver balls in there. I got about 5 in mine. Some people reported getting 4 and some 3 but its there and it sparkles.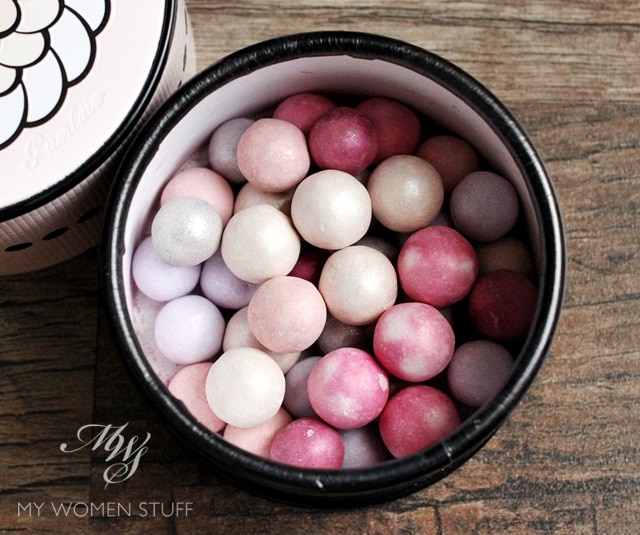 You can see that the deep red pearls aren't truly red. They are a deep pink but when the deep shade flakes off, the under tone is a pale pink. The other shades are a white, lavender, light pink, gold, silver and that deep pink.
Due to the overwhelming pink tones of the powder, I will caution a light hand when you use these. If you are too enthusiastic, you may risk making your skin look too pink to be natural. In many ways, I don't feel like these worked as well giving off that famous ethereal glow I've come to associate with using the Meteorites. They were too pink and too sparkly. If I stand out in the sun, I actually notice sparkles and that doesn't sit well with me.
For evenings and under yellow or dim lighting, it does impart a nice glow, but in the day under harsh sunlight or even fluorescent office lighting, you just look like you're trying too hard.
In a nutshell therefore, I'd say skip this one unless you are a hardcore collector (moi *hangs head in shame*). Your wallet will thank you. Instead, look at the permanent collection. I think the limited edition ones complement the existing range, but if you are a novice and new to the Meteorites, please look instead at either Teint Rose or Teint Beige. They give you better value for money 🙂
In a nutshell

Didn't I just nutshell this above? LOL Ok, here it is again. The Meteorites Perles du Paradis is a limited edition Meteorites powder released with the Spring 2013 collection. The perles are extra sized and so is the packaging and they are meant to be used on face and body. The inclusion of the fluffy pink puff is adorable but not practical to me. I personally find this one too pink and too sparkly. I wouldn't recommend this one for a first tub of Meteorites. If you are a hardcore fan and collector then you won't take my advice anyway. But if you are looking for your first tub of Meteorites, do look into the permanent range. They will be the best introduction you have to these magical glow powders 🙂

Pros: Gives off a nice glow to the skin when used in dim light or for the evenings, Large size makes it easy to pick up product, Pink powder brightens skin somewhat but ensure a light hand

Cons: Pricey, Too pink and too sparkly for day use, Puff isn't much use except to look pretty

Who will like this: Anyone who is a Meteorites collector (powders, not the ones that fall out of the sky)
Did you pick up the Perles du Paradis and do you love it? Have you been suckered into the Meteorites hype yet? 😛
Despite it being limited edition, I think there is still stock available locally if you really want it. I don't regret getting it because I'm a collector and I use this and I've gotten the hang of it. Slating this as a bum product really kills me but in all honesty, this is how I feel. It isn't special and I'm disappointed. So, if you are torn about this and prefer performance over pretty packaging, go to the permanent collection. Teint Rose has a brightening effect (although some say its too white for them) and Teint Beige is a nice compromise for warmer skintones which I think suits the majority of people. Plus point, you don't have to contend with sparkles and they give that "Hello, you look glowy today!" look to the skin that is quite incomparable 🙂
Paris B
Guerlain Meteorites Perles du Paradis Price: RM203 Availability: Guerlain counters Limited Edition: Yes, Spring 2013