A little while ago, when I told you about the new Estee Lauder Cyberwhite HD range, I mentioned briefly the BB Balm. Now, we've been inundated in recent years by the whole BB craze with every brand and their aunty coming out with one form of BB Cream or another. Some work well, some don't. Some skip the BB trend and go straight to CC 😛
I tested the Estee Lauder BB Cream that came in a tube a little while ago but I wasn't too impressed, because I have a problem with shade. In many cases, the "One shade fits all" BB creams turn out to be too dark for my skintone. I appreciate it when brands realise that there is no "One shade fits all" product and come out with different shades. So when Estee Lauder unveiled their next generation BB Cream with the Cyberwhite HD Advanced Brightening BB Balm SPF30 PA++ product that comes in just 1 shade, I felt a little trepidation.
So, what's this "BB Balm" you ask?
Estee Lauder decided to put the BB Cream concept into that of a portable, easy to use compact. They say the texture is the next generation of BB Cream. Here's something you can toss into your bag and carry around for quick and easy touch ups. Being part of the Cyberwhite range (they call it Cyberwhite not Cyber White) the product contains a decent amount of SPF (SPF30 PA++) for UVA and UVB protection and it also helps to reduce dark spots and pigmentation on skin. If you can imagine, its like makeup with skincare benefits, if skin brightening is your concern.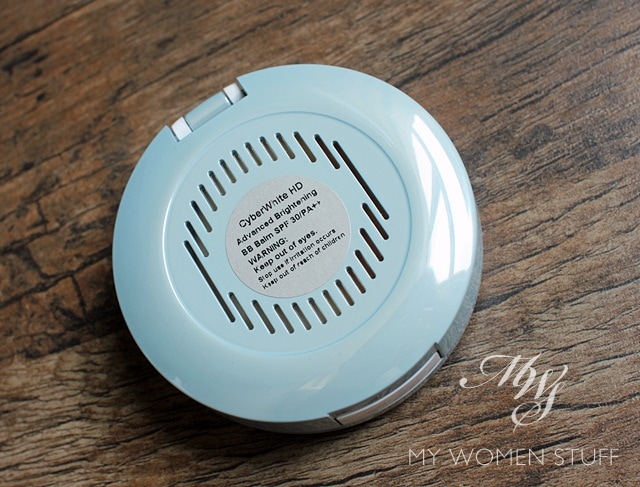 Well, I can't tell you how it fares in terms of the skincare bit. I'm just not dedicated enough to use just one base product daily. Also, I find the coverage a little too light. So while this one is pretty decent for weekends, days off and just general light use, I wouldn't use this on days when I need better coverage. On those days, its always liquid foundation for me.
However, if you are lucky enough to have perfect skin (ihatechu 😛 ) then you will love this because the light texture and coverage evens out skintone while allowing your natural skin to be seen. This gives you a very natural "Makeup? What makeup?" base.
Pictures speak louder than mere words so here you have the before/after images to give you a better idea what what I mean.
In the before shot, which is of bare skin you will notice the redness around the nose and the blemishes around the chin and the pigmentation. In the after shot, which is with a thin layer of the Cyberwhite HD BB Balm, you may notice that the skintone generally looks more even, and redness is minimized. However, the pigmentation is pretty much still visible. So if I wanted better coverage, I'd take a concealer to those.
If you lightly dust some loose powder over, the coverage improves so if you want something light then this BB Balm works. If you need better coverage, go with a liquid or cream foundation.
The texture is, as the name implies, like a balm. It isn't as thick as a cream foundation is, and feels very lightweight on skin. I however feel that it is a little sticky to the touch and takes a long time to set, so I do suggest dusting loose powder to set it.
In terms of colour, the BB Balm works with one caveat – I have to be lighthanded with it. I tried it a few times and initially, used too much so after a while, it looked a bit dark on my skin – about half to one shade darker. Not too noticeable, but noticeable enough for me. If I use a light hand and just apply a thin layer, its fine so if you are very fair skinned you will have to bear this in mind. I don't think this will do for anyone who is too dark either, or someone who has very warm or golden skintones. The tint is a little pink so it gives a brightening effect to the skin, but if your skin is too warm or golden then you risk looking a bit ashy. Best thing therefore, is to try it in store.
Squint, and you might be able to see the swatch down my arm. It does have a very light, rather translucent quality when swatched on skin and the tint isn't very strong. But it develops a little over time so don't apply too much.
As I have said, I use this on weekends or maybe if I'm on holiday and don't really want to put on a full face, yet want my skin to look more even, or on off days. I don't have perfect skin and I realise that, so manage your expectations. This isn't a liquid foundation and isn't meant to be one 🙂
Packaging wise, the balm comes in the signature Cyberwhite HD light blue compact with a mirror and a double-decker system where the balm compact is on the top layer and a sponge is included in the bottom layer. It isn't refillable and because its a sponge, you do have to wash it now and then so it doesn't get too manky.
I don't have a lot of complaints about the packaging. Its compact and its handy and I don't mind toting it around. Besides, if you travel, you don't have to worry about in flight liquid restrictions the way you would a tube of BB Cream so this is a nice alternative. The sponge picks up a nice amount and applies it very evenly on skin. You don't have to blend too much because its so light and its quite easy to use. No real complaints about this product then, except that the shade can be too dark (or too light or too pink) and that the coverage is low.
In a nutshell

The Estee Lauder Cyberwhite HD Advanced Brightening BB Balm SPF30 PA++ is a lightweight balm textured compact base product. The BB Balm has skincare benefits to help target dark spots and skin brightening plus a light tint to even out skintone. Texture is lightweight and coverage is low but it does do a decent job evening out skintone. Perfect for daily use for someone who already has perfect skin. Not so perfect for someone who doesn't. I do suggest using some loose powder over it because it can feel a bit sticky to the touch. Don't over apply or it'll look too thick (or in my case, too dark) so a thin layer is best, just to even out the skintone. Its a useful product, but I do think its a bit pricey so it may not be for everyone.

Pros: Lightweight and comfortable on skin, Not oily or heavy, Easy to use, Evens out skintone and redness in skin, High sun protection factors

Cons: Pricey, Tint may not suit very light or dark or warm skintones, Low coverage

Who will like this: Anyone who has good skin, Anyone who doesn't like using sunscreen, Anyone who likes using a low coverage foundation just to even out skintone and brighten skintone
As with all BB Creams/Balms/Products, I personally do not subscribe to the all-in-one product claims. So, I treat all BB Creams/Balms/Products as makeup which means I discount the sunscreen protection. Granted, they may offer sufficient sun protection, but I always use a separate sunscreen just to be safe. But if you don't like using sunscreen for whatever reason, then a BB cream/balm /product may be ideal for you, because they generally contain higher SPF than foundations.
Oh and I must mention that there is a faint scent that I don't like but it doesn't linger and you have to really get up close to smell it. Its not flowery or anything (some people have said its calming) but I just dislike it.
Have you taken a look at this product yet? Is it something you might like to use?
It doesn't look like the whole BB cream trend is dying out so I'd just ride the wave. I have found some that are nice, and many which aren't. I still don't quite get the idea behind a BB Cream but I like how they are like tinted moisturiser or tinted sunscreen, just a little better as most of them do offer better coverage than just a mere tint. So, for me BB somethings are weekend and holiday bases, never for working days or formal occasions. Unless you have perfect skin then ihatechu 😛
Paris B
Estee Lauder Cyberwhite HD Advanced Brightening BB Balm SPF30 PA++ Price: RM175 Availability: All Estee Lauder counters