Dior has been on a bit of a roll in recent times. This April sees them reformulating the Addict lipgloss, adding more Addict Extreme lipsticks and earlier this year, they quietly reformulated their mono eyeshadows. Now, stop for a moment and BREATHE! Settled?
Ok, the mono eyeshadows. I had some of the old Dior mono shadows. I don't know if anyone remembers them. One of the earliest was in a trapezoid shape, slightly raised from the pan. It reminded me of chocolate. You know those little bars of chocolate wrapped in colourful paper that you get in Quality Street multimix packs? No? Ok, you need to get yourself a Quality Street bag of choccies after this ok? 😉
They changed the monos after that into an oval shape pan. I didn't have any from that but it was also because I didn't like it. I didn't like the oval pan in a square case. Screwed with my geometrics 😛
The next incarnation came about as a rectangle pan with the cannage pattern embossed on it. I think I have one from then but it was too glittery so I never actually really used it.
Am I talking to myself here? Does anyone remember all these incarnations of the Dior mono eyeshadows? 😛 Well, nevermind if you don't remember, because here is the newest design – a square pan with the Dior 'logomania' logo imprinted on it. This Dior logo is the one used on all the Dior canvas bags and whilst not as modern as I'd imagine it to be, is quintessentially Dior. Based on my observation there are 3 formula that can be used wet and dry, and I have here, 3 colours to show you, and to tell you what I think about them and also to show you how they look worn together. A bit of ground to cover so settle back 🙂
Fashion tip: If you want to wear anything with logos on them, don't wear more than one or you risk looking like a billboard.
I was sent 2 of them in Choc Clair 564 and Swan 006 but one day while I was at a Dior counter, I took the opportunity to play around with the rest of the colours and eventually settled on picking up Gris City 056. It must be said that I have a soft spot for grey eyeshadow and a sparkly grey can grab my attention everytime! At RM105 each, it is quite easy to just settle for one. That is, unless I wanted to break my bank.
It must be said also however, that I wasn't quite crazy about the rest of the colours. There are a couple of vibrant purples which I don't wear, a few bright blues and more neutral greens plus a bright pop of fuchsia pink; but I just wasn't taken. The only colour that had me, hook line and sinker, was Gris City. I suspect age (and practicality) is catching up faster with me than I like!
I noticed that there are about 3 formula in these shadows – matte, satin (a little shimmer) and metallic (glittery). Choc Clair is a satin, while Swan and Gris City are both metallics. I've swatched them here, wet and dry. I know many people have raved about how much more intense they look when used wet as opposed to dry but I couldn't quite see much difference in the ones I had. I personally never use eyeshadow wet but that's because I just don't like how it spoils the texture of the shadow in pan, and I believe that using it wet will encourage bacterial growth in what might otherwise be a relatively inert atmosphere. But don't mind me – just paranoia talking 😀
Swan 006 in pan is a pure metallic white. It is so metallic that the edges of the logo aren't even that sharp because of the rough texture of the eyeshadow. Swatched, it is a highly metallic white shimmer that can only be used as a highlight, and even then, only after blending vigorously. Swatched dry (D) it is a metallic white. Swatched wet (W) it looks even more metallic and you can see the slight multi-coloured iridescence.
Gris City 056 in pan is a dark grey with multi-colour shimmer. It isn't as gritty as Swan and the glitter is smaller so the definition of the embossing on the shadow is sharper. On skin, Gris City is a dark grey with shimmer. I find it quite a warm grey, as you can see, almost having a brown undertone. Swatched dry (D) it looks about as intense as it is swatched wet (W). I wear it dry and the best part, it can be worn alone or as a crease shade, or as a liner shade and for some reason, doesn't look as sparkly on the eyes as it does on my arm.
Choc Clair 564 was a surprise for me. I don't usually like shades like this sort of camel beige brown. The texture is that of a satin with slight iridescent shimmer and on my skin looks like a very neutral camel beige. Its now a fast fave for me used on its own with black liner and mascara, or as a complement to Gris City. You can tell that whether swatched wet or dry, the colour doesn't look any different.
I only tested with regular water, not any of those fancy schmancy wetting agents like eye drops or what have you. Maybe the effect is different then, I wouldn't know.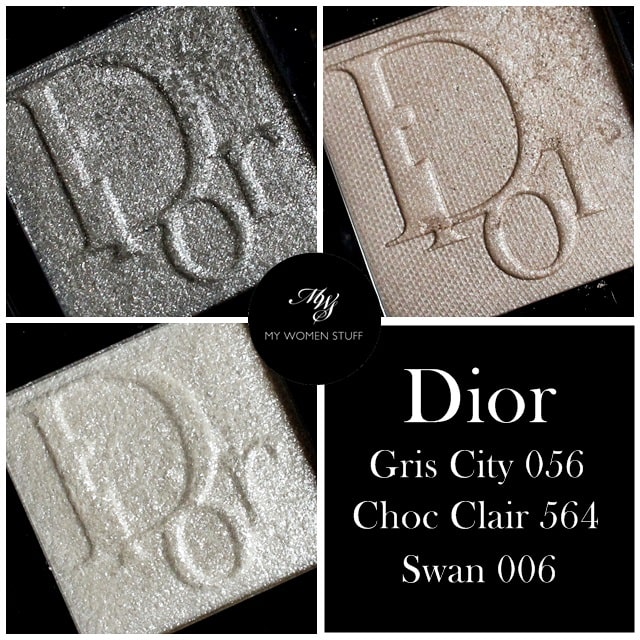 Here's a close up of each of the colours for you to see the texture. Choc Clair has the smoothest texture of the three, while Swan has the "roughest". When blended well, Swan gives a beautiful gentle highlight but if you just plonk it on without blending, you'll just see a splotch of white shimmer. Ditto Gris City. Blend it out and its quite lovely. Just plonk it on and it is less impressive.
And here is all 3 shades used. Gris City on outer part of the lid and on the lower lid, Choc Clair as the main lid colour and Swan to highlight the brow and inner corner. It doesn't look too bling, nor too shiny. I like how I can wear this to work quite easily because its so easy to use them together. You may notice how the inner corner isn't very well blended so you see splotches of Swan while under the brow bone, I really blended it and it just looks well-lit.
On my non-oily lids, used without a primer, the colours last me all of a full working day without creasing. I get a little fading by the end of the day but its not drastic. I've used Choc Clair most often as you can tell from the smudged corner (I tried to keep it as clean as I could but I can't stop myself taking pictures of used items, nor can I stop myself from using them before taking photos!) and Gris City is next. I can live without Swan (and you can too, sorry Dior!)
Here's an idea of how it looks on a full face.
Eyes : Dior Mono Gris City, Choc Clair, Swan | Cheeks: Estee Lauder Tease | Lips: Dior Addict Extreme Plaza
With eyes looking this neutral, I like to go with brighter cheeks and lips and this was a great excuse to wear the bright pinks. I have been pulling out this look quite often in recent times. No inspiration and I'm back in my neutral rut.
I think the new Dior Mono Eyeshadows are pretty to look at but I would advise you to take a look at them for yourself before you decide if they are for you. Some colours can be worn alone but I feel that many of them while looking vibrant in pan, swatch sheerly when dry. Those who have experimented with using them wet show beautiful results so its a matter of what you prefer. I think the neutral shades are better – its alright if they are slightly sheer because they are easily layered, but if it looks like a vibrant purple in pan and applies sheerly, that's always a let down.
In a nutshell

The Dior Mono Eyeshadows are newly formulated eyeshadow singles that can be used wet or dry. Used dry, the colours tend to be a little sheer and used wet, they take on a greater intensity and in some cases, shine. There are different textures as well from matte to very shimmery and many colours to choose from. I personally think the neutral shades perform better when used dry as opposed to the brightly coloured ones which apply a little sheer when used dry. Used wet, they are intense if that's your thing. As the price per shadow is quite high, I can't in all honesty tell you to run out and buy them. But if there is a colour you like, the quality is quite good and the longevity is too.

Pros: Texture of the satin shades are smooth and very easy to apply on skin, Longlasting, Easy to blend and layer

Cons: Pricey, Colours tend to apply a little sheer when dry especially the more vibrant shades

Who will like this: Anyone who prefers using single eyeshadows, Anyone who uses their eyeshadow wet and dry
Size wise, its small and it comes with 2 sponge tip applicators. I use a brush to apply on normal days, but I have also used fingers and it works. I find the applicators too short to hold them comfortably to apply the colour to your lid but if you REALLY have to use it, it will work. I just never found the need to REALLY have to use it 🙂
Have you checked out any of the Dior Mono Eyeshadows yet? Do you have any and did any specific colour catch your eye?
Lily has some swatches of most of the other colours available here. I will recommend looking at Gris City and Choc Clair if you really want a place to start. They are safe colours that can be very easily worn together or separately on their own. I somehow feel that's what Dior does best – safe colours. People will use it more often, and its surprisingly hard to find a good safe, neutral colour. Leave the experimental brights to brands like Urban Decay and the like. They do it better and Dior's neutrals can then complement their gorgeous array of bright beautiful lipsticks and glosses, which they do so well.
Paris B
Dior Mono Eyeshadows come in 18 shades locally Price: RM105 each Availability: Dior counters everywhere