My last experience with Origins wasn't a good one. I tried something from their organic line and it broke me out so badly! Since then, I stayed far away from the brand and over time, forgot about them. Recently, I was gifted with a tub of the Origins Make A Difference Plus+ Rejuvenating Moisturiser and I was a little hesitant to try it.
As I told you before this, before I jump into anything new, and with the memory of the breakouts after trying Origins before this, I checked up online to see what others thought about this cream. Opinions were quite divided. Some people reported that it did not suit their skin while others raved about how lovely it was.
I recently finished up my hydrating moisturiser so I decided to make a difference (hur hur 😛 ) and try this one for better or for worse. I have kept to a very minimalist skincare routine in recent times ever since I experienced my terrible breakouts and super dry skin. Well, I'm happy to report that this one works for me and not only that, I actually seem to be having better skin. You cannot imagine the huge sigh of relief I heaved when I realised it LOL!
I started on this one over a month ago. The first thing that struck me about it is the scent. It has a rather strong "essential oil" sort of scent with a note of rose. It isn't unpleasant but it is quite strong so I will suggest that you take a healthy sniff of it before taking the plunge.
Texture-wise, I like it. It is a very liquid cream <- does that even make sense? 😛
If you see it on the left, it looks light, like a lotion but it comes in a tub and looks and feels very light. It feels a little like whipped cream after its had some time to settle and melt a little. What this means is that I personally would have preferred for this to come in a pump dispenser as opposed to a pot. It seems liquid enough.
I'm not a germophobe, but my complaint is that it is actually quite hard to scoop out the cream/lotion with fingers, because its pretty liquid. Happily however, you don't need a lot because I find that a little is all I need for it to work on my skin. So in the daytime, I use that little dollop that you see in the photo above.
I just scoop out a little into the palm of my hand, rub it together and then apply it over my face. It feels very liquid on contact with my skin and melts in quite easily. I don't get a residue on the surface of my skin nor do I get an oily layer that sometimes happens with hydrating moisturisers.
In the night, I use a little more and it takes a little longer to absorb, but it will eventually. I'm not someone who is terribly fussed by a slightly oilier face at night and sleeping in an air-conditioned room means that my skin does feel a bit drier at night than in the day.
The Make A Difference Plus+ is touted not as a hydrating moisturiser but as a rejuvenating moisturiser. Its job is to use the lychee and watermelon complex to quench skin and to repair the natural moisture deficiency in dry and dehydrated skin. Yes, this one in the darker green tub is targeted more towards those who have dry skin as I have been suffering from recently. For those of you with oily-combination skin, there is a version in a lighter coloured tub.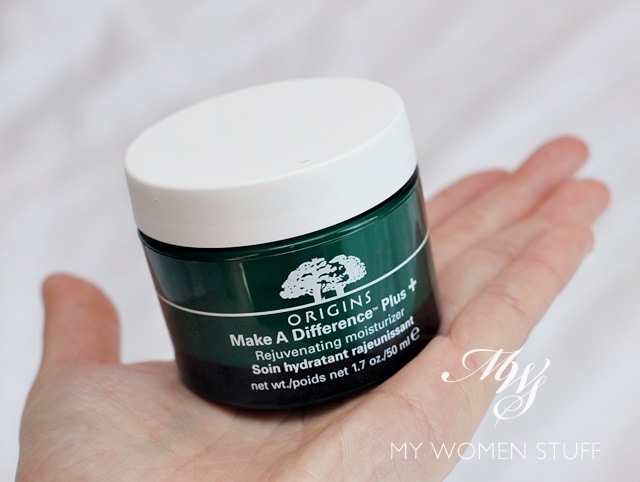 What I have found with regular use is that my skin does seem to have improved. I don't have dry patches anymore and in general, my skin feels more plumped up and smoother to touch. I had these stubborn clogged pores and rough flaky skin around my chin and the most minor of those seem to have gone away too. The major ones will need some serious extracting during my facial (ooh can't wait!) but otherwise, as far as day to day measures go, I'm quite happy with the state of my skin in terms of the hydration and texture.
I will remind you again not to use too much because I got a bit over zealous the first few times I tried this and especially in the day, it may not feel as comfortable, and may even feel oily. But once I noticed this and scaled back to just a tiny dollop for the day, my skin feels much more comfortable. It is almost as if I now have normal skin as opposed to combination-dry and that makes me happy! 😀
In a nutshell

The Origins Make A Difference Plus + Rejuvenating Moisturiser is a light textured lotion-cream that feels very lightweight and absorbs very easily into my skin without to much rubbing or patting. I have found that it has helped normalize my dry skin and it now feels plumped up and looks and feels smoother. I too like how my skin now looks and feels under base makeup because it just goes on so much more easily. I use it day and night, but as this one is a bit heavy for the day, I use only a very small bit. I use a little more in the evenings before bed. The scent is a bit strong and may not appeal to everyone so its better to take a sniff of it before you actually get it to see if you can handle it. I am happy not to break out from this one as I did with my previous experience with Origins products.

Pros: Easily absorbed, Very light texture, Helped heal my dry flaky skin and helps my skin plump up and feel and look smoother and feel more comfortable

Cons: Rather Pricey, Tub packaging is not very user friendly, Strong scent

Who will like this: Anyone who has dry or flaky skin, Anyone who wants to boost and retain their skin hydration levels
Here are the ingredients of the Make A Difference Plus+
I will warn that there is a large number of essential oils in this product as well as stuff I know many people don't like in their skincare. So, if you are sensitive towards essential oils then do be careful trying this as you will notice citrus oils in there and that can irritate skin. Ditto any other product that you feel you may have a sensitivity to.
It is however free of amongst others, parabens and mineral oil so that might appeal to some people.
I personally am not terribly fussed, and my skin does handle essential oils fairly well in general. I am very happy with this one and I can see myself emptying this because it works for my skin 🙂
Have you tried anything from Origins? How about the Make A Difference range?
This is only my 2nd time trying something from Origins. Well, actually it could be my 3rd because I took the Plantscription Serum for a 1 week spin a while ago, but I don't really have any thoughts on it at this time. I may try that again because I hear its very effective so once my skin rebalances itself (as it has so far) I'll start adding serums back into my repertoire 🙂
Paris B
Origins Make A Difference Plus+ Rejuvenating Cream Price: RM190/50ml Availability: Origins counters and stores