If I can name one bag from Louis Vuitton that flies off the shelves like cakes hot out of an oven, it is the Neverfull. It comes in 3 sizes and depending on who you talk to, it is either "OMG I love the shape, design and how much I can put in it!" or it is "Erm, everyone and their aunty is carrying one. People use it as a school bag! No!"
Or if you ask my bag buddy as I did over chat, the answer was "NOOOOOOOOOOO!" which does sum up my sentiments about it 🙂 As I said, its either love or hate.
Yet I can understand the appeal of the design (if we're talking design and not the canvas). I have manhandled the Neverfull in store and the silly thin straps aside (an SA confided in me that they are too thin on the bigger bags and were prone to snapping) this is really a nicely designed bag. It is large and roomy and really, fits a ton so it gets you value for money. Yet if you want it to look a little more streamlined, the sides can be folded inwards so it becomes a trapezoid shape.
Yet, the Neverfull comes only in monogram canvas or damier canvas which does not appeal to me. So, I happened to look around, and I found similarly designed bags that come in leather and would be about the same price. Some less, one markedly more but they are leather and for me, that matters a lot 🙂 Here are the alternatives to the LV Neverfull that I found. Please don't hit me if you like the Neverfull 😛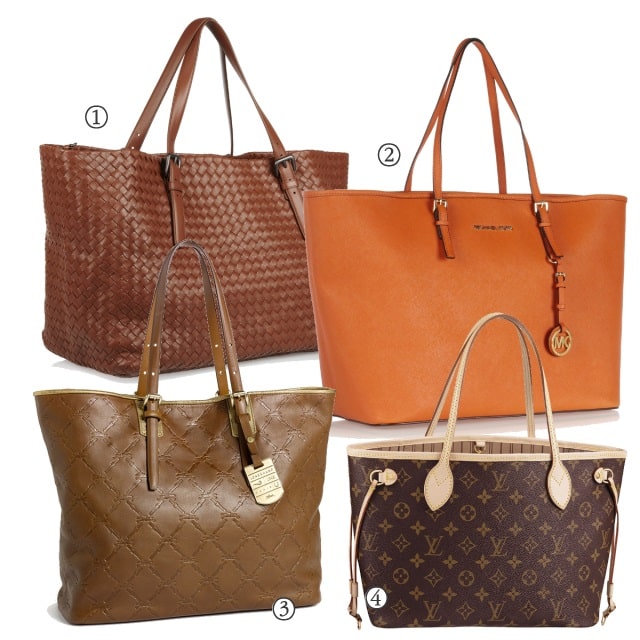 Don't the designs look remarkably similar? 🙂 If you are a design girl vs an LV girl then you could look at these.
Bottega Veneta – This one's a splurge option of course, but the shape is there. Bottega Veneta does beautifully soft and buttery woven leather bags that feel so comfy that you just want to lie down and sleep on them. Some day, I hope to be able to own one, but until then, I'll lust after it from afar 🙂 This one was picked out of Net-A-Porter.com and is £2791.25 (ouchies!)
Michael by Michael Kors Jet Set Textured Tote – I love the colour of this one and on Net-A-Porter.com it comes also in a navy blue or black for the slightly less adventurous 🙂 Like the Neverfull, there is just one large roomy compartment. Unlike the Neverfull, the inner compartment has a zip so you can keep valuables and this one's textured leather. The bag can be worn over the shoulder or held in hand or in the crook of your arm and its a good size. I adore this one and at £209 at net-a-porter.com I think its an amazing price for a lovely leather bag.
Longchamp LM Cuir Leather Tote – I spotted this one in the Longchamp store window at The Gardens mall here and noticed how remarkable the resemblance was to the Neverfull. The difference again is that this is leather and it comes with a separate pouch and a magnetic closure. The Longchamp name elicits a lot of sneers and grimaces I know, thanks to the proliferation of the Le Pliage so Longchamp's leather bags are often overlooked. I find them of good quality and simple, not very exciting but classic designs and aren't as expensive as many other luxury brands. I'm not sure of the price of the LM Tote locally but on nordstrom.com its US$795
Louis Vuitton Neverfull comes in 3 sizes – Needs no introduction, I'm guessing 😛 The body is coated canvas (LV's canvas is very good quality but its still canvas) trimmed with vachetta leather that starts out a pale cream and ages over time to a honey brown. For a bag that is mostly canvas with only a tiny bit of leather around the edges, I find it incredibly expensive. Prices start from over RM2,000 locally and even if you get it in Paris, its still close to RM2,000. Personally, I'd get something in leather for that price 🙂
Of the 3 alternatives I spotted, I picked this one for my favourite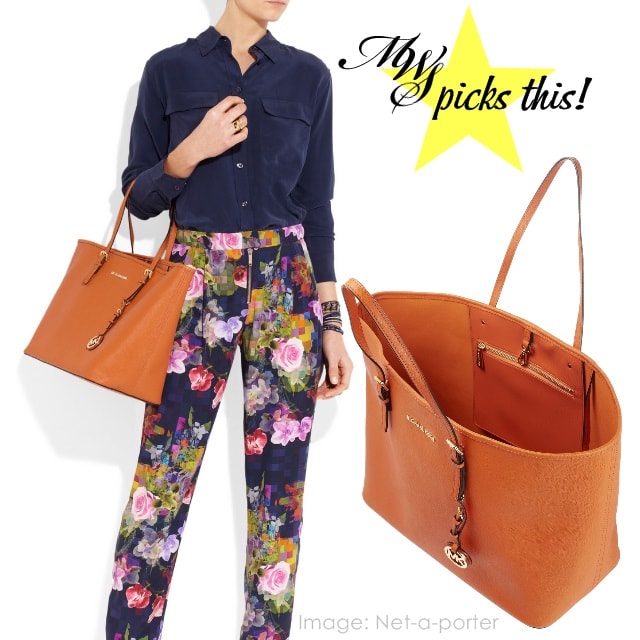 The Michael Michael Kors Jet Set Travel Medium from here grabbed me with its simplicity, colour, material and price. The burnt orange is eye catching which suits me (I like bright bags) and I like that its leather! It looks like the textured Saffiano leather used by Prada and if so, it would be hard wearing and look good for a long time. I saw it at the MK store here (in brown, not Tangerine that you see here) and its RM1339 which, if you're eyeing something in leather and in a largish bag, isn't too bad, but I'd suggest you get it online where its cheaper (and there's sometimes free stripping shipping!)
So yes, I'm eyeing that MK tote and since I don't own anything by MK… 😉
Are you a fan of the Neverfull? Do you own anything by Michael Kors and have any thoughts on their bags?
I'm afraid I'm not a fan of the Neverfull but I won't knock anyone for owning or liking one because hey, we're all entitled to our own tastes and preferences 🙂 I am rather keen on that Michael Kors one so I'll be watching out for free shipping and sales over at net-a-porter.com! No need to thank me 😛
Paris B
[show_shopthepost_widget id="594687″]