One of the things I've enjoyed most about beauty blogging is the wealth of information at the proverbial fingertips. It has opened up my eyes to so many new brands and products out there that I would never have paid attention to. There's also a knock-on effect when reading other blogs. I start getting caught up in everything new and wonderful out there and one of the new and wonderful things I spotted getting a lot of interest last year was a new-to-me brand, Caudalie.
I never really had the chance to check it out, mostly because it was stocked in Sasa and unfortunately, that's a store I rarely go. However, I recently was invited to learn a little more about Caudalie and their new Vinexpert anti-aging skincare range (Goodness! Did they realise I am erring on the wrong side of youth?!) and also learnt that the local distributor is no longer Sasa but Ken's Apothecary. Now, that's a much more palatable store to go to 😛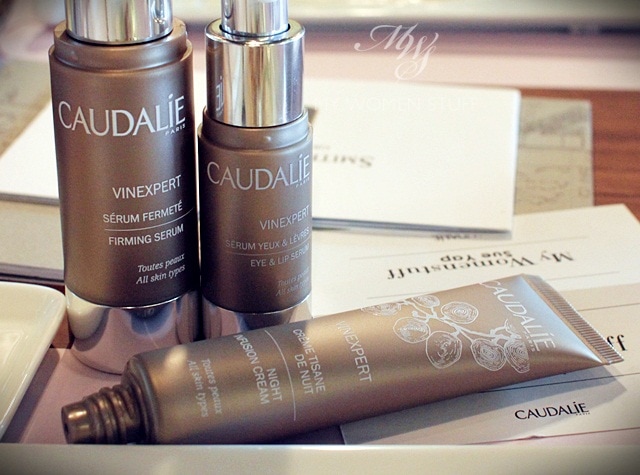 Caudalie (I love the way the French say it – so sexy 😛 ) was born in a French vineyard in Bordeaux and uses extracts of grapes, grapeseed, vines and everything grape related. The vineyard of Chateau Smith Haut Lafitte (here) is still in business if anyone is into wine, and Caudalie actually has Vinotherapie Spas which I'd absolutely love to try! As the name implies, it involves a lot of grapes including a Vinosource facial with fresh grapes. Now, how freaking cool is that?!
I personally have not yet used anything from Caudalie but I'm quite sure many of you have so come on then – tell me what you have tried and what you like (or don't!) and I'll brief you a little on the new Vinexpert range.

The Vinexpert range is an anti-aging skincare range with its primary ingredient Resveratrol-Oleyl (a Caudalie patented ingredient) being a form of resveratrol extracted from grapevine stalks. Resveratrol, if you have been following health news in recent years, is an ingredient found naturally in the skin of red grapes, and has been touted as having anti-aging and health benefits. It would seem like a great excuse to drink lots of wine, but it doesn't quite work that way 😛
In the Vinexpert range, the Resveratrol-Oleyl provides the skin with Omega 3, 6 and 9 fatty acids and protects skin from pollution while regenerating it. Hence the anti-aging benefits.
The product in this range with the highest concentration of Resveratrol-Oleyl is the Vinexpert Firming Serum which as the name implies works to firm up and lift sagging skin. The texture is quite light but I don't know as yet how it fares on skin. I generally find that I personally don't see much results with many firming serums or creams which I'd like to think is because I don't have the jowls of a bulldog. But it could also be that it just isn't working LOL! I'll report back when I've given it a go.
Accompanying the face serum is the Vinexpert Eye & Lip Serum which as the name implies, can be used around the eye area and lip area. Lip serum – I've been seeing this pop up a lot lately. As if I need one more thing to worry about! 😛
The other products are the Vinexpert Radiance Day Fluid with SPF15 and Vinexpert Radiance Day Cream with SPF15 which is the day moisturiser that comes in 2 formula for oily skin and dry skin. It is a light textured cream that absorbs quickly into the skin and feels lovely and comfortable when I tested it on the back of my hand.
Rounding up the range is the Vinexpert Night Infusion Cream which is the night cream and is a heavier texture cream. It does sink into the skin quite quickly based on the quick trial I had but since I do have drier skin now it will be interesting to see how this one fares. This is an anti-aging range so it would be more suitable for those who are seeing signs of aging or for those who have more mature skin. Contrary to popular belief, I don't subscribe to the "use an anti-aging skincare when you are 20" school of thought. I say use whatever you need, whenever your skin needs it.
Well, since I'm new to Caudalie and all, here are some of their bestselling products. Have you tried any of them? I haven't 😛
Caudalie Divine Oil – a dry oil for face body and hair. The bottle is very interesting as you can see, as it has these indentations at the back which gives it texture and the cap is wood. I love body oils and this does smell lovely and woody and warm but I don't generally like dry oils so I'll pass on this one.
The Hand and Nail Cream is a non greasy hand cream with anti-aging and anti-oxidant benefits. It is quite true that its not sticky nor greasy and has a nice light scent. At least I did not find my knife slipping out of my hands during lunch, to stab me in the thigh after I had applied this hand cream so its a good thing.
A product I didn't photograph is the famed Beauty Elixir that I remember lots of people raving about last year. Its a spray that you can use under moisturiser and over makeup to cool skin, set makeup and is supposed to have astringent benefits and rejuvenate skin.
The final bestseller is the Vinoperfect Radiance Serum. This, like many anti-dark spot treatments is supposed to treat existing spots, prevent new ones and even out complexion and making it look more radiant. I have to say I'm a wee bit concerned if this one will work for me because I noticed that it contains olive squalene and my last experience with anything olive in it did not go well at all.
Have you tried anything by Caudalie? Have a fave product?
I may try some items from the Vinexpert range in time to come and I'll share my thoughts on them when the time comes 🙂 In the meantime, I know all you savvy ladies out there are quite familiar with the brand or may have tried some of their items before. So come on then, share your stories! 😀
Paris B
Caudalie will be available exclusively at Ken's Apothecary stores – Empire Shopping Gallery, Bangsar Village 2 and hopefully online at kensapothecary.com.my