I showed you most of the items from the Lunasol Vivid Purification collection last week but it got so long and I got so carried away, I didn't show you how the product would look when worn. So here's a short-ish post today to show you just how the Lunasol Vivid Clear Eyes Blue Green palette looks together with the Full Glamour Liquid Lips in EX08 Shining Clear Pink 🙂 I wasn't going to post this, but I realised from reading your comments that it isn't easy finding swatches and commentary on brands like Lunasol in English blogs so I hope to be that bridge. I like the brand after all 🙂
Of the 5 eyeshadow palettes released in the Vivid Clear Eyes range, the Vivid Blue Green 01 would likely be best described as "vivid". Even then, the colour is quite light although the black in there is the saving grace and that is the key colour I use as the base for this palette that I sort of made look a bit smokier than I expected 😛
Here are slightly clearer swatches than before for this palette
The black is nicely pigmented but the rest do tend to the light, sheer and shimmery. Very typical of a Japanese branded shadow. I did not experience fall out with this one though. There were some earlier Lunasol palettes I absolutely disliked (Geminate I believe) that were glittery with loads of fall out. I refused to get anything from those. But from the Ocean range upwards, its been much better (Smokey Ocean is a firm favourite of mine!).
As for the Full Glamour Liquid Lips, here's how EX08 Shining Clear Pink looks like when worn on lips. The Liquid Lips is a bit of a glossy liquid lipstick. Gloss factor is high and pigment is low but with these, I manage to achieve what I'd call "nude lips" without looking remotely washed out. I'd tried one once before and I liked it so there are now 5 more colours added.
On my quite pigmented lips, EX08 Shining Clear Pink looks like a … erm… shining clear pink 😛 It evens out my lip colour without lightening it too much and gives it a nice shine with a bit of shimmer. You can also use it to top up a lip stain. The next colour I'm eyeing is EX11 Red Beige which looks more opaque and is a deeper shade.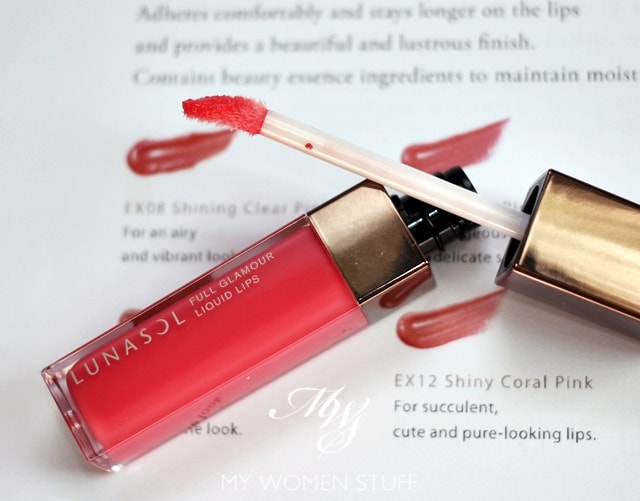 And here's how I wore it overall.
Eyes: Vivid Clear Eyes Blue Green 01 | Lips: Full Glamour Liquid Lips EX08 | Cheeks: Lunasol Colouring Cheeks N Pink | Foundation: Lunasol Skin Modelling Foundation OC01
As I hope you can tell (I couldn't get a close up of the eyes) I used the black as a base (rather like this technique here, except I used the black shadow instead of a black eyeliner – it gives a softer look). I then blended the light and deeper turquoise and applied it over the black. This makes the colour look a bit more vibrant and more blue on me. Then, I use the pale yellow as highlight on inner corners and under the brow. I also used the blue to line the lower lash.
Overall, I'd say its a soft look and spring/warm weather appropriate, when makeup is transitioning out of the deeper winter hues. Here where its practically summer all year long, its quite appropriate too, for the hot weather doesn't encourage daily wearing of deep tones.
So that's it. A shorter than normal post from the usually verbose me. Not used to it, I can assure you. I keep thinking there should be more to say, but then I realise I've said all I wanted about this collection in the Overview post so erm… that's it! You may go now 😉
Paris B
Lunasol Vivid Clear Eyes Price: 185 | Full Glamour Liquid Lips Price: RM111 Availability: Kanebo counters