"I wanted to create a collection for the woman who is sexy yet romantic. Pretty Naughty is very pastel, but also a little naughty in a gentle, discreet way." ~ Tom Pecheux, Creative Makeup Director, Estée Lauder
Now, isn't that an oxymoronic sentence? Pastels are romantic, we'd all agree with that but who'd ever associate pastel colours with sexy? Not me, that's for sure. Sexy comes across as bold, strong shades, not colours of a macaron. But when I saw the Estee Lauder Pretty Naughty eyeshadow palette for Spring 2013, I suddenly knew what Tom Pecheaux meant.
I have to hand it to Tom Pechaux. For me, he has single handedly revamped the Estee Lauder colour makeup turning them around from a brand I'd associate with aunties and more matured women, to something that is actually eye catching and even, exciting. Or maybe its just that I'm at that age when I now am an aunty and therefore would not feel (or look) out of place at an EL counter 😀 Either way, I like what Tom Pechaux is doing with EL.
There are a couple of items in the Pretty Naughty Spring 2013 collection but my eye was not originally drawn to the eyeshadow palette. Oh no, I was irresistably drawn instead to the powder gelee blush. Are you surprised? Me… and a blush? I didn't think so 🙂
The, to give it its full name, Pure Color Illumination Powder Gelée Blush in Tease is one of the (usually) limited edition gelée blushes, bronzers and illuminators that Estee Lauder launches periodically. I have an illuminator from a previous collection (Modern Mercury) that I never told you about because I wasn't brought in locally. On hind sight, maybe I should have. The texture is very interesting, being a tri-brid of liquid, powder and gel.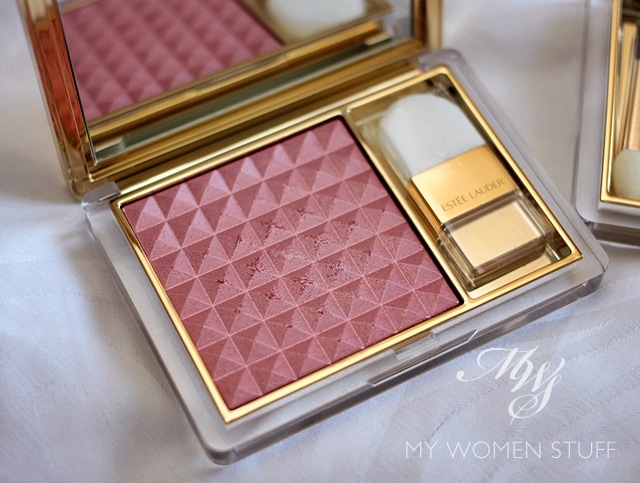 In pan, the product looks like a powder but there is a pearlescent sheen to it. Swiped, it feels like gel-cream and it goes on skin and stays on like a cream. The offering under the Pretty Naughty collection is Tease, a sweet golden pink.
In my photo, you can see that the middle bit looks a bit grungy and that's because I'd used it before I took photos. The surface is raised "studs" which to my imagination looks like a field of pyramids. No matter which way you hold it, there will be light and shadow play that throws the design into sharp relief, which is quite artistic.
When used, you will notice that the "tips" of the "pyramids will flatten out. The product comes with a sponge applicator but I use my regular blush brush that picks up product very easily, and applies it on my cheeks in a diffused glow. This is quite easily a firm favourite for a quick, simple light pink blush that instantly gives a glow to skin. Perfect for those days when you look at yourself in the mirror and think "God! What on earth did you DO last night to justify looking THIS bad?!" 😛
I know what you're worried about – shimmer. Everyone's always worried about shimmer (well except me because I don't quite care that I may look like a walking spotlight at times) but it might please you to know that there isn't shimmer in the true sense in this product. What it is, is superbly fine shimmer that serves to illuminate your skin not make you shine like a diamond.
Swatches probably help illustrate what I mean.
Left-Right: Pretty Naughty Eyeshadow Palette: Pastel Pink, Pastel Light Blue, Shimmer brown, Shimmer Lilac, Black with silver glitter; Gelée Blush in Tease
If you see the Tease blush on the far right, you may notice how it looks like a pink glow instead of a powdery pink shimmery blush. The texture is quite something.
As for the shadows in the Pretty Naughty palette, I wasn't sure how I felt about them. The pastel pink and baby blue are colours I don't regularly use. The other 3 shades – brown, lilac and black are colours I can work with. When I tried to use them all however, I found that it didn't look too bad.
The light pastel pink is very light but when used as a highlighter for the inner corner of the eyes and under the brow, the very subtle hint of highlight really brightens up the eye area. So, the only colour I'm really meh about is the baby blue. I don't work well with baby blue.
Here is a close up idea of how Pretty Naughty and Tease looks on me.
Pretty Naughty on eyes, Tease on cheeks as blush
For the eyes, I used the black as a base then layered the brown on the outer half of the eye, and the pale blue in the inner half with a touch of lilac that goes on my skin quite a nice cool purple. The same lilac-purple was used on the lower lid too. Pink was used on the inner corners and under the brow bone. Tease was used as a blush which you can just about see on the apples of my cheeks. It isn't shiny and doesn't make my skin look uneven nor does it enhance my pores very much (I have old acne scars on my cheeks) The colour on my skin is a warmed pink that is just a tease of colour on skin.
And when you pull back (because few of us really stuff our faces into others in that sort of extreme close up ;)) Here's how it looks.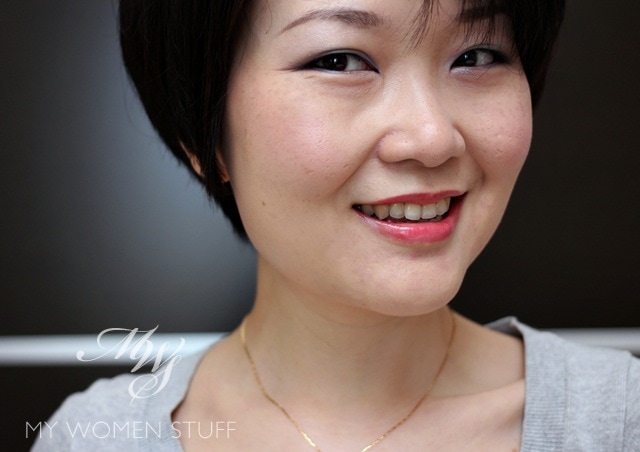 Eyes: Pretty Naughty palette (all 5 shades) | Cheeks: Tease Gelee blush | Lips: Dior Lip Glow | Face: Lunasol Skin Modelling Foundation
I get what Tom Pechaux means now. The pretty sweet pastels of pink, blue and lilac in the Pretty Naughty palette on their own will channel a sweet romantic look. But the brown in the palette earths the colours and the black deepens them to give a sexier vibe. This is a palette for someone who's feeling pretty… and naughty 😉
In a nutshell

I was very interested in the Tease gelee blush in the Estee Lauder Spring 2013 Pretty Naughty collection and I'm glad that it doesn't disappoint. The blush imparts a soft sweet pink to cheeks while adding an illuminating glow. If you layer too much on it can look shiny but it gives a beautiful glow to the cheeks. I adore this one. The Pretty Naughty eyeshadow palette at first glance did not attract me. Pastel colours for the eyes do nothing for me but when worn, the black and brown adds depth and grounds the sweet pastel shades, allowing you to deepen them. The pink isn't very pink and is in fact, a very lovely highlight for the eye area. It isn't a must have, if I'm to be honest but if cooler tones suit your skin its a pretty palette to own, that can easily transition according to your mood, whether you are feeling pretty or naughty.

Pros: Blush is a very lovely golden pink with illuminating shimmer, Blush can be used as highlighter or on its own if it shows up on you, Colours in the eyeshadow palette are not chalky and adhere well to skin

Cons: Limited Edition, Pastel eye colours do not suit everyone, The black shade in the eyeshadow palette is a bit crumbly

Who will like this: Anyone who wants a soft golden pink blush that adds glow to the skin without looking too shimmery, Anyone who wants to join in the Spring trend for pastel eye shades without looking too pale and washed out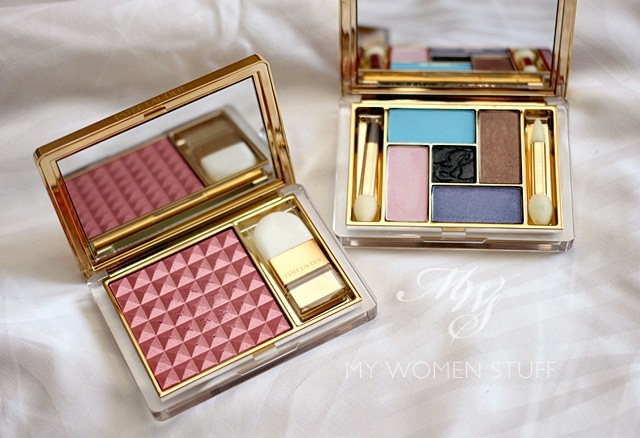 While I wasn't 100% sold on the eyeshadow palette initially, I have to say it grew on me. I still don't like the baby blue so its the colour I use the least. The other colours in the palette work well together or even on their own, so that makes it quite versatile for an easy to throw on look. You probably couldn't do a night look with this one but who's to say otherwise right? Just slap on lots of the black, temper it with a little lilac for punch and you'd be good to go. I'm happy they added the black in there – it just pulls the palette together much better than if it was another pastel.
As for the blush, I love it. Been using it for a week straight. I use my regular blush brush with it, and need about 2 layers to get what you see in the photos above. It is, in that sense more pigmented than the Guerlain Sakura Blush G which I do need a little more work with. The latter however does not have the shimmer/illuminating level that this one does and its a cooler pink while Tease is a warmer golden pink. Both are pretty, both are bloody tempting!
Did you check out the Estee Lauder Pretty Naughty collection? Does either product here attract you?
In this collection also were 4 new Sheer Matte lipsticks and a nail polish that was a greyed lilac (Insatiable). I'm not personally a fan of matte lipsticks or nail polish so those were a pass for me, but fellow blogger Nikki has a review on one of the Sheer Matte lipsticks in Rebel so you can check her thoughts on those 🙂 So, if you can get just one item, I say look at the gelee blush. The texture is lovely, the colour is sweet and you'd look such a tease in it! 😉
Paris B
Estee Lauder Pretty Naughty 5 Colour Eyeshadow Palette Price: RM160; Pure Color Illumination Powder Gelée Blush in Tease Price: RM152 Availability: Estee Lauder counters nationwide Limited Edition: Yes, Spring 2013 Pretty Naughty collection