I don't usually follow celebrity news and Awards season is usually a bit of a snorefest for me. Never used to be that way. I used to be a huge fan of the Oscars when I actually used to watch movies back in the day. Now that I don't (and I didn't watch a single one of the nominated movies this year – sigh!) I don't usually bother with the Oscars or the red carpet. Not my scene.
But last Monday when the Oscars got underway, I could not help noticing many online references to Anne Hathaway's dress and her nipples that were purportedly grabbing worldwide attention as she scooped up the Best Supporting Actress award for her role in Les Miserables (still haven't seen it! Gah!)
So I had to go and look it up of course 😀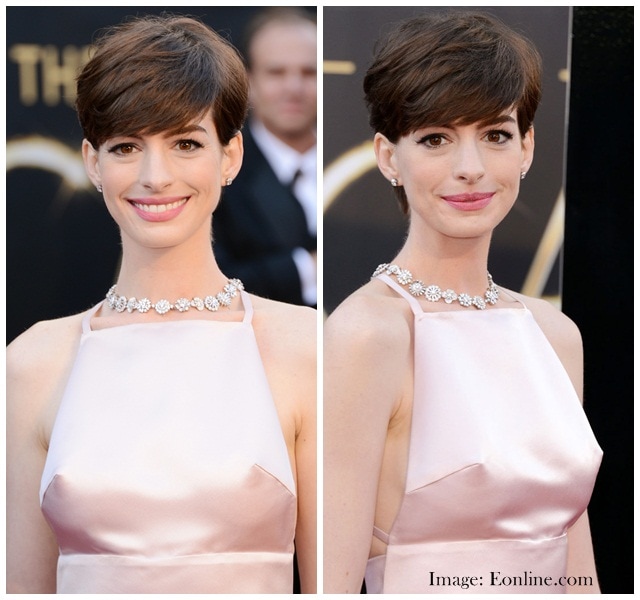 Here is the pale pink Prada dress that had people talking. Well, yes, it is quite an unfortunate design because I see how the darts at the boob area made the front of the dress stick out, and with light and shadow in play, its a bit of an outstanding problem.
Or it could be her perky nips, who really knows 😛 But there were 3 things I liked about how she looked (and none of it was the dress).
I liked her necklace. I don't personally think it went with her dress due to the high neckline of the dress, but I think it would be very pretty on a top with a lower scoop neckline. It looks like daisies, or flowers and I like the whimsical vibe. Definitely something I'd wear. I dug around to see who made it and its a Tiffany & Co piece worth over half a million buckaroos, and she wore it down her back i.e. short in front, long down the back. Not having half a million buckaroos to spend on a bauble, I'm going to have to look for a shorter more affordable substitute – if anyone has ideas on where to find something similar, please let me know! 🙂
The second thing I liked was her hair. I'm starting to tire of my short hair. I know. It seems like I've just cut it short not too long ago, but I'm already itching to try something new. I wonder if I could pull off her cut. I like how there's lots of volume at the front, and short back and sides which is something I prefer as opposed to a stark short fringe.
The final thing I liked about her look was her makeup. I liked how simple and fresh it looked. The lined eyes, the rosy pink lipstick, the softly glowing skin. Love! Allure had the scoop on her makeup and here's what it was:-
Skin – Chanel Vitalumiere Aqua. Its too bad, I can't wear this one, so I'd probably substitute it with one of my other faves or its low end "dupe" Bourjois Healthy Mix Serum.
Cheeks – Pale pink Chanel blush and Make Up For Ever Uplight liquid highlighter. The palest pink Chanel blush I own is Narcisse so I'd have to go with that one.
Eyes – Laura Mercier Cake Eyeliner in black and a gray lilac eyeshadow. It so happens that I bought a Laura Mercier Cake eyeliner a while ago, but haven't quite gotten the hang of it! I'm going to work harder on it now 🙂
Lips – Chanel Rouge Allure Luminous Intense Évanescente toned down with a dab of concealer. I admit I was most taken with the lip colour so I'm going to have to check out this Chanel lippie!
Incidentally, I read that she switched to Prada at the last minute because someone else was wearing a similar looking gown. She was originally supposed to wear Valentino and I do think she would have looked better in one of their lovely elegant gowns. (Source: Time – yeah, I didn't think it'd make Time either!) Still, Anne Hathaway will certainly be remembered for her rather unfortunate dress choice, as much as her Oscar win.
Are you interested in what the stars are wearing on the red carpet for the major Awards? Which was your favourite look of this year's Oscars, if you watched it?
I don't usually follow or care about what the celebrities wear to Awards. I don't even follow red carpet news unless they are particularly interesting, like this one. Otherwise, its all a blur to me 😛
Paris B