Today is the eve of the Chinese New Year which falls on Feb 10th this year (tomorrow!) and I'm so happy its finally here 😀 Chinese New Year or the Lunar New Year is a very big thing here in Asia and just as big here in Malaysia. For me, this is the one big festival of the year and I am quite set in many little traditions 😀 I'm already back home in my hometown by the time this post goes live, awaiting the big feast that is the Reunion dinner later today.
This year, I was terribly terribly busy at work in the lead up to the New Year and a lot of things were left undone. I managed to do a whirlwind clean of my house before I left (putting clutter into a room & shutting the door counts right? 😛 ), and although I did pick up a couple of new clothes, none were bright red this year. I did discover that one is maroon so it'll have to do 🙂
At the last minute, I did manage to pick up some of my must-have Chinese New Year snacks so I wanted to share with you some of the stuff I indulge in every time at this time of year. Some traditional, some personal favourites but all scrumptious, I can assure you! 😀

Mandarin Oranges
These are customary to signify gold as the Chinese word for them – "kum" also means gold and therefore prosperity. Chinese are big on prosperity LOL! 😀 I usually bring a box home for my parents which signifies bringing gold into the house which is of course a very good thing! We also bring some along when we visit friends and relatives. There are different species of mandarin oranges, but in the main, they are sweet and tangy and juicy and taste so good cold from the fridge. Perfect on hot hot afternoons lazing at home 😀
Pomelo
The pomelo is also a popular fruit during the Chinese New Year because it signifies good fortune. We also sometimes use it in prayers, but for the most part, its just good to eat! 😀 If you haven't seen it before, its that green fruit in the back, pretty much like a giant grapefruit with a thick skin and segments on the inside like that of a grapefruit. The tangy citrus fruit is excellent eaten chilled.
"Nian Kao" or Chinese New Year cake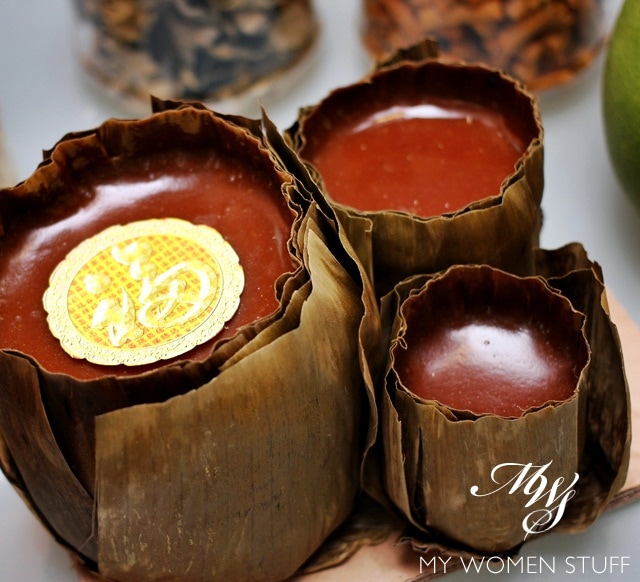 These are traditional in my household. It is a sweet glutinous rice flour cake that is traditionally wrapped in banana leaves and steamed, and is traditionally an offering to the Kitchen God to sweeten his disposition so he only reports good things to the Jade Emperor, or to stick his mouth together so he can't report the bad stuff, whichever version you prefer LOL! The word "nian gao" also sounds like "higher year" which basically is good tidings for the new year. There are many ways to eat this but the popular ones are to cut it into slices and steam to soften, then coat it with grated coconut. Another popular method is to sandwich this between a slice of sweet potato and yam, batter it and deep fry. Both are absolutely delicious!
Pineapple Tarts
This isn't a personal favourite but my brother loves these so I buy them for him every year. We like these open faced ones which has a shortcrust pastry base and pineapple jam on top. It also comes in a rolled version, with pineapple jam rolled inside shortcrust pastry. There are many versions but all are really good! Its quite funny because you only really see these pop up everywhere in the lead up to the Chinese New Year although they can be easily made at any time of the year.
Mini Spring Rolls aka Baby Popiah
I can eat these baby popiah, as I call them, by the handfuls! They are terribly addictive! These are, as the name implies mini deep fried spring rolls. I like the ones filled with spicy dried shrimp but it also comes filled with non spicy meat floss. Much too addictive… nom nom!
"Ngaku" Chips or Arrowhead Chips
Arrowhead or locally known as "ngaku" make their appearance only at Chinese New Year so I can be forgiven for stuffing my face with these as if they are going out of style. They are because once this season is over, these chips are nowhere to be seen! Arrowhead is a bulb which is rather starchy, like a little potato. I like cooking it with meat as well but its is most popular sliced thinly and made into chips. Absolutely… whats that word again? Addictive! 😀
Random snacks!
While the rest are must haves every year, I sometimes also pick up some random snacks and the 2 random snacks I picked up this year for fun are deep fried lotus root slices and fried seaweed. They are quite interesting and as with all these snacks, terribly addictive! I think I've used the word "addictive" one too many times today LOL! After taking this photo, I inhaled all of these. Oops! *burp*
What are your must-haves for the Chinese New Year celebrations if you celebrate it? Are any of mine on your list?
Many people buy dried bbq meat or bak kwa but I don't because we don't really eat it as a family. We used to buy cookies but since I rarely eat cookies, I leave it for the others in the family to buy them. My job come Chinese New Year is as purveyor of oranges, snacks and goodies. I think I do a pretty good job of it 😉
Paris B
Scrumptious Saturday: The one day in a week where I indulge in my other love of food, glorious food! Join me on my lipsmacking journeys near and far as we sample life's indulgences and make an attempt to cook.