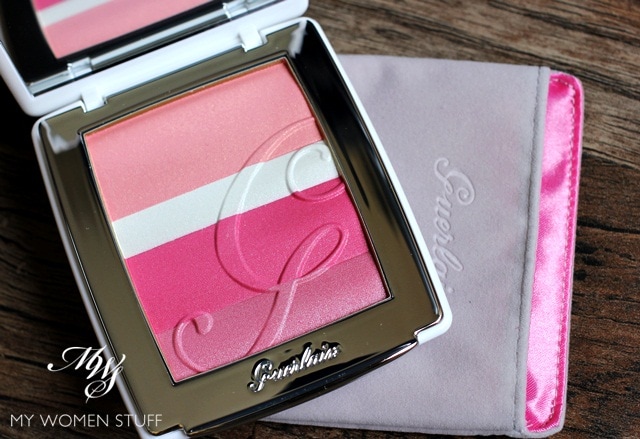 This, my friends is the Guerlain Blush G Cherry Blossom Blush or Sakura Blush or just simply "that Asia-exclusive blush that #$(*@#& why doesn't Guerlain release it worldwide?!?!" This Blush G is part of the Blanc de Perles collection that Guerlain launches in Asia every year, and perhaps also in some selected stores in other parts of the world. I know of this popping up on selfridges.com before this, but I think its disappeared from there again.
So, I know I'm probably not in many people's good books for showcasing this one due to its limited distribution but… I'm not sorry 😛 The Blush G first came out in Spring 2011 with the release of the also limited edition Blush G Serie Noire which had pinky coral tones and was by all accounts a winner.
This Blush G Sakura is decidedly more pink, more cool and to my surprise, more sheer. Let me tell you how I found it, and if its a must have. You may have to hit up some friends in Asia to help you if its not coming to a store near you any time soon 😉
Like Serie Noire, the blush comes in a smooth pebble shaped compact that despite being a bit bulky, is actually very ergonomic when held in your hands.
Here are the cases set side by side. Blush G Cherry Blossom on left in the smooth white case and Serie Noire on right in its sleek black case. I find this image very pleasing in a symmetrical-but-not sort of way 😀 Unlike Blush G Serie Noire that had black casing all the way though, the Blush G Cherry Blossom has metallic accents.
This then is the official name of this Blush G Sakura – Cherry Blossom Blush or Roses de Printemps (which is such a pretty name btw!) Size and weight wise, its exactly the same as its deeper cousin from 2 years ago.
Colourwise, you can see they are quite different. Blush G Sakura on left is predominantly pink with a cool slant to the colours, while Blush G Serie Noire is decidedly more coral with a warmer tone.
Don't be fooled by that large strip of bright pink in Blush G Sakura however. The colours apply very light on skin. Here are the swatches I showed you before, where I swatched it with my fingers. Sometimes, fingers don't pick up color as well as brushes so that was my initial impression.
Blush G Sakura swatched Top to Bottom : L-R: Shimmery peach, Shimmery white, Shimmery deeper pink, Shimmery light pink, Blended
Yep, very very light and sheer colours. Now, this is both a good and bad thing depending on how you like to wear your blushes.
When I use my regular Lunasol Cheek Brush N (which I use for every blush) I need to actually layer it on before the colour starts to show up on my skin. I do have quite a light skintone to start with (Guerlain 01 Beige Pale foundation) and even then, this takes a couple of layers for it to show up nicely. If I use a stiffer more dense brush, its easier to get the colours to show.
As I said, its a good and bad thing. Good if you are the sort who likes light pink blushes that you can quickly swipe on and go without making a mistake. Bad if you are used to strong colours and prefer using a blush that needs less work.
These were 2 angles I thought represented the blush best, to show you just how it looks on my skin. I used about 2-3 light layers in these photos (using my Lunasol brush) and you can see that on my skin, I get the barest hint of pink on my skin but it is a very natural sort of pink that doesn't quite say "Hey look at me! I'm wearing pink blush!"
In the photo on the left, you can also see that there is shimmer reflected but it isn't metallic or very bright. It doesn't accentuate my pores nor does it look artificial. It gives my skin a nice sort of glow to the cheeks, but I do have to apply more of the lower half to see colour.
I can tell you though, that this one is terribly hard to overdo. I know, that's a strange sort of statement but its a plus point. I can layer it on and on and still don't look like a baboon's bottom. The colour is that subtle so its a nice blush to start with if you think finding a blush that doesn't turn you into a clown is hard work.
I've started to really like wearing light blushes. I went through a phase of strong coloured blushes once but I'm now slowing easing back the throttle and wearing light colors (Benefit Dandelion, Hervana and most of my Dior blushes are finally seeing more love! Yay! 😀 ) so for now, this Blush G Sakura fits right into my routine.
A cute little pink brush is included if you lift up the blush pan. I personally find the bristles scratchy so I don't use it. I have never used the ones included in any of the Guerlain face palettes. Guerlain may do makeup well, but their brushes could do with more work IMO 😛
Holding both Blush G Sakura and Blush G Serie Noire side by side however, I noticed there were differences between the two. Primarily, this was on the quality front.
I felt that Blush G Serie Noire had a better constructed case that felt more solid in my hands. The black case feels almost like a heavy lacquered case and so does the area that holds the blush.
By contrast, I felt that the white case of Blush G Sakura felt lighter and thinner and less solid. It felt like the plastic that it is. The metallic frame that holds the blush didn't appeal to me. I felt it would have been better symmetry if they had constructed a white frame instead as they did the black one.
Even the velvet pouches felt different. The one that houses the Blush G Serie Noire is black velvet with fuchsia satin lining. The Blush G Sakura one has a grey microfibre feel with satin pink lining. The microfibre feels less luxurious and even if it could be hardier, a lot of us think with our senses and the fact is that velvet feels more luxurious.
Once more for good measure 😛
Cheeks: Guerlain Blush G Sakura | Eyes: Dior Cherie Bow Smoky Rose Trio | Lips: Dior Addict Extreme in Plaza
Despite the fact I do like this blush and I'm very happy I got my hands on it – what blush fiend wouldn't? 😀 – I will stick my head out and tell you that this is NOT a must have. Shiseido Camellia was a must have. This one is a "Nice To Have". The colour is easily duped with any light pink blush and if you have deeper skintone, you will definitely be let down as there is a risk all you'd see is shimmer on your skin. But if you like light sheer pink blushes and you have the funds, and you love how this looks, then I think its a great quality blush that is nice to have 🙂
In a nutshell The Guerlain Blush G Sakura Cherry Blossom blush is a limited edition in the Blanc de Perles range which Guerlain releases in Asia. As of now, this appears to be sold only in Asia or perhaps in very limited distribution in the Western world. The blush tone is predominantly pink and it is very light and sheer. If you use a fluffy soft blush brush, you may need a few layers before it shows up to your satisfaction. If you use a more dense brush it shows up better. On deeper skintones, there is a risk of it showing up as just shimmer so I'd not recommend this one for anyone with medium-deep skintones. I do like it, and I'm happy I got it, but this one isn't a must have. Just very nice to have 🙂

Pros: Light sheer pink is sweet and gives a glow from within look, Easy to wear and almost impossible to overdo, Pretty!

Cons: Light and sheer colours may not suit everyone's tastes, Limited Edition and only in Asia

Who will like this: Anyone who likes light sheer pink blushes, Collectors and fans of Guerlain powders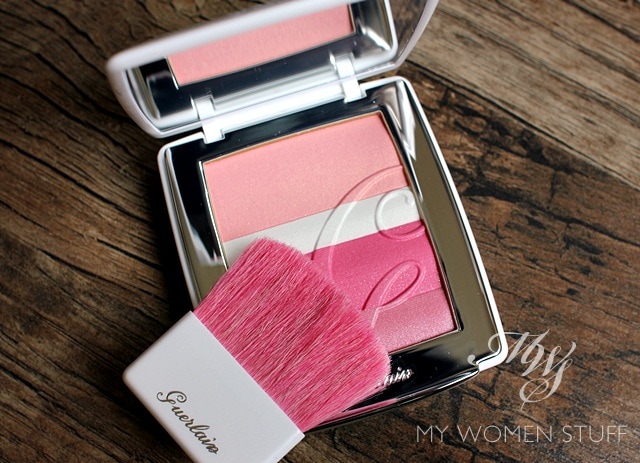 Did this blush catch your eye? How do you feel about these continent exclusive releases?
I've been around the scene a while and I remember that about 5-6 years back, every brand had some form of Asia-Exclusive item from various collections. MAC ones especially would fetch crazy prices on ebay. But that craze seems to have faded. I wonder if its coming back. I sometimes wish we get certain items found in other countries but having spoken to some marketing people, I understand now that different markets have different preferences and I guess they can't please everyone! Now, what say you about this Blush G Sakura then? Wish you had it at your local counter? 🙂
Paris B
Guerlain Blush G Sakura Cherry Blossom blush Price: RM198 Availability: Guerlain counters (Isetan KLCC, The Gardens, Parkson Pavilion) Limited Edition: Yes, Blanc de Perles Asia collection 2013