There was only really 1 item I was eyeing from the Guerlain Spring 2013 collection and that was the Meteorites Perles du Paradis. I ended up not getting anything from the rest of the collection, even if the Coupe de Foudre green and coral eyeshadow palette caught my eye initially. I just wasn't feeling it. But as luck would have it, the shipment for the Meteorites was delayed so it was only now that I managed to get it. Happily though, it came in together with the Blush G Sakura Cherry Blossom blush, so I thought it would be nice to just have a quick look at both of them.
The Meteorites Perles du Paradis come in a larger than usual tub with larger than usual balls which is both intriguing and puzzling. The case is back to being cardboard (I wonder why) and it does come with an adorable soft pink puff which I suppose you could use, but which I probably never will. For interest, the earlier Meteorites came with puffs too. Its only the recent ones in the tin that come with that silly thin sponge. I don't use them but I keep them because they keep the balls from falling out.
Here's some quick photos of the items. I didn't have time to try them yet as I only just picked them up over the weekend but I will be sure to bring proper reviews and swatches etc in time to come. I'm just easing back into blogging again after a bit of a long break so this was the easiest way 😀
This Blush G Sakura Cherry Blossom Blush is a limited edition (apparently) Asia exclusive that was released together with the Blanc de Perles collection. I do not know if it will be available elsewhere although it was sighted on the selfridges.com (UK) website.
For those who remember, this is the counterfoil to the Blush G Serie Noir blush that came out about 2 years back. I thought the white case vs the previous black case was genius! Colourwise, where the Blush G Serie Noir was a coral pink, the Blush G Sakura Cherry Blossom is a pale pink.
There are a couple more differences between the Blush G Serie Noir and the Blush G Sakura (not all of it great) but I'll tell you when I have the full review up.
In terms of a swatch, here's my best attempt at swatching the Blush G Sakura Cherry Blossom blush.
Guerlain Blush G Sakura blush swatched from Top to Bottom L-R: Shimmery Peach, Shimmer White, Shimmer Dark Pink, Shimmer Light Pink, Blended
As you can tell, this is quite a sheer shimmery product so it does not swatch very well. It isn't chunky shimmer or glittery or anything, but there is noticeable shimmer. The top 2 shades act more as a highlighter, while the actual colour is in the bottom 2 shades. Blended together, it comes off a very light pink as you can see on the right most swatch, but the colour intensity will differ depending on how much of each colour you pick up. I will show you how it looks when worn as a blush later, when applied with a brush, because I swatched with fingers and sometimes, it comes out differently. Haven't worn it yet as of now because, hey! It was the weekend and I didn't feel like putting on a face of makeup 😛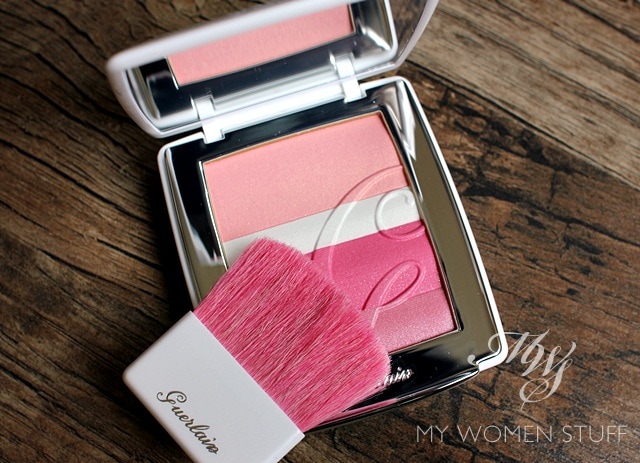 Like Blush G Serie Noir, the blush pan lifts up to house a brush below. This one is pink where the previous one was fuchsia. Out of interest, I don't use the brush at all. In fact, I'd even forgotten that it existed till now 😛 I find the bristles a bit scratchy and although it would work in a pinch, its not my preferred brush.
I picked mine up from the Guerlain counter at Isetan KLCC and if you are there, do look for Irene who is very helpful and pleasant. She even convinced me to get the new Blanc de Pearl concealer so I'll tell you about that too later 😛
Here are 2 more pictures of items from the Blanc de Perles collection that I took using my phone camera.
On left are the 3 shades of the Blanc de Perles Base primers available – pink for brightening, beige for colour correction and white. They have SPF30 and when I tried the pink one on my face, it did give it a subtle brightening. The Blanc de Perle High Definition Concealers (RM119) at the top right come in 2 shades – 00 and 01. I picked up 01 as 00 is really much too light. It seemed to do a fair job at the counter so let's see how it fares when I put it to use.
Also part of this colleciton is the Meteorites Compact UV Shield Powder which is similar to the Illuminating Pressed Powder Meteorites compact.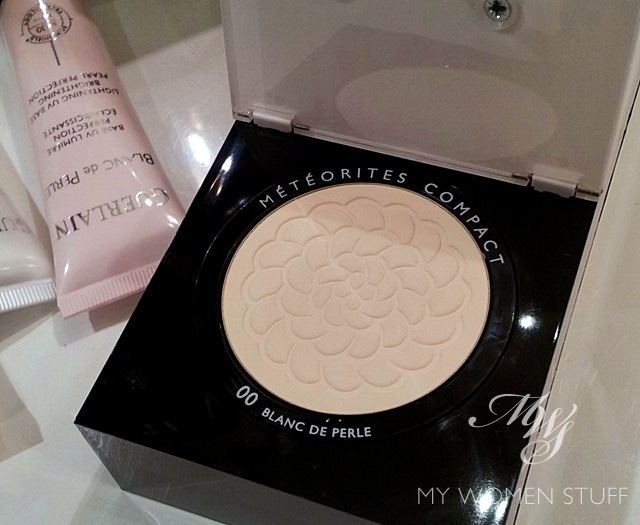 The shade is 00 Blanc de Perle and the powder is white. The SA told me it was meant to be used as a highlight powder, not for all over as the regular compacts are. She also demonstrated it on me but I didn't quite see anything. Swatching it didn't show up on my skin either and since I wasn't as impressed with the Illuminating Pressed Meteorites as I should be, I skipped on this one.
Are you eyeing either product? Did you pick up anything from Guerlain's Spring 2013 collection?
The Meteorites Perles du Paradis have been available for a while so I know there are already many reviews and many people who have it. If you did get it, are you loving it? 😀 Do let me know which review you'd like first – the Meteorites or the Blush G (although I think I already know your answer 😉 )
Paris B
Guerlain Meteorites Perles du Paradis Price: RM203 Limited Edition: Yes, Spring 2013 | Guerlain Blush G Sakura Cherry Blossom Blush Price: RM198 Limited Edition: Yes, Blanc de Perles collection 2013 Availability: Guerlain counters (Isetan KLCC, The Gardens, Parkson KLCC)