Every now and again, the Isetan department store has a Japan fair and when they do, I always make sure I stop by to take a look. Other than the food, which always intrigues me and drives me with great ambition to cook more Japanese goodies, the other reason I go is to gawk at the weird and wonderful Japanese inventions on sale. Not just beauty but also for the home. I spyshot a few items I particularly found fascinating this time.
This one from what I can gather, is a stick of glue that you can use to easily hold up dropped hems on skirts or pants. Now I'm many things but one of the things I'm not is a tailor. I can't sew to save my life. Ok, maybe if I had to sew to save my life, I could. But it would be a botched job. So while I can sew buttons back on (not neatly, mind you, but at least enough so it doesn't fall off in 5 minutes) I can't hem. When I have a dropped hem, I take my skirts back to my Mom and beg her to do it. I really should learn, eh? Or maybe buy a stick of glue like this one 😀
Here are more weird and wonderful inventions I snapped at the store. Most of them actually make sense. Well, except one for which I could not justify, but I cannot deny I felt an irresistable urge to actually BUY some of them haha! 😀
This one here is a heel-less slipper that you wear around the home. From what I can gather from the English translation at the back of the packaging, the purpose is to trim your calves because you would be forced to use your calf muscles to hold your heels up, off the floor. How very intriguing. I thought it didn't make much sense until I remembered that traditional clogs operate on a similar sort of principle of making you balance on the base, so your legs and butt does a lot of work. So, I thought this one quite innovative although not all that practical.
Here's one I couldn't quite fathom – a 4 way mirror. Apparently, it allows you to see the top of your head, and is also especially useful to observe the digging of your ears. Or is that the trimming of ear hairs?! Either way, answers on a postcard please for the many times you'd want to see the top of your head?
This UV sleeve isn't very weird to be honest. I've been seeing women wear these here for a while especially while driving. Previously, they'd use to keep a shirt in the car that they'd pull on back to front over their arms to protect from the sun. I can see the logic in that. It also reminds me of an episode of Drop Dead Diva where Stacey set up a company to sell her "invention" – any fans of Drop Dead Diva in the house? I can't wait for Season 4 😀
Here are 2 interesting beauty gadgets. The roller on the left is an icy roller. I think you are supposed to put it in the fridge before use and the roll your face with it. Helps firm up skin, they say.
The one on the right is erm… interesting. A gadget to help exercise your neckline. It appears you hold it and use your chin to push down the pump. Hmm… Prevents a double chin maybe? 😛
This one's a foot bath. Individual large plastic "shoes" that you can fill with water and wear. The base has these rough bumps which I think is to help you scrub the soles of your feet. All very interesting. There was 2 or 3 different brands of the same thing in the fair so it looks like this is quite popular! I'm not sure if someone with bigger feet will find it useful though since this is one size fits all.
To slim your legs, try heat generating tights and socks. It supports and slims your leg while looking good. Hey, can't knock it till you've tried it eh? 😉
And finally, another item I found very intriguing and perhaps even useful, if it works.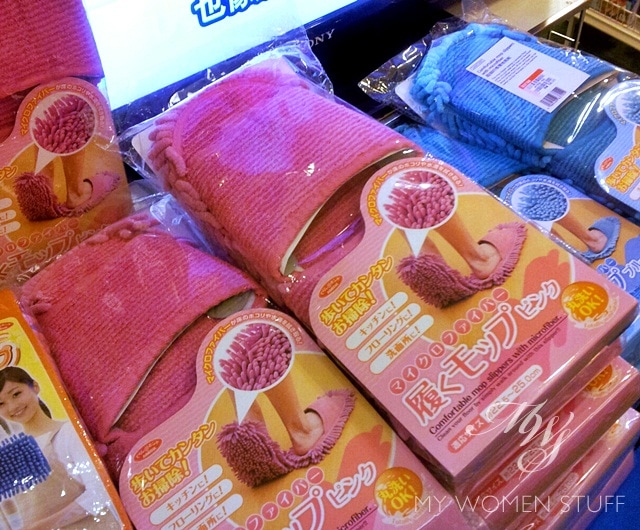 A microfibre slipper that you wear and walk around the house. The base picks up dirt and dust so you essentially are "cleaning" the floor as you walk. Helps with the exercise too right? 😛 Comes in a ladylike pink or a masculine blue, so your man is not allowed to get out of doing SOME housework 😛 I'm thinking I should pick up a couple of these, wait till the baby nephew is able to crawl, then tie them to his knees so he can polish my floor – good idea wot? 😛
Have you ever seen any of these before? Or maybe you own any of them?
I cannot deny that some of them make a lot of sense, and it takes a devious mind to actually think them up and manufacture them for sale! Like that slipper-floor cleaner or the hem glue for instance. Its genius! If it works 😀
Paris B