By way of explanation for my silence on the comment and email reply front, I just returned from a short trip to Bangkok so I'm catching up on everything now! 🙂 It was a trip I was supposed to have made last year but got pushed forward to this year instead. I'll have some Bangkok tales come up later but there's one thing people go for while in Bangkok or Thailand generally, and that is massages. Massages or even spa packages are relatively cheap by comparison to many parts of the world, even Malaysia and its so easy to find massage places. Almost every soi (street) has a few.
But this time, I wanted something different. I did not want to just pop into a random massage shop for a 1-2 hour RM30 (about US$10) foot massage, and I did not really want to have the traditional Thai yoga style stretching massage either. Based on previous experiences, some of them do more harm than good to my old bones and back. I was itching to try something different – a proper head to toe spa – so I looked around online and what do you know? My search yielded one – So Thai Spa.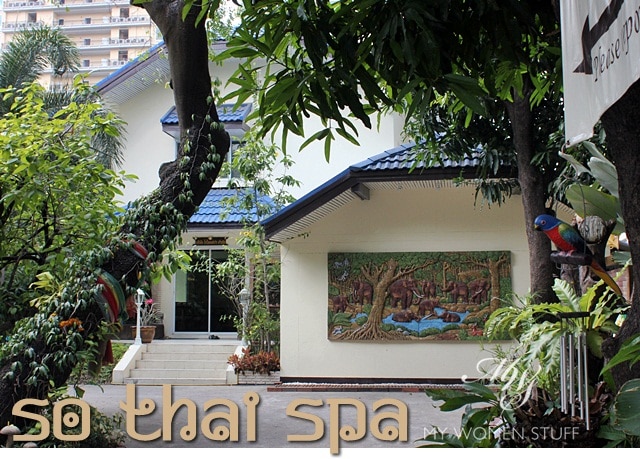 I thought it interesting because So Thai Spa is also in London and they had recently opened up their Thai branch. But what got me most intrigued was that they are ranked #1 on Tripadvisor (as of January 2013) for spas in Bangkok (here). That can't be an easy feat! The reviews on Tripadvisor sounded promising and I didn't think their spa packages too pricey, so I bit the bullet and made a reservation!
What this meant was that I had to allocate 3 hours of my day (not hard, I'm on holiday after all!), find out how to get there (really easy) and see how the treatment went! I'm always open to other massage/spa suggestions so if you know of a good one in Bangkok, please tell me so I can visit next time! 🙂
So Thai Spa is set in a bungalow in Sukhumvit Soi 31. It was a quiet street with some residential homes surrounding it, and that was nice because it was quiet and comfortable. What it also meant was that getting to the spa isn't as easy as getting off the BTS Skytrain and landing on the doorstep. I'll have the easy to follow directions for you below.
As you enter the compound of the bungalow, there is a swimming pool with flowing water so there is a nice soothing sort of environment. If you have a car, there's ample parking space. I arrived at 10am on the dot, for my 10am reservation. I had chosen the So Thai Pampering Package for THB1799 (approx RM179/US$60) which I reserved online.
The waiting area is very large, bright and spacious so there is a nice feeling of space. My treatment room was upstairs and the rooms are huge! They comfortably fit 2 massage beds with lots of space for the masseuse to move around so that's nice. My room had some sunlight streaming in through the blinds and the masseuse thoughtfully hung a makeshift curtain to cut off the glare,which I thought was a nice touch, seeing as to how she spoke no English and I spoke no Thai 😀
You are left to change into disposable undies and a robe before the masseuse returns for your foot soak and clean. The So Thai Pampering Package included a choice of facial or foot massage, herbal body scrub and a Thai oil body massage. I opted for the foot massage because I don't like having facials at places I am unfamiliar with. Also, I've learnt the hard way that if a masseuse is good at massages, they are rarely good at facials and vice versa. The touch and technique is much too different.
I expected to have to sit in a chair for the foot massage as per normal in most massage places, but not this time. I was asked to lie on the bed (still in my robe) and the masseuse performed the foot massage, kneading my poor sore feet which had been abused the previous days by pounding the pavements of Bangkok city. The foot massage took about 1 hour and was good. She did not just massage my feet but also my calves and thighs – you know, all those bits you use to actually propel yourself forward. I usually dislike foot massages (painful!!) but this one was good and my legs and feet felt so much lighter thereafter!
Then it was the herbal body scrub which was ok. One more nice touch. During the scrub, the masseuse turned off the air-conditioning because a lot of you is exposed and it ensures you do not catch a chill. It was for about half an hour and you can then shower in the attached bathroom. The bathroom is tiny though so you do have to take turns if you are sharing rooms with a friend. My skin felt lovely and smooth and clean, which was again nice, because I'd been sweating in the heat before that.
After you dry off, you are served some hot tea to relax and then it was time for the oil massage where I can't tell you much because I was dozing most of the time 😀 It was very comfortable and relaxing and there was no time wastage. I can tell when a masseuse is just biding her time and it did not feel that way during my session. I can't speak for others though but I hope it is all good.
I had a shower after that to wash off the oil and then you go back downstairs for more hot tea. It was about 3 hours as scheduled so I was quite happy with that. I didn't feel shortchanged.
While waiting to make payment, I saw a bunch of customers leaving and more arriving, so if you do plan to visit, I will suggest making an appointment. They are quite reasonable with replying emails and accommodating requests. My package cost THB1799 nett which I thought was a good price for 3 hours of pure relaxation and pampering. No complaints from me!
In a nutshell

So Thai Spa is a day spa set in a bungalow on Sukhumvit Soi 31. It is relatively easy to find and to get to, and I liked the quiet surroundings. Prices displayed outside the spa are higher than what is offered online so I would suggest that you look at their promotional prices online and make your booking from there. I enjoyed my 3 hour pampering session there and I found the price reasonable, the service good, and it was nice not to have to be badgered for tips as is wont to happen in many other places I've been to. Do note that if you opt to pay by credit card there is a 3% surcharge.

What I like: Comfortable atmosphere, Quiet surroundings, Affordable spa packages, Not shortchanged on time and service

What can be improved: I think longer or larger towels, similar to large beach towels may be better because I'm not very tall and the towel could not quite cover my feet when pulled right up to my shoulders

Getting there: Take the BTS Skytrain to Phrom Phong station and head to Exit 5. Exit the BTS station, walk straight down the road till you come to Soi 31. Turn right into Soi 31 (S31 Hotel on left) and walk straight on past an intersection. So Thai Spa is on your left. The sketch map on the website is very handy! It took about 15 minutes for me to reach the spa from the top of the street and about 25 minutes from Phrom Phong station. You can also take a taxi from the station and it should get you there more quickly and comfortably… but where's the fun in that 😛 The spa can also call you a taxi after your treatment.
Has anyone come across So Thai Spa Bangkok before this? Do you have a good similar sort of spa to recommend in Bangkok?
I had a great time and I'm glad I decided to try something different this time around. Granted, its not as cheap as the many other massage places round, but it was a nice experience and within my budget so I have no complaints. So Thai Spa claims to be a luxury Thai spa and aims to be the best spa in Bangkok and whilst I'd say luxury is subjective, it is well worth the money I spent and I left feeling lighter and more refreshed. That's what a good spa session should feel like right? 🙂
Paris B
So Thai Spa Bangkok 269, Sukhumvit Soi 31 Bangkok Tel: +66-2662-2691 Web: sothaispa.com Opening Hours: 10am-10pm