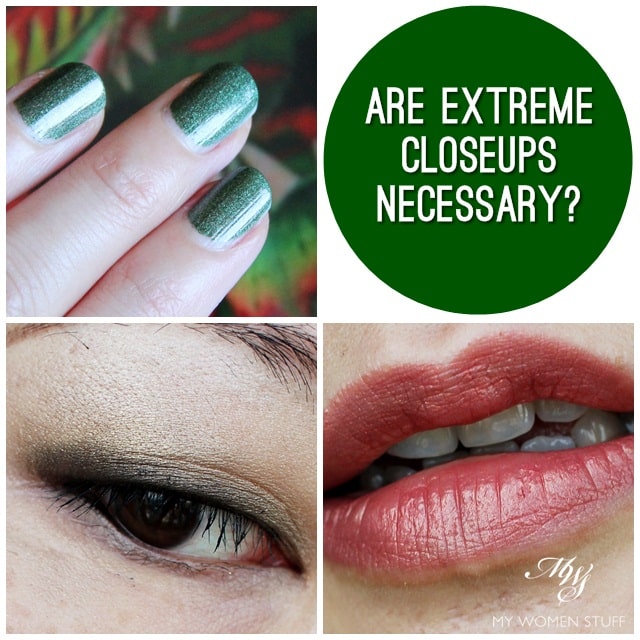 Hello all! 😀
I haven't been talking about blogging tips for a while (cos I'm never very sure how helpful it is, seeing as to how there are so many other wonderful bloggers out there doing a much better job of it!) but I was thinking about this one recently as I did some image searches on the internet.
I notice that it seems de rigueur for many bloggers who blog about beauty, to include an extreme close up of the product being reviewed in action, primarily, makeup. This could be an extreme close up of their lips, eye and especially, nails.
I'm curious to know if you feel, as a blogger, that an extreme close up of your eye, lips or nails is "necessary" when you blog about beauty. Is it something you feel compelled to do because everyone is doing it? As a reader, as much as we appreciate the work and detail that goes into an extreme close up, do you think it "necessary"?
I don't pay a lot of attention to nail polish but I find online swatches very helpful when deciding on a colour, if I'm looking at a brand unavailable locally. The thing is, more than once, I've seen a beautiful extreme close up online, showing off a beautiful smooth application and lovely shimmer only to find when I receive it that it may not be quite as beautiful. I may realise that the shimmer is only detectable close up, as in the extreme close up online, and not when viewed from a normal viewing distance. Few of us thrust our nails in the faces of others, I'm sure so a lot of that beauty is probably reserved for personal pleasure. I have nothing against nail bloggers – I could never do their job; but I would really appreciate a distant shot as well as I do the extreme close up just to see how things look from a distance.
This is true also of other examples of extreme close ups of eye makeup and even lips. I do these close ups too, which a lot has to do with peer pressure (haah!) but I have realised when going around the blogs and the internet, that plain and clear swatches and/or a "look" done to show how the colours work overall helps me much more than an extreme close up does, because it shows how it works from a natural viewing distance. Not only up close and personal. In fact, I find 2 eyes more helpful than just 1 – also true of seeing. You have to use 2 eyes to see the full picture 😛
You may think me hypocritical to raise this, considering I too am as guilty of it, but I am doing a bit of reconsideration in terms of presentation of reviews, because as I said, I realised that the way something looks generally gives me a better idea of how it works than an eye or lip in isolation (unless there is a colour comparison going on in which case, it can be quite useful). Perhaps, half a face, or a portion of a face, if one is not inclined to show the whole face, just to see how that pretty eye looks, when you pull away from the tight macro shot. Is the detail noticeable from a distance? Does a wonky eyeliner really matter when one isn't looking at you from 2cm away?
But that's just me so I'm opening this up for discussion 😀
Do you find it necessary to have extreme close ups in a beauty blog? Do you find that it helps you?
I personally don't think it necessary although I have to admit that I admire the work and detail that goes into it. I don't find it helpful per se as I find that a shot that is pulled further back helps me more than a tight one. I salute all the bloggers who do extreme close ups beautifully and in fact, the majority will. But sometimes (or maybe not just sometimes) it can be a little unnerving stumbling across a hairy lip or an unruly brow in extreme close up 😛 Ah the perils of blog hopping 😉
Paris B
Simple Blogging Tips are some simple tips I have for fellow bloggers, based on my own experiences. I'm no 'guru' but I hope they will help you. You may read up on previous Simple Blogging Tips here or please feel free to ask your question in the comment box or in email.