Ok, confession time. I'm terrible… absolutely HORRIBLE at using eye creams. What this means is that I go through periods when I have little to nothing applied around my eye area. I am convinced I'm not alone in this. At least, I convince myself I'm not alone in this 😀
So, you know what? Eye creams and their effects are quite lost on me. Bad blogger. I know 😛 What I can say however is that I guess I'm quite lucky not to show my age too much around my eyes. Other than the sometimes puffy eyes or dark circles thanks to insufficient or poor quality sleep, I don't really battle lines. Maybe I'm not very expressive LOL! But when I do use an eye cream, I have found myself reaching more often for the Clinique Repairwear Laser Focus Wrinkle Correcting Eye Cream than any other. What a mouthful! This isn't new per se, but an upgrade of an existing Repairwear eye cream.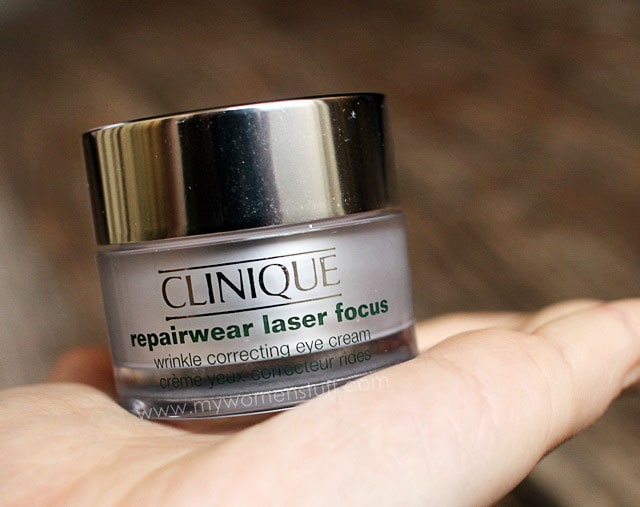 Some of you may remember or may even be using the Clinique Repairwear Laser Focus serum which isn't a bad product in my book. Towards the end of 2012, Clinique came out with a similar product for the eye. Its been on shelves since October or so so if you have tried it, I'd love to hear what you think of it!
As for myself, I will have to say that I do not have a line or wrinkle problem or if I do, I don't hold any pretensions as to why they are there or how I can get rid of them, because I know its next to impossible. So, I can't test the validity of the claim to correct wrinkles around the eyes. However, I discovered that this cream was very effective for me, to correct another problem – puffy eyes!
The Clinique Repairwear Laser Focus eye cream is quite a rich cream which may put some people off. I found however that it was nice and velvety on my skin and did not feel too rich. I don't dig out dollops to apply so really, my finger only picks up very little product each time.
It doesn't feel heavy on my skin which is a plus and did not clog pores or give me oil seeds the way some rich eye creams might. I use my ring finger (or 4th finger) for the eye area, as you are advised to at all times. The reason is because your 4th finger is your weakest finger and you won't stretch your skin so much.
Also, don't pull the skin when you apply your eye creams. Just dab it on with a light motion, and apply it on your orbital bone i.e. the bone that forms your eye sockets, not directly on your lids. I was taught this by a product trainer once. Creams go on the orbital bone as they are heavier and gels can go on the lids because they are lighter in texture.
While I was testing this cream, I was quite diligent about it applying it day and night. What I noticed was not the lightening of lines (I honestly can't tell!) but I did notice that my eye area felt hydrated and my eyes looked less puffy. Actually, I did not notice it, but my friend did and asked me what I was using.
I racked my brains for a while but could only think of this cream so said friend filched this tub off me to try and I saw the effects myself! Puffiness around the undereye area was markedly reduced after just a little while so that was pretty impressive. I don't know if this is an effect everyone will see, but its the most visible effect for me.
That said, once I stopped using it the puffiness will come back so regular use is key here.
As with all skincare products, I do believe there are merits to using a product for a specific purpose. However, the key here is diligence and I'm just not as diligent as I should be about my eyes as I am about my skin elsewhere. I know, the eyes are the mirrors to the soul and if my eyes are any indication, my soul is rather puffy as well LOL I think I should filch this back from my friend. And maybe be a little more diligent.
In a nutshell

The Clinique Repairwear Laser Focus Wrinkle Correcting Eye Cream is an upgrade of an existing product. It is meant to target and correct or reduce the appearance of lines that form around the eyes that will inevitably happen due to the repetitious movement of our eyelids every second of the day. The white cream is rather thick and feels quite rich, but it absorbs into skin nicely and leaves the skin around my eyes feeling hydrated and comfortable. Not oily at all. Although this cream is targeted to correct lines and wrinkles and also UV damage around the eyes, the effect I noticed most of all was the reduction of puffiness around my eye area. For me, this puffiness is mostly due to insufficent or poor quality sleep and stresses of work and the computer screen. During the time when I diligently used this eye cream, my eye area looked better. When I stopped, the puffiness came back. So as with everything requiring treatment, diligence and consistency is key.

Pros: Reduced the puffiness around my eye area noticeably, Eye area looked and felt hydrated, Not oily

Cons: Pricey

Who will like this: Anyone who is looking for a treatment eye cream to target lines and wrinkles around the eyes, Anyone with a problem with puffy eyes (Although this worked for my friend and I, I'm not sure if its an effect everyone sees)
I'm afraid I do not have the ingredient list, and I can't seem to find it anywhere online which is a pity. It would be nice if companies had their ingredient lists up on their pages. There's nothing to hide – its printed on the box anyway! 😛
Alongside the Repairwear Laser Focus eye cream comes also the Repairwear Uplifting Firming Cream. As the name implies, this is a face cream that lifts and firms your skin while hydrating. I believe it maybe an upgrade of one the Clinique Repairwear creams in which case, I have used the previous incarnation and it worked well for me.
Unlike many people who use Clinique products, I'm one of those for whom the basic 3-step does not work at all for my skin, but their targeted products work fine and for a while, a few years ago, the Repairwear Night Cream was a staple for me. Good to know they are upgrading it too, and I hope the upgrade is for the better! 😉
Have you tried the new Clinique Repairwear Laser Focus eye cream? Are you diligent about using eye cream?
As I've said right above, eye creams are one of the things I almost always overlook in my daily skincare routine. But I'm working on it! 😛
Paris B
Clinique Repairwear Laser Focus Wrinkle Correcting Eye Cream Price: RM170/15ml Availability: Clinique counters