Righty ho! This one was supposed to have gone up on a Saturday, naturally but for this reason and that, it didn't so lets just pretend its a Saturday today (which gives us one extra day of the weekend yay! We wish huh? 😉 ) I visited the Crabtree & Evelyn members preview sale last week, and saw a very interesting flavour of biscuits – Christmas Pudding biscuits.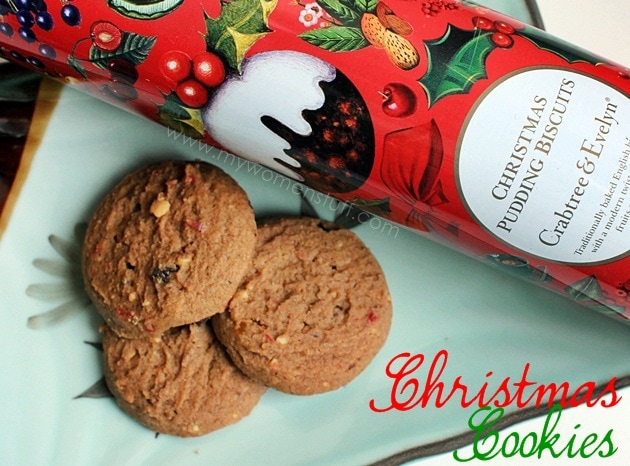 Santa will really appreciate these cookies under the tree, thank you!
What? I happen to be one of those who enjoys eating Christmas pud so I was very keen to know how these tasted. I went back a couple of days later to pick it up after curiosity got the better of me, and I also got a bunch of other Christmas goodies I'll show you.
Aside from the now-familiar Crabtree & Evelyn hand creams and bath and body products, I have to tell you that Crabtree & Evelyn makes some really nice biscuits, jams and teas. I am not a biscuit eater at the best of times, so you can imagine that these must be pretty good to get me chomping at them 😉 Have you ever indulged in any C&E biscuits and jams? They are so good!
If you are wondering, the Christmas Pudding Biscuit has a lovely spiced flavour with raisins and chopped fruits and nuts. It isn't too sweet and is really lovely with a cup of tea. It isn't quite Christmas pudding in flavour but it does have the elements of a Christmas pudding – slightly chewy, dried fruits and nuts and a lovely spicy flavour. They come in a lovely festive tin that I'm wondering how to recycle once I'm done with the biscuits. Too pretty to toss just like that.
As I was planning to pick up a tin of biscuits anyway, I decided to pick up this Festive Treat set instead at RM155.
I got a tin of Christmas Pudding Biscuits, a tin of Festive Spiced Ginger Biscuits, a jar of Breakfast Marmalade and Cranberry and Orange Sauce. I'd picked up a jar of Marmalade last year so I know what I was getting. The Marmalade isn't too sweet, and has lots of lovely rind, which I love in a marmalade.
While I was there, they were handing out these jelly babies that come in a musical tin (RM80).
The tin winds up at the bottom to play "We wish you a Merry Christmas" – A fun sort of gift that is aside from the norm.
In fact, the foods of Crabtree & Evelyn make lovely gifts as they come ready gift packed, or you can pick and mix and get them packed into Christmas hampers for you. I've stocked up and gifted their cookies, teas and jams for a few years and I'd like to think that the recipients have enjoyed them. Sometimes, when you aren't quite sure what to gift someone, you can rarely go wrong with good food in pretty packaging 😉
I was also very taken in by the gift pack that comes with a tin of cookies and 3 fancy baubles. Inside the baubles are actually fudge and sweets – traditional English fare, and once you are done with the contents, you can hang the baubles on your tree.
There's even Gingerbread men (RM65)!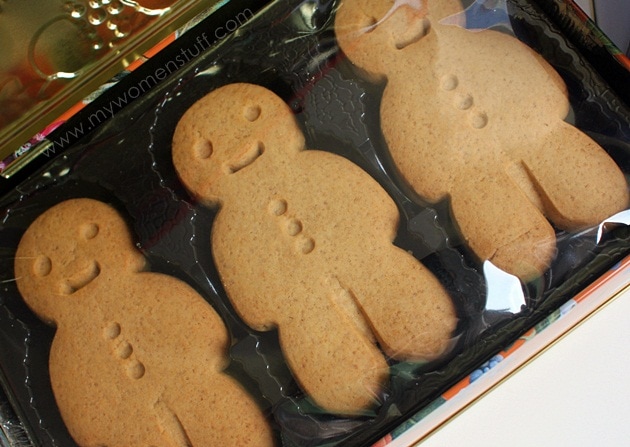 Run, run as fast as you can, you can't catch me I'm the Gingerbread man!
These won't be running anywhere except into your tummy LOL! I bought some last year too and I enjoyed them. I like eating them head first. Yeah, I'm morbid that way 😀 Are you a head first or feet first person? 😉
If gifting, this makes another nice set of products to give someone. I can tell you from personal experience that both the Lemon and White Chocolate Biscuits and White Chocolate and Raspberry Biscuits are lovely. A little on the sweet side, but delicious when paired with unsweetened English tea.
I like to buy these mini tins that come out at Christmas because it allows me to try a variety of flavours at a go. There's usually a set of 6 mini tins that I pick up a few of, because they allow me to indulge in these delicious biscuits at a lower price point, plus they also make really good extra gifts.
Just as I was leaving the store, I spotted this jar of Morello Cherry preserve.
I was in a rush, so didn't stop to pick it up but guess who's making another trip to check this one out? 🙂
I have to say though that the biscuits and jams don't come cheap and are in fact a pretty luxurious treat. I usually buy them during the members preview sale so I do get them at a discount and that doesn't feel so painful. At a normal time, I would buy them as a gift but not for myself. Strange huh?
Have you indulged in any foods from Crabtree & Evelyn before? Did you even know they had food?
I only found out about their biscuits a few years ago after I was gifted with a tin. Before that, I'd only ever known about their hand creams and bath and body products. I don't usually eat biscuits or a lot of sweet foods, so when I do, I go for something I truly enjoy 🙂 Did you pick up anything from Crabtree & Evelyn's Christmas collection recently? I picked up a lovely candle too! Will share that another day 😀
Paris B
Crabtree & Evelyn Festive Food Collection is available at all Crabtree & Evelyn stores and you can view the Christmas catalog here