The assignment for a vamp lip had me quaking in my flipflops. I like deep lipsticks but I don't wear many of them. I prefer going for something bright, which might be something to do with our tropical weather. Its not as fun (and sometimes, not as flattering) to wear something deep, dark and mysterious when the sun is shining full in your face 🙂
Still, I couldn't just let my last LB assignment for the year slip by (I'm chickening out of the next) so here it is.
I found this in my lipstick drawer while I was rifling through, looking for something that might fit the bill. I was actually going to pick Lou Ling from the Guerlain Christmas collection, but I didn't manage to get my hands on it in time. So I was quite pleased to find this – a very lovely deep, shiny, plummy-red lipstick in an intense shade.
Does anyone want to attempt to ID this before I tell you what it is? 🙂 Naturally, if this colour isn't your cuppa, the other Bandits will have something to whet your vamp appetite too!
Did you guess Make Up For Ever Rouge Artist Intense in #13? You'd be right of course 🙂
I haven't tried many lip products from Make Up For Ever. I knew someone who was a huge fan of the brand once, and she gave me a lip palette once. The lipstick was very good in the palette, but due to many reasons relating to the awful awful service I get from the SAs at the MUFE counter at Sephora (its the only place to get MUFE here) I refuse to purchase anything from them. So, I picked this one up online on a whim once, and I must say I haven't been disappointed.
The Rouge Artist Intense lipsticks definitely live up to their name. They are lovely and intense with just 1 swipe of colour as you will see below, and #13 here has these lovely little sparklies in them that adds shine to the lips. Its a very delicate balance, when you have shine in lipsticks. Sometimes, it can come off frosty, and a frosty plum lipstick is about the worst colour in the world. However, this isn't frosty, just shiny without being gritty.
Here it is swatched on my hand. Just 1 swipe and look at that intensity!
And what's nice about having intensity and opacity like this is that it tends to last on lips. The little sparkles are there, but they are fine and add dimension to what might otherwise turn out to be a rather flat colour. Texture wise, its quite creamy and does not tug on lips, but I do find that if you have flaky skin on your lips or if your lips are particularly dry, it might catch or settle. It isn't drying once worn, but I found that it goes on best on prepped lips.
If the colour scares you, or if you want to lighten it, you could always just dab it on then sheer it out with your fingers or a lip brush. Or you can mix it in with lipbalm for a sheer glossy berry shine. It gives lips a lovely "I just ate berries and stained my lips" look then and that's an easier way to wear a deep plum shade in the bright tropical sunshine 😉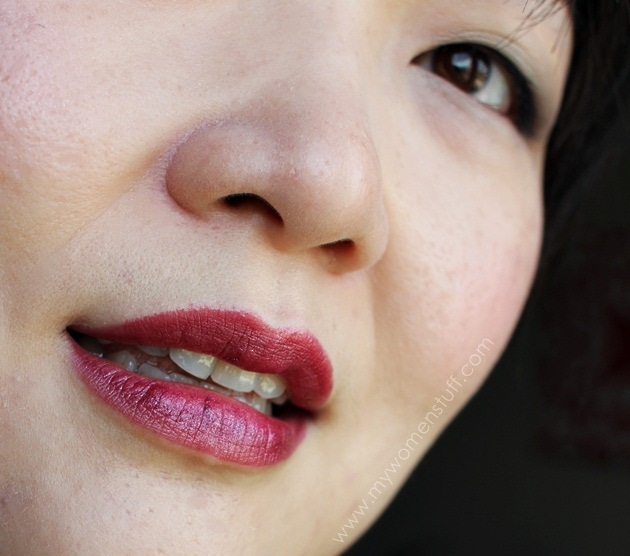 Here is Rouge Artist Intense #13 applied straight on lips. The colour on my lips is a reddish plum. If you prefer something with more red in it, then you would be disappointed, because this actually pulls more plum than red. That said, much depends also on your skintone and original lip colour because that can affect the way lipstick looks on you.
In a nutshell

The Make Up For Ever Rouge Artist Intense lipstick in #13 is a lovely plum red in the tube, with shimmer. The shimmer is very small and isn't gritty and adds a lovely dimension of shine to lips. On my lips, #13 pulls a red-plum which suits me fine as that is less ageing on me than a full on plum colour. Texture wise, the lipstick applies intense as the name implies, going on skin opaque with just 1 swipe. It may intimidate those who are afraid of strong colours, but its easily sheered out. There is a scent but it isn't too strong, and I am impressed by the texture of the Rouge Artist Intense so I might have to check out other colours. Just not at the local MUFE counter because all my experiences there have been horrible ones.

Pros: Intense and opaque colour, #13 is a nice strong red plum that could be more plum than red on some skintones, Smooth and non drying

Cons: Packaging looks and feels a bit cheap, Colour can catch and settle on flaky lips

Who will like this: Anyone looking for intensely pigmented lipsticks, Anyone looking for a lovely plum-red lipstick for the Fall/Winter season
And in a full face shot, you can tell that whilst a strong colour, it isn't all that overwhelming, I promise. I find that strong lip colors tend to look a bit stark on fair skinned ladies, while it looks amazing on those with a deeper skintone. But anyone can wear any colour – you just have to find the right one 🙂
If this doesn't catch your fancy, check out what some of the other Lipstick Bandits have picked for their vamp lipstick choices.
Have you tried any MUFE Rouge Artist Intense lipsticks? Is #13 a colour you'd wear or is there another colour you think I might like from the range or any other MUFE lipstick range?
As I said, I haven't really tried any lip product from MUFE but I also have another lipstick in a sheerer texture so I'll tell you about that one next time 🙂
Paris B
Make Up For Ever Rouge Artist Intense Lipstick Price: US$19/ RM80 (I think) Availability: MUFE counters are at Sephora Malaysia but I get mine online at StrawberryNET.com