I remember this being a highly raved product some time last year, if memory serves me right. So many people loved it for being light and comfortable on skin. I was told that it was even better than the Bourjois Healthy Mix Serum foundation and some said, even better than the Diorskin Nude foundation. Naturally, I had to try it.
I'd never had much luck with Chanel foundations before this. A friend gave me a powder foundation once, and that made me look like an oompa loompa. For some reason, it gave my skin an orange cast that wasn't flattering at all. When I went to check out the Vitalumiere Aqua foundation at the Chanel counters locally, I had no luck either. The lightest shade they bring in locally is B20 or BR20 and that is a full shade darker than my skintone. The lovely SA who served me and who gave me a mini makeover fully agreed that it wasn't my shade and that I should be taking B10. BR10 was too pink.
When I was down in Singapore last year, I checked out B10 at the Chanel boutique. Its the lightest shade in the range and the SA there told me it would be my shade. We did the stripe test etc and it seemed close. I ended up picking up a bottle of Vitalumiere Aqua foundation in B10 later. I'd love to be able to tell you that I love it.
Sadly, I don't. There is a lot I don't like about it but let me first tell you some of the good points.
Packaging wise, its lovely and compact and takes up very little space on my dresser or anywhere. The plastic bottle makes it light and easy to travel with. It is wider than the Shiseido Perfect Refining Foundation but about as compact.
The nozzle dispenser is very effective. Almost too effective if the mess is to be any judge. I intentionally did not clean it up, because your bottle will look like this after a while. Nozzle-wise it works, but the formula is tricky which results in this mess.
Which brings me to the formula. The Vitalumiere Aqua foundation is supposed to be a water based foundation and you have to shake it up before you dispense. There problem is, it takes a whole lot of shaking going on to get it to mix up properly in the bottle. A. Lot.
The first time, I just did a few wrist shakes, opened up the cap and was horrified to see some tinted runny liquid flow out. The next time, I shook it up with arm action and everything, for a long time. And when I did so, the liquid that comes out is more akin to that of a liquid foundation – slightly creamy yet light in texture. The texture is quite lovely and light but I didn't like it.
It dries down on my skin looking matte and dull and seems to dry out my skin throughout the day. It must be said that I have combination-dry skin and I did think that a water based foundation might work. The Lunasol Water Gel Foundation does, very impressively. This however, didn't feel comfortable.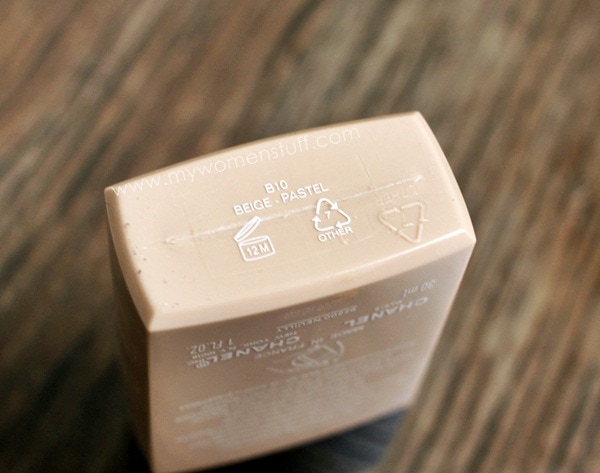 The other problem is colour. B10 appeared fine on my skin when applied, but when the product dries on my skin, it takes on an orange cast. As the day wears on, it oxidises and turns deeper and even more orange. I walked around for a day with my face looking a whole shade deeper than the rest of me. Quite surreal.
I've tried it a couple of times, with a face base, with a light hand, and its failed to work every single time. If I go with a light hand, it applies very sheerly and you might as well not bother with foundation. When it dries, it looks like a mask on my skin. Also, the colour still oxidises, so depending on how much I apply, I will have a light tan or a deep tan. Who needs tanning lotions eh? 😛
Here's the product swatch alongside some other similar textured liquid foundations that I like, and which suit my skin tone.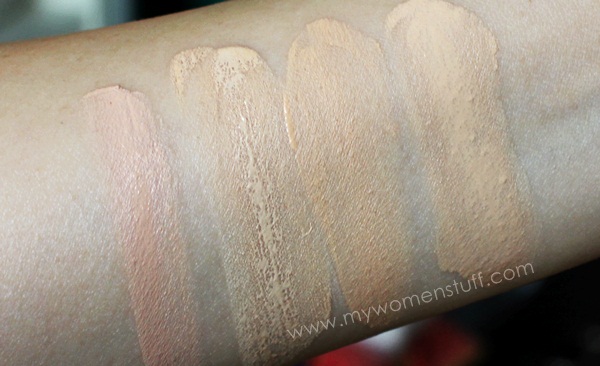 Left-Right: Diorskin Nude (new formula) 010, Lunasol Water Gel Foundation OC01, Chanel Vitalumiere Aqua Ultra-Light Skin Perfecting Makeup B10, Bourjois Healthy Mix Serum #51
The Dior and Lunasol texture is close to that of the Chanel, with Lunasol being the closest. However, the Lunasol foundation does not require shaking up and squeezes out a perfect texture every time. The Dior is slightly more creamy with the Bourjois being the creamiest of the 4.
Its unfortunate, but Chanel and I don't seem to have a connection lately, and most definitely, not in the foundation department. I'm much happier using the foundation from their sister brand Bourjois, which is cheaper and looks better on me.
In a nutshell

The Chanel Vitalumiere Aqua Ultra-Light Skin Perfecting Makeup liquid foundation gets a lot of love from most people who have tried it. I however, have no love for it for reasons that boil down to texture and colour match. The product requires that you shake it up to mix. If you don't shake it properly, you will squeeze out tinted water. If you do it properly, you get proper foundation. My tip is to hold the black cap when you shake and shake it upside down vigorously. This for me is the fastest way to mix it up. I find that the texture on my combination-dry skin is matte and dull and it oxidises quite quickly as it dries into firstly a peach then orange shade that isn't flattering to my skintone. All in all, I'd say proceed with caution, and make sure you test this out properly over at least 2 hours before committing to a purchase, as it is expensive.

Pros: Compact plastic bottle makes it easy to store and travel with

Cons: Colour oxidises on my skin very quickly, Texture looks matte and dull and cakey on skin, Product separates very easily in the bottle and requires vigorous shaking to ensure they mix properly in the bottle, Pricey when it doesn't work, Contains alcohol if you are sensitive

Who will like this: Anyone who can find a colour match, Anyone who is looking for a light textured liquid foundation although I personally think you could do better looking at Dior, Lunasol or RMK for similar textures
Do you like this foundation? Have you tried it?
If you do like this foundation, please feel free to share your thoughts. You know how I feel and personally, I'd look elsewhere for a good light textured foundation. The market place is replete with choices these days and many of them are much better than this one in my books. In fact, look at the Japanese brands – they make the best base products in the world as far as I'm concerned 🙂
Paris B
Chanel Vitalumiere Aqua Ultra-Light Skin Perfecting Makeup Price: RM156/S$75 Availability: All Chanel Counters and boutiques (B10 is not available in Malaysia)