Every year, at about this time, we start hearing the distant jingle jingle of sleigh bells, and seeing fairy glitter fall over the seasonal makeup collections, for it is about this time every year that the Christmas collections are revealed. Expect sparkles and shimmer and shine and glitter and gold and everything that shiny, pretty and sparkly.
The Christmas collection from Dior is no different. Themed Grand Bal and inspired by balls and ballgowns and an age of glamour, the items in the collection come in elegant gold boxes. But today, let me show you the star item in the Grand Bal collection – Grand Bal Carnet de Maquillage Makeup Palette for Glowing Eyes & Lips.
Last year, if I recall correctly, there was no one special item in the Dior Christmas collection. I picked up instead the Couture Golds eyeshadow palette which I absolutely adore. The previous year, Dior did a Minaudiere clutch. Beautiful to look at, but ultimately I felt the quality of the product was a bit lacking. That seems to be a bit of a problem with these special palettes. They are gorgeous to look at but sometimes, the contents aren't up to par.
So, the very first time I saw pictures of the Dior Grand Bal palette, I confess to feeling a bit meh about it. Actually no. I was a lot meh about it. The whole compact is solid gold (not literally of course. Have you seen the price of gold lately? Its horrifying!) in colour which I thought looked a bit tacky.
But somehow, it nagged at me, and sometimes, you just have to see something in person to appreciate it better 🙂
Gold on gold tone packaging to suit the season. The Grand Bal compact is elegant in its simplicity. Its also a fingerprint magnet but with that highly polished surface, its almost to be expected. The base is metal but the lid isn't, so there is some heft, but its not that heavy. Don't drop it on your toes though – it'd still hurt.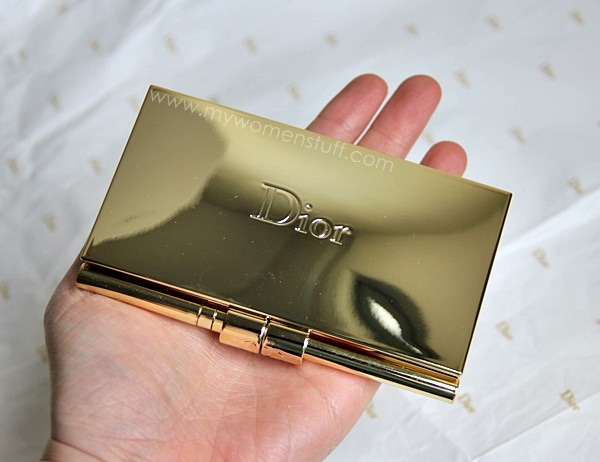 Its not all that large as you can see. Quite a nice size to fit in your hand and bag. You maybe wondering what that bar is at the front of the palette. Its quite an ingenious touch, because that is actually an eyeliner pencil that holds the palette shut!
Thread it through the clasp, and your palette stays closed. Slide it out, and you can open up the palette to reveal the contents – metallic eyeshadow and lipgloss.
I do have one little gripe about the eyeliner pencil. It is coated in shiny gold and you almost expect to have a little heft to it, but there isn't any. Its very light, as the body is plastic. I was a little disappointed in the body, but the content is good stuff. The eyeliner is a retractable pencil so you never have to sharpen it and I quite liked how very dark black it was. Very good for lining the eyes and for vamping up your eyeshadow by using it as a base.
Inside, you get a split pan of patterned eyeshadow in metallic gold and silver, and 2 lipglosses in a white shimmer and peach-pink. Again, little touches wow me – note the cover over the lipglosses. I love this little touch in Dior all in one palettes because I absolutely abhor it when powder and cream products mix, and evidently someone in Dior does too!
I still don't know why other brands haven't cottoned onto this fact – put a cover over your cream products and maybe the palettes will sell better. I for sure will then start paying more attention to the palettes!
The eyeshadows are quite different from what I'm used to from Dior. When swatched, the texture is almost creamy in its consistency, and it applies on skin evenly, with beautiful shimmer. It reminds me almost of the gelee texture colour items found in the Estee Lauder makeup line. Almost creamy to touch, but is a powder. Both colours are almost metallic, which I forsee some people wrestling with. Its not something you will expect to wear daily and especially not in a conservative work environment.
I personally however, do not find it overly shimmery. It is shimmery, that is certain, but on skin, I find that if you blend it a little, it becomes more wearable. Layer it over the black liner, and the colour is beautiful! Both the gold and silver tend to be quite neutral and you'd be surprised at how well they go together. At a pinch, use the eyeshadows as highlight on your cheeks – very lovely!
The lipgloss was another surprise. I thought it was white shimmer, but when I swatched it on skin, it turned out to be a pale gold shimmer. Layer it over a lip colour to add a touch of glow. And that's what I eventually took away from the Grand Bal palette – it adds glow to the skin without being overly shiny and shimmery.
Left-Right: Gold eyeshadow, Silver eyeshadow, Pale Gold lip gloss, Peach-pink lipgloss, Black pencil eyeliner all swatched once
I have to say that I wasn't impressed with the photos I saw of this palette, but the actual product stuns me in its simplicity and wearability. I would be interested to know if these eyeshadow textures herald the start of a new line of eyeshadows in Dior. It would be amazing if they could make these permanent.
Is it a must have? Let's face it. Nothing is a must have. But it almost certainly is nice to have, if the colours appeal to you 🙂
Does the Grand Bal palette appeal to you then? 😉
I found it interesting that the palette was supposed to be inspired by the dance cards held by young women in the 18th century to remind them of their dance partners. This is such a foreign, formal concept to me that I just can't relate! But I appreciate the simple and elegant packaging because the magic happens not from without but from within.
Paris B
In a nutshell

The Dior Grand Bal Makeup Palette for Glowing Eyes & Lips is a limited edition offering in the Dior Christmas 2012 collection. It comprises eyeshadows, lipglosses and an ingenious inclusion of an eyeliner crayon that holds the palette shut. While pretty to look at, I thought this was one of the better limited edition offerings I've experienced from Dior. The quality of the products within the palette are impressive and I am particularly taken by the eyeshadows, which I hope will be made permanent one day. The texture is creamy to the touch and adheres well to the skin, yet it is a powder product. The shimmer level is high, so I hesitate to tell you that you can wear this one everyday, because realistically, few of us can. I think that this is a palette that looks better in person and which I find far more impressive in person than when viewing it online. It is not a must have, but it is nice to have.

Pros: Eyeshadows have a lovely texture, Whole palette is very complementary, Inclusion of eyeliner is genius, Simple elegant packaging, Cover for cream products is a clever move

Cons: Pricey, Colours maybe too shimmery for some

Who will like this: Collectors of pretty palettes, Anyone who likes something shimmery and an all in one palette

Price: RM240

Limited Edition: Yes, Grand Bal Collection Christmas 2012

Availability: All Dior counters from November 2012 onwards