Liquid lipsticks – I never really got into them because I like the convenience of a tube of lipstick that you can just slick on. Liquid lipsticks are to me, rather like a thicker, more pigmented lip gloss and I'm not much of a fan of lipgloss. It didn't stop me getting a tube of Chanel Rouge Allure Lacque before this. I liked the colour but I found it a bit strong and the texture had too much slip for my liking so it never got much love from me.
However, this year sees 2 big brands take on liquid lipsticks – Shiseido and Guerlain. As before, the texture of the liquid lipstick on offer is creamy and very strongly pigmented, but the texture now tends to be matte. I didn't realise it before with the Guerlain Rouge G L'Extrait or I might have been less excited.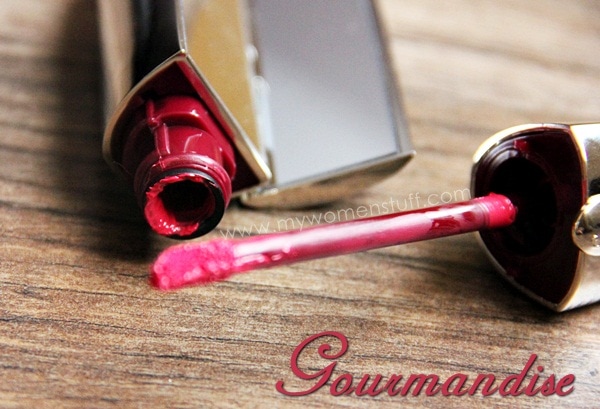 As it was, I stopped by the counter one evening, close to closing time, and hastily swatched a few of the colours available, before deciding, arbitrarily on M71 Gourmandise. I was keen on Luxure, the signature deep red that is on the model in the ad, but I passed on it, because I knew realistically that as much as I love wearing red lipstick, I would prefer wearing a colour I'd get more use out of and after quickly consulting with my exhausted companions that day, Gourmandise came home with me.
I've had it a little while now, trying to get my head around it. The thing I've been most interested in is its longevity. Prior to making my purchase, I read all up and down the interweb that this is a very long lasting lipstick that can easily take you through 8 hours with eating and drinking, without breaking much of a sweat. Very impressive, if its true! So I had to put it to the test. 8 hours – could it last? 🙂
Before I tell you (where's the fun in giving away the answer so quickly right?!), let me share a little about this lipstick. The Guerlain Rouge G L'Extrait comes in the signature heavy metal case.
Thank you Guerlain for giving me packaging commensurate with the price you charge me! The case is heavy. If you are used to the regular Rouge G casing, you will notice that the Rouge G L'Extrait is actually larger than the lipsticks. Keep one of these handy in your handbag – you never know when you might have to use it to brain someone LOL! 😛
As of now, the Rouge G L'Extrait aren't refillable, unlike the mascara. However, since they have made the mascara refillable, I have hope that some day, they will also make the lipsticks refillable because it would be such a waste to toss the beautiful case once you are finished with the lipstick.
The method of opening the Rouge G L'Extrait is similar to that of the mascara. The top "locks" down, so you have to pull it up, then twist it to open. Pulling up the cap also allows the in-built mirror to pop open. I used to scoff at the mirror, but recent experience has taught me that the mirror is very useful when touching up. You don't need to carry a separate mirror.
Gourmandise M71 is a very lovely, very intense raspberry red. It is a little deep so I find it easier for most to pull off as opposed to a brighter shade. I found it interesting to see the swatches and commentary on Temptalia, who described it as a neon pink coral colour. I would have loved that colour, but I have to respectfully disagree with her. There is nothing neon, nor coral about Gourmandise.
To me, Gourmandise is a raspberry red with some pink tones. The texture is lovely and creamy and it applies opaque with just 1 swipe. That sort of pigment is seriously something! When it dries down, Gourmandise deepens a little on my skin.
It also dries a little matte but here's the good thing, it does not dry out lips. I rarely, if ever, wear matte lipsticks or lip colours because they tend to dry lips, feel heavy on and accentuate lip lines. This one however, feels light, looks matte but with a bit of sheen and shine, and does not bleed nor accentuate lip lines. You do need relatively flake free lips to wear it well, but it doesn't make your lips look old and cracked. That is impressive! It however, does not "set" either. Even when dry, it will still mark coffee cups and transfer so be careful.
I'm afraid capturing the exact shade of Gourmandise has been really hard. The colour is less bright than what you see here. It has more blue tones and is deeper, rather like what you see in Picture #1 and #4 of this post. However, opacity shown here is excellent – 1 swipe was all it took, for smooth application and perfect coverage.
If you are concerned about making mistakes (its easy to, with bright colours like these), what you can do is dab a dot of colour in the centre of your upper and lower lip then use a lip brush to spread the colour out. You end up with a lighter coverage, and lighter rendition of the colour that you may be more comfortable with. This is also helpful if you feel the colour is too bright for use in the day. This product has lots of "stretch" and stretching it doesn't make the colour any less vibrant, but it does tone it down a little.
Oh and does it last 8 hours? Well, not on me. I can make it last 5 hours through a simple breakfast of oats and coffee, and glasses of water in the morning. By the time I go for lunch, the colour would have faded a little. Just a little though. However, I can't make it past lunch. I think it may be to do with the food I eat – I've tried taking it through a Chinese restaurant meal, a "dai chow" Chinese stirfry meal, noodle soup, and oxtail stew. It fails every single time. All I'm left with is faded colour. It could probably last through lunch, if I were to eat a simple sandwich or salad, or maybe if I were a less violent eater 😛 But since I'm not, let the record show that I cannot take the Rouge G L'Extrait past a full Asian meal without needing touch up 😛
Its a little ironic you know, because I looked up "Gourmandise", and its defined as an appreciation of or interest in good food and drink. Its unfortunate therefore that Gourmandise the lipstick cannot stand up to gourmandise.
On the upside, whilst this does fade, I like to then blot off, leave the stain as a base and touch up a different coloured lipstick over it, especially a sheer pink or sheer berry. It makes a very pretty base colour, and I get 2 lip colours in a day. Lovely!
In a nutshell

The Guerlain Rouge G L'Extrait Gourmandise M71 is a liquid lipstick that comes in the iconic Rouge G metal case packaging. The case comes with a built in mirror and whilst heavy, oozes luxury. As of now, I don't believe they are refillable, but hopefully it will be. Texture-wise, the product feels creamy and applies opaque in just 1 layer. It dries down matte but with a nice sheen so the colour and your lips do not appear to look flat. The colour however, does not dry, so it will mark cups. I can't take it through a full Asian meal either so it will not last me 8 hours unless I do not eat in those 8 hours. Rouge G L'Extrait is a luxurious and quite impressive liquid lipstick. I could see myself wanting another, but the price will make even I think twice.

Pros: Opaque in 1 swipe, Bright vibrant colours for lips, Not drying, Lightweight texture, Matte texture but not flat, Long lasting provided you do not eat oily foods or are a violent eater

Cons: Pricey

Who will like this: Anyone looking for a vibrant coloured lipstick that is long lasting without drying out lips, Anyone who likes strong opaque lipstick
Here is how Gourmandise looks on me, in a full face shot.
Other products used : Dior Rosy Glow Petal blush, Dior Electric Lights eyeshadow palette, Diorskin Nude liquid foundation 010
I think this picture shows a more true to life colour and it isn't too bright at all. Gourmandise is a gorgeous raspberry red and I think it will suit almost all skin tones.
Have you taken a look at the Rouge G L'Extrait liquid lipsticks? Do you like liquid lipsticks, in general?
I am unsure yet, if I will pick up another colour. Most of the other shades didn't quite appeal to me so maybe I will, if more shades are released. These are permanent after all 🙂
Paris B
Guerlain Rouge G L'Extrait liquid lipstick Price: RM161 Availability: Guerlain counters