Ah, I got back from Disneyland Hong Kong early in the week, and I have to say that I had a blast of a time! When you enter the hallowed grounds of any Disneyland park time just stands still. I literally felt all 8 years old again the moment I saw the grinning Mickey Mouse welcoming you as you enter the park 😀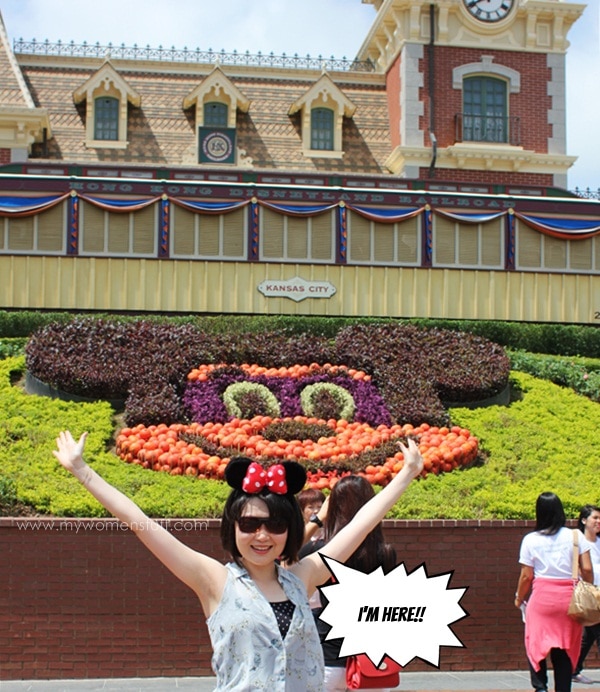 When I was there, it was still Summer (and very very hot!) but it was at the end of September, and the Halloween decorations were already going up, and the place was starting to look festive. I would expect it to be a very fun place to visit in October when the weather cools down somewhat.
I thought I'd share with you 8 tips to make the most of your time at Hong Kong Disneyland and make sure you cover all the good bits. There's loads of pictures and lots to take in, so settle down, come on and join the virtual visit to Disneyland Hong Kong 😉
1. Breakfast at the Enchanted Garden ~ Hong Kong Disneyland Hotel
If you want to grab a photograph with your favourite Disney characters, I would suggest breakfasting at the Enchanted Garden restaurant at Disneyland Hotel. While you have your breakfast, the main characters – Mickey, Minnie, Goofy and Pluto – will be out and about at about 9-10am, mingling and taking photos with you. Doing it this way ensures you don't have to queue for your turn in the park and also ensures that you get all the photos you want with your favourite character and all the time you need. Go early so you can have your breakfast, then get your photos else you'd be like me and be so distracted by the characters, I barely ate!
Oh and don't forget the food either! You get a good spread, with Mickey Mouse waffles and pancakes and lots of Asian and Western breakfast grub.
Fill up, and get ready for the day in the park! (If you miss breakfast, there's tea and dinner too!)
2. Grab a Fastpass and cut the queuing time
This is a shortcut to the queues for 3 attractions at the park :
Space Mountain – Tomorrowland (my favourite!) : Fast paced roller coaster in the dark!
The many adventures of Winnie the Pooh – Fantasyland (one for the kiddies) : A 3D ride experience through a Winne the Pooh adventure
Buzz Lightyear Astro Busters – Tomorrowland : An interactive shooting game, where you sit in a ride and shoot at targets, trying to get a high score
Outside each entrance is a machine where you insert your park ticket and get a voucher for a time about an hour later. Go enjoy other parts of the park, and then come back at the time stated on the voucher and you enter a Fastpass queue, which is very much shorter than the regular queue. This way, you don't waste too much time and you still get to get on your ride!
3. Don't miss the Flights of Fantasy parade
Every afternoon at 3.30pm, Main Street comes alive with the Flights of Fantasy parade. This is where floats featuring various Disney cartoons and characters will come rolling down the street, together with street performers and cartoon characters. It is not to be missed! I suggest heading to Main Street at about 3pm to stake out your spot because it will get very crowded. The show time may change daily so do make sure to check when its on when you go so you don't miss out (link here).
4. Rides not to miss!
Disneyland is a park for adults and children and I was pleased to see that there are very lovely exciting rides now available for this adrenaline junkie! 😀 Here are my favourite rides:
(1) Big Grizzly Mountain Runway Mine Cars (2) RC Racer (3) Two Thumbs up for Space Mountain!
Space Mountain (Tomorrowland) – a roller coaster in the dark that goes at the speed of light. When I was there, it was approaching Halloween and they had the Ghost Galaxy, with scary ghosts-infested space nebula. I loved it so much, I went on it 3 times! 😀
Big Grizzly Mountain Runaway Mine Cars (Grizzly Gulch) – Grizzly Gulch is a new land exclusive to Hong Kong Disneyland. Set in the Wild Wild West, the main ride is the Runaway Mine Cars which is a roller coaster that goes forwards, then backwards and then shoots you off at the speed of light, as you ride the gold mines. Watch out for Grizzly bears! 😉
RC Racer (Toy Story Land) – Another favourite ride! The RC Racer shoots you up almost 90° up one side of a U shaped track, and then backwards to the other side. Heart-stopping action! Love it! 😀
Toy Soldier Parachute Drop (Toy Story Land) – The Parachute Drop lifts you high up above the park, then drops you before repeating it. I think I left my tummy somewhere up in the sky at some point! Don't close your eyes though, you get a lovely birds eye view of the whole Disneyland park!
If you aren't into adrenaline pumping rides, there are many other tamer rides for children and families to enjoy. The Adventureland Jungle River Cruise is quite fun as you travel through the Amazon forest. Watch out for hippos and giant spiders. I nearly got scared out of my skin! Also, not to miss is the Its A Small World ride, a must in every Disneyland, as it takes you through the different countries in the world. See how many you can spot and if you can spot yours! 😉
5. Can you ride alone?
If you don't mind riding a ride alone or with a stranger, some of the big rides have a special lane just for single riders. You fill up the space, as some groups have odd numbers, so you get to your ride more quickly. I did this for the Runaway Mine Cars at Grizzly Gulch (went on it twice!) and only had a few minutes wait 😉
6. Catch the shows and performances
I have to say, I was quite blown away by the shows so you MUST watch them all! As you enter the park, you can get a timetable for each show time. Be there early before each show because space is limited, and you don't want to miss it!
Festival of the Lion King (Adventureland) : A musical with songs from the Lion King and amazing props and costumes! There's aerial acrobatics, fire dancers, zebras, antelopes… and of course, Simba, Timon and Pumba! Do not miss this, whatever you do!
Golden Mickeys (Fantasyland): A broadway style musical with songs from the Disney movies we know and love. Performances were superb and enthralling and you may even find yourself singing along to the songs. You know that we know them all, don't we? 😉
Mickey's Philharmagic (Fantasyland): A 4D musical experiance! Put on your 3D glasses and don't flinch as you see Donald Duck come flying straight at you, or when you feel water droplets against your skin. I've watched 3D movies before, but nothing is better than what I watched in that darkened theatre. Animation and 3D at its best!
If I could, I would watch each of them again, but time was short so once would have to do. I know what I'd be up for the next time I go back!
7. Get into the Disney spirit!
When you are in Disneyland, leave your inhibitions at the door and get into the spirit of fun! I have always wanted a pair of Mickey Mouse ears since I was a little tyke and weaned on the Mickey Mouse Club. If you can't sing the Mickey Mouse Club song along with me, I don't want to know 😛
So this time, I made sure I got my ears. They only had them for Minnie Mouse but what the heck, they'd do 😀 Wore them all around the park and who cares, that I wasn't 8. I felt like I was! 😀 Or maybe I was feeling a little Goofy too 😉
8. Say goodnight with Disney in the Stars fireworks
Before you leave, stay a while. Disneyland fireworks are more than just pyrotechnics. Its a work of art! Find a good location at Main Street, in front of the Sleeping Beauty castle, and settle down for a wait. The fireworks start when it gets dark, at about 7.30pm and there will be announcements so you have time to get there. The fireworks are set to the music of Disney films and it is all quite breathtaking. I was left with a tear in my eye and a song in my heart. Perfect! 😀
Needless to say, I had a great time and I realised that there were bits I might have missed, so I guess I will have to go back at some point! Maybe next year, for Christmas. I hear its lovely around that time of year 😉
I hope you've enjoyed the tips and virtual visit around the Park. Disneyland isn't just a theme park, or a place for kids. It is a place for anyone who wants to feel like a kid, and who is a Disney fan. It really is one of the happiest places on earth 😉
Paris B