I have a thing for cleansing oil and face oils. For the former, I have been using a cleansing oil for years to remove makeup and daily grime, and for the latter, I find that some face oils are much better for me than using a face cream. Contrary to popular belief, cleansing oils and face oils can be used by all skin types, even oily skin. So, when I found out that 2 bestsellers of natural Phillippines brand Human Nature were the Sunflower Cleansing Oil and Sunflower Beauty Oil, I just had to try it.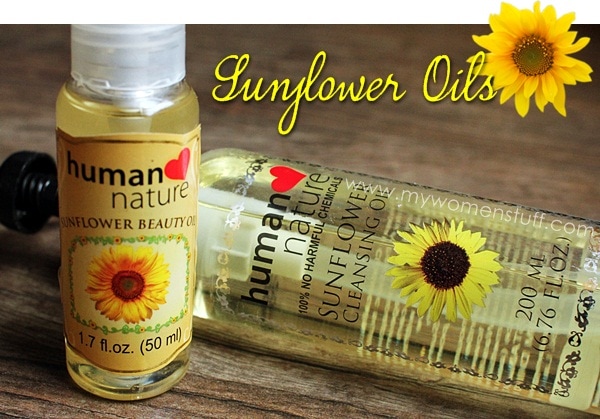 Human Nature, as we might remember from my previous post, is a very affordable brand of natural products that hail from the Phillippines. For those who scour ingredient lists, you would be very happy with the lists on both these two products. It boasts just 1 ingredient in one item, and 2 in the other. That's it. Nothing complicated about it at all.
I must say though, I couldn't quite get my head around either of these. Its quite a feat you know, being able to stump me this way. I don't mean that I hate them, or that I dislike them. I still use them now and again, but I'm just not terribly enamoured with either product. Let me just tell you a bit about them, and perhaps you may like to give them a try anyway 🙂

Human Nature Sunflower Cleansing Oil
When I first chose the Human Nature Sunflower Cleansing Oil, it was in the belief that it would work like the commercial cleansing oils in the market – the ones that emulsify. Well, this one does not. What this is, is literally a bottle of oil that cleanses skin and removes makeup but it does not contain emulsifiers. This works the same way as the "Oil Cleansing Method" (explained here) which is essentially applying oil to your face, massaging it in and then removing it with tissue or a hot muslin cloth. Many women have talked about how beneficial this method has been for them. I tried it with olive oil and broke out something awful so I never tried it again.
You see, I didn't read instructions the first time, so I thought this worked like your regular Asian cleansing oil, and was terribly nonplussed when I found that it wasn't emulsifying in the shower. So, here's the proper method to use the Sunflower Cleansing Oil:
With dry hands and dry face, pump out 2 pumps of oil
Warm oil in palms of hands and then spread on face
Massage into skin
Wipe off with tissue or use a hot towel or muslin cloth
Wash face with your regular face wash
The Sunflower Cleansing Oil however, has a very light texture and does not feel too oily. It is actually quite liquid in the bottle, and I use about 2 pumps because I found that it was the optimum amount to spread and massage on my skin. As a makeup remover, I'd say its passable but you may have to spend a little time massaging it over your skin for best results. It removes most base makeup but don't bother using it around the eye area. It did nothing for my mascara and I did not like that I had to spend so much time massaging around the eye area. I prefer to use a separate eye makeup remover.
I find that although it does not feel very oily, it leaves a residue on my skin after tissuing off. If you use a hot towel then there is less residue because the heat melts the oil somewhat. So for most of us, we would still have to wash our faces again. If you are used to the concept of double cleansing, then you wouldn't be fussed about it. But if you aren't then you would find it a hassle. As I don't have hot water running through my taps, I go with the tissue off method and then follow up with a face wash in the shower.
The ingredient list is very short – just cosmetic grade sunflower oil and a natural fragrance. I can't quite describe the fragrance. Its a light floral-citrus scent that isn't unpleasant but a little surprising. I'm just not much of a fan of it.
I guess I'm also just not used to having my face feel oily after supposedly being cleansed, so I'm not terribly keen on this product. I do find that it does not strip my skin, and that my skin does feel soft (albeit oily) after I've gone over it with tissue. So if you want to try the oil cleansing method (quite different from cleansing oil), I do think this a very affordable oil to try.
Human Nature Sunflower Beauty Oil
This beauty oil is, I'm told, Human Nature's star product and what they call a miracle in a bottle. The little bottle contains just cosmetic grade sunflower oil and you can use it for a myriad of uses, from your hair all the way to your hands. It claims to help with dark eye circles, smooth away lines and wrinkles and stretch marks, lighten and brighten underarms (?!), lighten pimple marks and tame frizzy hair. Quite something huh?
The oil is quite light but I find that it takes a while to absorb into skin. I tried using this on my face a few times, but I wasn't too keen on how it felt on my skin, because I found that it sat on top of my skin, and did not seem to play well with my other serums.
However, I must credit this little bottle with saving the dry skin of my elbows. For some unknown reason, I developed flaky elbows. The skin of my right elbow (and only my right one – very strange) suddenly became very dry and the skin started flaking off. It was unpleasant to say the least, and no body creams or oils seemed to be helping. So one evening, I picked up this bottle, decided to chance it and slapped it on.
In 2 days, my flaky elbow was cured! Its happened twice thus far, and each time nothing would help except this beauty oil. So these days, I apply some of this oil on the dry spots of my body before bed – elbows, knees, and sometimes on my cuticles to soften them. It works a treat for this but unfortunately for me, nothing much else.
It does do a fair job at softening skin, so I'm not going to write this off. I still don't like it on my face, but everywhere else is pretty much fair game and if you have very dry skin on your body then you might like this one too.
In a nutshell

The Sunflower Cleansing Oil is not a regular Asian style cleansing oil that will emulsify on contact with water. What you have to do is tissue it off or use a hot towel and then follow up with a facial cleanser. As a makeup remover I think it does a fair job removing base makeup but don't bother using it around the eyes because I found it didn't do anything to remove mascara, and there was too much massaging involved. There is a fragrance that I do not like and although my skin does feel soft after I tissue off the oil and use a hot towel, its just too much work for me. I'm not a fan.

The Sunflower Beauty Oil is a multipurpose oil that you can use anywhere. I found it too heavy for use on my face but it did a very good job at softening the skin on my elbows and in solving my problem with the flakey skin on my elbows. I use it now to soften hard skin and also on my cuticles because it seems to do a good job with that.

Pros: Affordable, Skin feels soft after using the cleansing oil and a hot towel but I found it a bit too much work, Cleansing Oil removes base makeup quite effectively, Beauty Oil is good for softening hard skin and keeping skin moisturised

Cons: Fragrance in cleansing oil takes getting used to, Cleansing Oil needs a bit more work than normal, Beauty Oil felt too heavy on my face

Who will like this: Anyone who wants an affordable natural oil cleanser and makeup remover, Anyone who wants to try using oil on skin
I guess you could say that I could get these to work if I wanted to, but I just don't reach for them enough. I still use the cleansing oil on some evenings but without running hot water in the sink tap, the hot towel was just too much work. Unlike the Eve Lom cleanser (which isn't natural btw) this one isn't as portable, or I might have really liked to take it travelling. Hotel bathrooms are excellent places to get hot water in taps! 😉
As for the beauty oil, many reviews I came across tout it as being very beneficial for lightening dark eye circles and for taming frizzy hair. I like it for use on my cuticles (I don't need to go buying a cuticle oil or whatnot) and hard skin but less so on my face. I guess I just prefer other oils I've used.
Have you tried either Sunflower oil product or are you interested in either? Any other Human Nature product I should try?
I picked up a bottle of their massage oil which I'm using as a body oil and that one's quite nice. I like how affordable the brand is. It makes it easy to try a few things and even if it doesn't quite work out, at least your wallet doesn't hurt 🙂
Paris B
Human (Heart) Nature Sunflower Cleansing Oil Price: RM39.90/200ml Sunflower Beauty Oil Price: RM19.90/50ml Availability: Downtoearth.com.my (free shipping in Malaysia with purchase of 3 items)